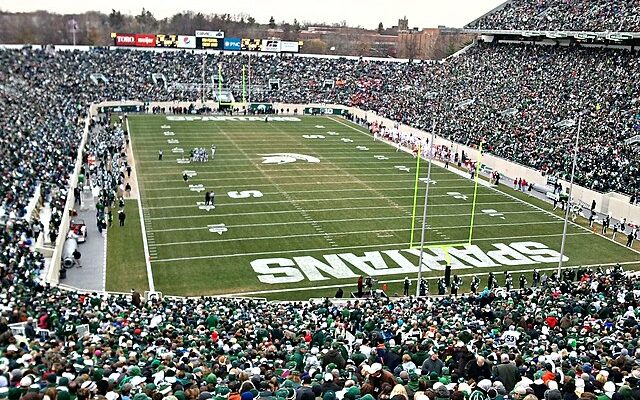 Michigan State University is facing a major backlash after inexplicably believing that it was appropriate to flash facts about Adolf Hitler's life on their gigantic video board during a football game on Saturday. 
The image, which came after a prompt asking where Hitler was born, was part of a regular pregame trivia segment run by a third-party contractor, according to @michiganstateu. https://t.co/5x2jp8EsrN

Story via @madkenney & @detroitnews:

— Chad Livengood (@ChadLivengood) October 22, 2023
The images were shown in the aftermath of the largest slaughtering of Jews since the Holocaust occurred merely two weeks ago. 
Multiple images circulating on social media on Saturday show an image of the Nazi leader's face on the stadium's largest scoreboard, alongside a trivia question answer about his birthplace, explained MLive.

Michigan State said the scoreboard content came from a third-party source. The school will no longer use that source and will update its screening procedures.

"MSU is aware that inappropriate content by a third-party source was displayed on the video board prior to the start of tonight's football game," MSU spokesperson Matt Larson said in a statement. "We are deeply sorry for the content that was displayed, as this is not representative of our institutional values. MSU will not be using the third-party source going forward and will implement stronger screening and approval procedures for all videoboard content in the future."

The timestamp scoreboard shows that the image appeared 80 minutes before kickoff of Saturday night's game. Michigan State regularly shows rotating trivia questions on its stadium video boards prior to the game.
Antisemitism has risen dramatically on college campuses across the United States since Hamas launched a terrorist attack on Israel that killed 1,300 civilians, including hundreds of children. 
A Cornell University professor, for example, praised the Hamas attacks, saying they energized him, while a professor at Yale called Israel a "murderous, genocidal settler state."
Cornell University Professor Russell Rickford talking about the Hamas terrorist activities.

"It was exhilarating"

Shameful, @Cornell. pic.twitter.com/zVdwiKRrkl

— raz_sauber (@raz_sauber) October 16, 2023
Politico reported that "top donors at the University of Pennsylvania — including former U.S. Ambassador Jon Huntsman Jr. — have pulled their financial support over charges that the institution doesn't do enough to fight antisemitism on campus.
'As a person of authority at an educational institution, to celebrate murder, rape and abducting children and slaughtering children, I think he should be fired,' Gillibrand told a Syracuse TV station about the comments of Cornell Professor Russell Rickford.
Rickford described the Hamas attacks as "exhilarating" and "energizing" at a rally. He has since apologized for his remarks, admitting some of the language he used was 'reprehensible.' Rickford did not immediately respond to a request for comment.
Following days of backlash, Cornell President Martha Pollack this week maintained that Rickford's comments 'speak in direct opposition to all we stand for at Cornell.' The university, she said, is reviewing the incident."
The flashing of Hitler on the scoreboard at Michigan State came just hours following the murder of the president of a prominent Detroit synagogue. Samantha Woll "was found stabbed to death outside her home Saturday morning, police and the synagogue said.
Detroit police responded to a 911 call of an unresponsive person around 6:30 a.m. and found a body outside a home on Joliet Place. The woman, who was not immediately identified by investigators had suffered multiple stab wounds," police told ABC News.
Tim Scott recently introduced a bill to "ban any federal student aid from going to colleges and universities that facilitate or promote events with an antisemitic message," reported Fox News.
"The new legislation introduced Thursday comes in the wake of dozens of anti-Israel rallies hosted by student groups, and in some cases encouraged by faculty, following the devastating Oct. 7 Hamas terrorist attack that killed the most Jews in a single day since the Holocaust.
The Stop Antisemitism on College Campuses Act would keep those schools from eligibility for Title IV funds, which includes federal student aid. As a reference point, in the 2020-2021 school year, the total Title IV funding dispersed by the federal government was roughly $125 billion."
In an email sent to alumni Sunday entitled, "The work we must do," Michigan State Interim President Teresa K. Woodruff apologized for the image.
"I am deeply sorry for the image displayed at Spartan Stadium, which made many of our community feel alienated and unsafe. It was unacceptable. I asked last evening for a full review of this university event and will take all necessary steps to align our messages and actions to our values," she said, according to CNN.
"I will work with our Jewish community and every member of minoritized populations to ensure Spartans feel that this is a place where everyone can live, work, go to class and attend events that are welcoming."
The news channel noted that "the apology is part of a grim series of events for Michigan State's football program, which lost Saturday night's game against its rival Michigan by a 49-0 score. The university has also moved to fire head coach Mel Tucker related to accusations of sexual harassment, just two years after he signed a massive 10-year, $95 million contract."
"Michigan State put more Hitlers on the scoreboard than points" is quite the rivalry wikipedia entry

— Ryan Nanni (@celebrityhottub) October 22, 2023
Michigan State football fell to a putrid record of 2-5 on the season while their archrival, the University of Michigan, remained undefeated at 8-0 and are ranked as the number two team in the country. The Wolverines dominating performance was led by their quarterback, J. J. McCarthy, the new frontrunner for the Heisman Trophy, which is awarded to the nation's best player. 
The blowout win for Michigan has already been dubbed the "Hail vs Heil" game.
[Read More: Shocking Ingredient Found In COVID Vaccines]