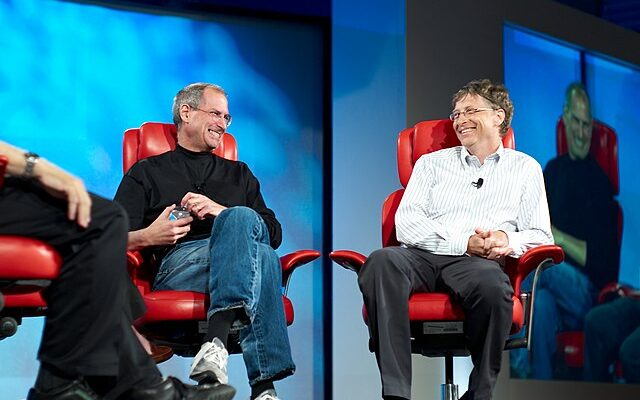 New reports have revealed that the sexual predator Jeffrey Epstein became deeply enmeshed with many of the global elite, including Microsoft founder Bill Gates. New evidence shows that the convicted sex trafficker threatened to blackmail Gates after he found out about an affair the billionaire had with a Russian bridge player. 
The Wall Street Journal writes, "Jeffrey Epstein discovered that Bill Gates had an affair with a Russian bridge player and later appeared to use his knowledge to threaten one of the world's richest men, according to people familiar with the matter.

The Microsoft co-founder met the woman around 2010, when she was in her 20s. Epstein met her in 2013 and later paid for her to attend software coding school. In 2017, Epstein emailed Gates and asked to be reimbursed for the cost of the course, according to the people familiar with the matter.

The email came after the convicted sex offender had struggled and failed to persuade Gates to participate in a multibillion-dollar charitable fund that Epstein tried to establish with JPMorgan Chase. The implication behind the message, according to people who have viewed it, was that Epstein could reveal the affair if Gates didn't keep up an association between the two men.

'Mr. Gates met with Epstein solely for philanthropic purposes. Having failed repeatedly to draw Mr. Gates beyond these matters, Epstein tried unsuccessfully to leverage a past relationship to threaten Mr. Gates,' said a spokeswoman for Gates.
Who is Mila Antonova, Russian bridge player who had a 2010 affair with Bill Gates?https://t.co/hDgOZqkHVp

— @amuse (@amuse) May 22, 2023
Yes, it appears that one of the world's richest men had an affair with a twenty-something Greta Thunberg look-alike who plays your grandmother's favorite card game. 
"Gates' alleged Russian lover, Mila Antonova, would have been in her 20s when the pair supposedly engaged in a relationship," according to The New York Post.
"Antonova, who was born and raised in Russia, is an accomplished card player. She attended a university in her homeland from 2000 to 2005, according to her now-deleted LinkedIn profile.
After relocating to the US, Antonova started working as a software engineer in San Francisco.
She also founded a bridge club at some point after arriving in America. Very little is known about her family or upbringing in Russia," the newspaper concluded.
Fox News reported that "after meeting Gates, Antonova sought to start an online venture that would teach people how to play bridge. She began reaching out to potential donors, with Gates confidant Boris Nikolic connecting her with Epstein, according to documents reviewed by the outlet. 
In November 2013, Antonova and Nikolic reportedly met Epstein at his townhome in New York City to pitch the proposal and try to raise $500,000. Epstein ultimately did not donate to the proposal, dubbed 'BridgePlanet.' 
'I deeply regret that I ever met Epstein,' Nikolic highlighted to the outlet. 'His crimes were despicable. I never saw anything like his illegal behavior. My heart goes out to his victims and their families.'"
One can't help but wonder if the Russian was recruited by Epstein. Fox noted that "the following November, Antonova stayed at an apartment provided by Epstein, but "didn't interact with him or with anyone else while there," she said. By that year, she had decided to become a software engineer and was looking for donors to help pay for programing classes.
'Epstein agreed to pay and he paid directly to the school. Nothing was exchanged. I don't know why he did that,' she said, the outlet reported. 'When I asked, he said something like, he was wealthy and wanted to help people when he could.'"
That the sex trafficker tried to blackmail Gates is not altogether surprising and the story about Gates might just be the beginning. 
Ed Morrissey at Hot Air noted, "Rumors have swirled that Epstein gained his wealth the old-fashioned Machiavellian way — by either finding secrets among the uber-wealthy and threatening to expose them, or setting them up for extortion schemes at Pedo Island and elsewhere. Until now, those have mainly been rumors and speculation.
However, this seems rather odd, considering her relationship with someone with orders of magnitude more wealth than Epstein. Why not ask her boyfriend for the start-up investment rather than Epstein? And why would Bill Gates' "science advisor" introduce Antonova to Epstein at all for a pitch on an online game site, of all things? It seems very unclear why Antonova's briefly stayed at one if Epstein's NYC flats the following year without any apparent business relationship in place. And even more inexplicably, Epstein paid her tuition for coding school despite hardly knowing her and — as Antonova insists — without any conditions or strings attached.
None of this makes a lot of sense, except for the affair between the wealthy man and the beautiful young woman. That may be why the extortion attempt — Epstein demanded a reimbursement for Antonova's tuition — didn't work. It's so mundane as to be hardly even a threat, and Gates made the wise choice to ignore it.
Reading between the lines, it certainly seems as though Epstein was culling Gates' secrets for later leverage. He didn't get anything juicy enough on the Microsoft founder to work, but that doesn't mean Epstein always failed. His success over decades to burrow into the financials of the rich and famous always seemed mysterious, and this might explain why some of the others in his orbit never fully distanced themselves from Epstein, even after his first conviction in Florida. And i may be why so many of them have refused to explain their association with Epstein or even admit to it even to this day."
NCP has previously noted before that Epstein palled around with a lot of billionaires and powerful leaders, including the current director of the CIA, along with Gates, Google founder Larry Page, and Presidents Donald Trump, and Bill Clinton a number of times. 
Morrissey thinks that the Wall Street Journal report is just the tip of the iceberg. He concluded, "Someone has to have the dirt Epstein collected. Is that someone still leveraging it for financial purposes — or are the people whose names might be in Epstein's ledgers afraid that it might get used at some point?" 
That's certainly a question worth asking. 
[Trump Lawyer: The Former President Is Facing Trouble]