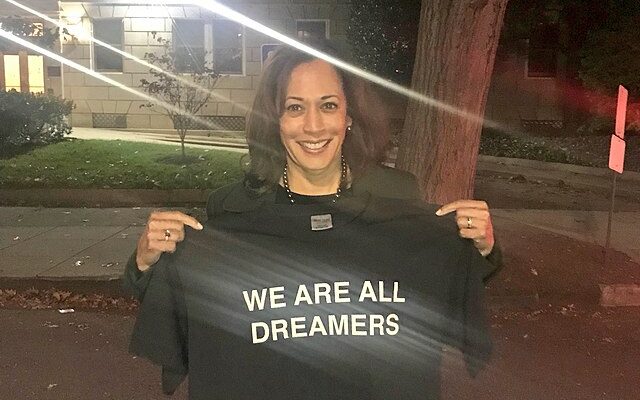 Kamala Harris has had a rough first two years as vice president. The LA Times recently noted that as of December 20, only 39 percent of registered voters hold a favorable opinion of her, compared to 53 percent who think she's terrible at her job. 
The vice president has undoubtedly been bewildering Democrats (and the nation) since she took office in 2021. In March 2022, typically friendly media even wondered if Harris might be the worst vice president of all time. They tallied up her failings, saying she was put "in charge of addressing the crisis at the southern border, which has grown exponentially worse since she took on that responsibility. And Biden occasionally sends her off to make speeches. But that's turned out to be even worse than her handling of the border crisis — because a vice president's only real job is to not embarrass the president and the administration. That's something Biden is able to do, and often does, without any help from Harris.
Social media has had a field day compiling her word-salad speeches and making them available for everyone to snicker at. And that tendency will likely only get worse with the 'passage of time,' because 'there is great significance to the passage of time,' as Harris is fond of saying."
Her failures have worn down her staff, as well. Starting in 2021, it only took six months for Harris's incredible incompetence to leak into the public as staff members jumped ship. The Washington Post wrote at the time, "Critics scattered over two decades point to an inconsistent and at times degrading principal who burns through seasoned staff members who have succeeded in other demanding, high-profile positions. People used to putting aside missteps, sacrificing sleep and enduring the occasional tirade from an irate boss say doing so under Harris can be particularly difficult, as she has struggled to make progress on her vice-presidential portfolio or measure up to the potential that has many pegging her as the future of the Democratic Party."
Now, in a new book, it has been revealed that the vice president's deficiencies are driven by her "deep insecurity." 
The New York Post has some of the details the vice presidency in turmoil. "Author Chris Whipple writes in "The Fight of His Life" that Harris refused to answer questions about "turmoil and morale problems" among her staff for his book on President Biden's first months in the White House, but ex-employees described the woman a heartbeat from the Oval Office as dysfunctional and unprepared.

One former aide told Whipple that Harris engaged in "really unnecessary gamesmanship" with her underlings, excerpts from the book that were obtained by the Washington Examiner reveal.

The onetime staffer further claimed that Harris "refused to do the kind of preparation that you need to do before going public on a hardcore policy matter. And then she became incensed and outraged when things wouldn't go the way she thought they were supposed to."

"There was a lot of magical thinking," added the person, who spent years working for Harris. "I think it's helpful for people to know," the former Harris aide went on to Whipple, "that this is not new, and it will inhibit any administration that she is the leader of."
The Biden Administration seems ready to pin its complete ineptitude at solving the ongoing crisis on the southern border on Harris. Whipple has said that Biden aides have never seen the president so angry as was over the pouring of illegal immigrants into the country from Mexico during his first six months of office. 
The author writes,"… illegal immigrants kept arriving. And Biden was furious," Whipple wrote, according to a copy of the book obtained by The Hill. 'From all over the West Wing, you could hear the president cursing, dropping f-bombs (he'd always apologize when women were present).' 
'It was just the frustration of a lack of solutions,' a senior adviser said, according to Whipple. 'It's like, 'how would you feel if you were me and these were the solutions you had?' It's the weight of the presidency, right?'
Biden had already tasked Vice President Harris with tackling root causes of the crisis, which led to harsh criticism of her. Harris received tough reviews when she visited Guatemala and Mexico in June 2021, and she was bashed for an interview with NBC's Lester Holt, during which she said, 'I haven't been to Europe' when he pointed out that she hadn't visited the border."
Last week more migrants were dropped outside the vice president's residence, but Harris did not comment. 
The Hill noted, "Biden himself called Harris "a work in progress" to a friend a few months into the presidency, Whipple wrote. The president was "annoyed" that second gentleman Doug Emhoff complained about Harris's portfolio after she had "begged him for the voting rights assignment."
Other Harris allies complained Biden had set her up for failure with the assignment to examine the root causes of migration."
The total dysfunction from Harris has certainly not gone unnoticed at the White House or the Democratic Party. Last week, NCP reported that even Joe Biden finds the Second Family to be annoying as more allies of the president have called for dumping Kamala in favor of a running mate that the public doesn't dislike so much.  
The liberal Slate Magazine recently called for Harris to drop out of any 2024 slot, writing, "If Harris cares about the future of the Democratic agenda, she should gracefully step aside. The vice presidency is a valuable mechanism for soft-launching future presidential hopefuls. Democrats cannot waste it on a candidate who has already failed to launch."
[Read More: Biden's Weird Family Issues Keep Cropping Up]