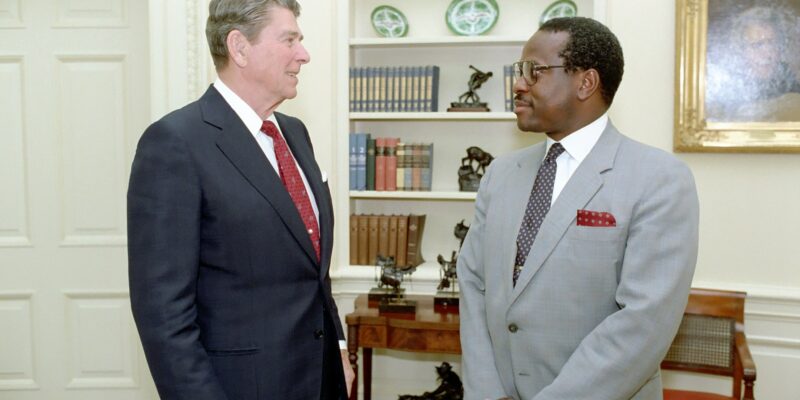 Clarence Thomas is a fantastic role model, especially for those from his home state of Georgia. One biography reads, "Thomas's father, M.C. Thomas, abandoned the family when Thomas was two years old. After the family house was destroyed by fire, Thomas's mother, Leola Anderson Thomas, who worked as a maid, remarried. Thomas, then age seven, and his brother were sent to live with their maternal grandparents."
The second-ever African-American Supreme Court Justice has defied the odds and shown the value of working hard and being smart. That's why The Georgia state Senate recently "approved a bill that would create a statue honoring Supreme Court Justice Clarence Thomas. The pro-life justice is revered by conservatives and a statue would be a great way to honor Thomas in his home state, according to Life News.

The Georgia state Senate voted 32-20 along party lines on Tuesday to support the statue, with Republicans approving the measure and Democrats unanimously opposing the move to honor the black justice. The statue would be placed on the grounds of the state capitol building in Atlanta.

Here's more on the bill's passage:

Sen. Ben Watson, a Savannah Republican, said he represents Thomas' birthplace near the coastal city and had known Thomas' mother.

'This native son of Georgia deserves a place of honor and recognition on our Capitol grounds, a place where future generations of Georgians can learn valuable lessons from his legacy and gain inspiration and belief that their lofty dreams are obtainable too in America, regardless of the circumstances into which they are born,' Watson told senators."
While you'd think such a simple bill would be unanimous, you have to remember how petty Democrats are. 
The Washington Post writes that liberals, of course, cannot honor an African American leader who is not in lockstep with their leftwing fantasies, especially on abortion. "Opponents of the statue pointed to Thomas' concurring opinion last year to overturn the landmark 1973 Roe v. Wade decision that established nationwide access to abortion. In that opinion, he called on his fellow justices to revisit other Supreme Court precedents that legalized same-sex marriage and access to contraception.
Sen. Emanuel Jones, a Decatur Democrat who is Black, called Thomas an "Uncle Tom," saying the justice is like someone who has "sold his soul to the slave master."
"There's a whole laundry list of positions that Justice Thomas has taken that I find offensive," Jones said. "Sometimes, when I talk to the majority party, I say, 'Y'all just don't get it.'"
Democrats also criticized Thomas' wife, Virginia "Ginni" Thomas, noting records show she texted then-White House Chief of Staff Mark Meadows after the 2020 election, urging him to stand with then-President Donald Trump as he falsely claimed there was widespread fraud in the election.
A Georgia State Senator called Justice Clarence Thomas an "Uncle Tom" on the senate floor during debate on a bill to put a statue of him in the State Capitol.
pic.twitter.com/rjuIOxA5Rd

— Greg Price (@greg_price11) February 15, 2023
Justice Thomas isn't new to these kinds of attacks. Last summer, still stinging from the fact that she lost the presidency to Barack Obama and Donald Trump, Hillary Clinton launched into a thinly-veiled racist attack Clarence Thomas. 
Fox News summarized her terrible attack. Hillary Clinton attacked former law school classmate Clarence Thomas in personal terms on Tuesday, calling the longest-tenured current Supreme Court justice angry and a "person of grievance."
"He's been a person of grievance for as long as I've known him," she said on "CBS Mornings." "Resentment, grievance, anger. And he has signaled in the past to lower courts, to state legislatures, find cases, pass laws, get them up. I may not win the first, the second, or the third time, but we're going to keep at it."
Clinton told host Gayle King that Thomas is speaking to the "right-wing" legislatures and justices with his rhetoric. In his opinion concurring with the majority that overturned Roe v. Wade last week, Thomas wrote that past Supreme Court decisions affirming the rights to same-sex marriage and married couples using contraception should be revisited, due to their similar legal bases to Roe.
"There are so many things about it that are deeply distressing, but women are going to die, Gayle. Women are going to die," Clinton told King, who didn't appear to disagree.
So they've settled on the "angry black man" and it's totally fine to do this on national tv. https://t.co/1xX1LaqCzv

— Stephen L. Miller (@redsteeze) June 28, 2022
The Sacramento Bee noted, "Republicans passed a measure approving a Clarence Thomas statue last year in the state Senate, but it never came to a vote in the state House. This year's bill says the statue would be paid for with private money. 
Democrats had proposed an amendment to the bill to also mandate a statue of Lewis, but pulled the proposal back before it could get a vote. If Republicans had voted for the amendment, Democrats would have been forced to either vote for the Thomas statue or against a Lewis statue."
[Read More: Amidst Ongoing Disasters, Rubio Calls For Buttigieg's Resignation]