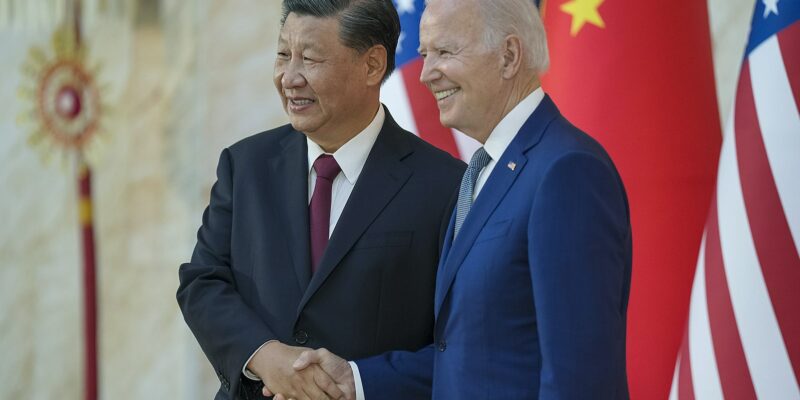 In a startling memo released last week, a four-star Air Force general said that he believes the United States and China will fight a war in the upcoming two years. 
"A four-star Air Force general sent a memo on Friday to the officers he commands that predicts the U.S. will be at war with China in two years and tells them to get ready to prep by firing "a clip" at a target, and 'aim for the head,'" reported Reuters. 
Dated for February 1, General Mike Minihan writes, "I hope I am wrong. My gut tells me will fight in 2025."
The head of the Air Mobility Command, General Minihan, is in charge of about 50,000 service members and roughly 500 planes. He is also in charge of transport and refueling.
The full memo is printed below. 
SUBJECT: February 2023 Orders in Preparation for — The Next Fight

SITUATION. I hope I am wrong. My gut tells me we will fight in 2025. [Chinese President Xi Jinping] secured his third term and set his war council in October 2022. Taiwan's presidential elections are in 2024 and will offer Xi a reason. United States' presidential elections are in 2024 and will offer Xi a distracted America. Xi's team, reason, and opportunity are all aligned for 2025. We spent 2022 setting the foundation for victory. We will spend 2023 in crisp operational motion building on that foundation. If you want to know what the operational motion I demand looks like, look at what Total Force Team Charleston did in January.
COMMANDER'S INTENT. Go faster. Drive readiness, integration, and agility for ourselves and the Joint Force to deter, and if required, defeat China. This is the first of 8 monthly directives from me. You need to know I alone own the pen on these orders. My expectations are high, and these orders are not up for negotiation. Follow them. I will be tough, fair, and loving in my approach to secure victory.
END STATE. A fortified, ready, integrated, and agile Joint Force Maneuver Team ready to fight and win inside the first island chain. Maximize the use of the force and the tools we currently have and extract full value from things that currently exist. Close the gaps: C2, navigation, maneuver under attack, and tempo.
RISK. Run deliberately, not recklessly. You will be governed by the principle of calculated training risk, which you shall interpret to mean the avoidance of death, serious injury, and Class A damage to attain higher readiness, integration, and agility. If the Tactic, Technique, and Procedure you are developing increases AMC's ability to fight and win inside the first island chain… move out. If you are comfortable in your approach to training, then you are not taking enough risk.
OT&E. Attached are our OT&E efforts from 2022 Fall PHOENIX Rally, which will guide our preparation but are not intended to limit creativity of approach. This is not an all-encompassing list. I expect you to move out briskly on the monthly tasks, anticipate the projected tasks and weave them eloquently into your units' training and operational battle rhythms.
FEBRUARY.
(a) All AMC aligned personnel with weapons qualifications will fire a clip into a 7-meter target with the full understanding that unrepentant lethality matters most. Aim for the head.
(b) All AMC personnel will update vRED [virtual Record of Emergency Data].
(c) All commanders will acknowledge this order directly to me immediately. Then, report all 2022 accomplishments preparing for the China fight, and forecast major efforts in 2023 through command chains by COB 28 February 2023.
MARCH (Projected).
(a) All units will report progress toward established OT&E requirements for INDOPACOM Operations discussed and reviewed at Fall PHOENIX Rally.
(b) All AMC personnel will consider their personal affairs and whether a visit should be scheduled with their servicing base legal office to ensure they are legally ready and prepared.
(c) KC-135 units will coordinate to provide a conceptual means of air delivering 100 off-the-shelf size and type UAVs from a single aircraft.
APRIL (Projected).
(a) All units will report their integration and operation plans for MOBILITY GUARDIAN 2023 to include all events (lead-in and concurrent) they wish to include for credit.
ADMIN. AMC/A3 [Operations] will formalize these orders in FRAGO [Fragmentary Order] format. Completion, progress, reporting, reporting format, and advancement be measured, driven, and collected by our AMC/A3 Team through ARC [Air Reserve Command], NAF [Numbered Air Force] and EC [Expeditionary Center] leadership.

LET'S GO!

MICHAEL A. MINIHAN

General, USAF

Commander
Last March China sent an aircraft carrier near Taiwan as a show of force. In the summer, the CCP threatened to kill Nancy Pelosi for visiting the island nation that China claims to own.
After the memo was released to the public, a spokesman for the Department of Defense said, "These comments are not representative of the department's view on China."
NBC News confirmed the memo is real and an Air Mobility Command said: "This is an authentic internal memo from General Minihan addressed to his subordinate command teams. His order builds on last year's foundational efforts by Air Mobility Command to ready the Mobility Air Forces for future conflict, should deterrence fail."
"Defense Department press secretary Brig. Gen. Patrick Ryder said in a statement, "The National Defense Strategy makes clear that China is the pacing challenge for the Department of Defense and our focus remains on working alongside allies and partners to preserve a peaceful, free and open Indo-Pacific.'
In March 2021, Adm. Philip Davidson, then commander of the U.S. Indo-Pacific Command, told a Senate Armed Services Committee hearing that 'Taiwan is clearly one of [China's] ambitions. 
'I think the threat is manifest during this decade, in fact, in the next six years,' said Davidson.'"
The memo is particularly disturbing because President Joe Biden seems to have a soft spot for the communist nation. His "Think tank" at the University of Pennsylvania received millions of dollars from China after working with his son, Hunter. 
Moreover, the Biden Department of Energy sent millions of dollars to a battery company, Microvast, that is under the control of China. The company's SEC filings stated, "If the PRC government decides to substantially intervene, influence or establish new policies, regulations, rules or laws affecting our business, said substantial intervention or influence may result in a material change to our operations … and could significantly limit or completely hinder our ability to offer or to continue to offer securities to investors, and/or cause the value of such securities to significantly decline or be worthless."
The Minihan memo also follows the news that "China's top nuclear-weapons research institute has bought sophisticated U.S. computer chips at least a dozen times in the past two and a half years, circumventing decades-old American export restrictions meant to curb such sales.
A Wall Street Journal review of procurement documents found that the state-run China Academy of Engineering Physics has managed to obtain the semiconductors made by U.S. companies such as Intel Corp. and Nvidia Corp. since 2020 despite its placement on a U.S. export blacklist in 1997.
The chips, which are widely used in data centers and personal computers, were acquired from resellers in China. Some were procured as components for computing systems, with many bought by the institute's laboratory studying computational fluid dynamics, a broad scientific field that includes the modeling of nuclear explosions."
This isn't the first time that China has circumvented our trade laws. Both Republicans and Democrats are furious that Biden effectively gave China a tariff waiver "for suspected Chinese companies that are reportedly funneling their solar panels through other countries to evade United States trade rules."
[Read More: Biden Hiding Classified Documents From Bipartisan Group of Senators Charged With Oversight]