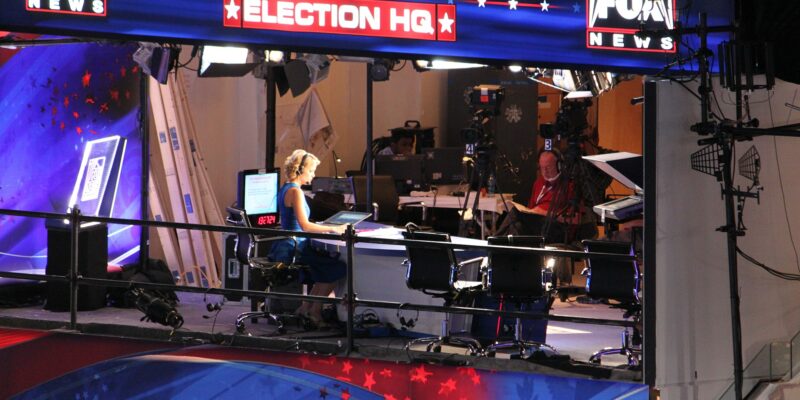 Fox News might be facing major legal trouble. During the month that followed Election Day 2020, leaders at the nation's most popular news channel allegedly believed they were about to face a crisis and started cutting corners in hopes of keeping viewers engaged. 
"In March of 2021, Dominion Voting Systems filed a $1.6 billion defamation lawsuit against the channel, saying Fox News, in a desperate attempt to salvage its crashing ratings, "falsely claimed that the voting company had rigged the 2020 election.
The lawsuit is part of a growing body of legal action filed by the voting company and other targets of misleading, false and bizarre claims spread by President Donald Trump and his allies in the aftermath of Trump's election loss to Joe Biden. Those claims helped spur on rioters who stormed the U.S. Capitol on Jan. 6 in a violent siege that left five people dead, including a police officer. The siege led to Trump's historic second impeachment.
Dominion argues that Fox News, which amplified inaccurate assertions that Dominion altered votes, 'sold a false story of election fraud in order to serve its own commercial purposes, severely injuring Dominion in the process,'" wrote The Associated Press.
Now court documents are revealing the real panic that happened at Fox following Trump's defeat. 
The Washington Post says, "the top-rated cable news network had alienated its Donald Trump-loving viewers with an accurate election night prediction for Joe Biden and was facing a terrifying ratings slide, not to mention the ire of a once-loyal president.

Concern came from the very top: "Everything at stake here," Rupert Murdoch messaged Fox News CEO Suzanne Scott.

The billionaire founder was eager to see the Republican candidate prevail in the coming Senate runoff in Georgia — "helping any way we can," he wrote. But he also advised Scott to keep an eye on the uptick in ratings for a smaller, more conservative channel whose election skepticism suddenly seemed to be resonating with pro-Trump viewers.

Newly released messages show Fox executives fretting that month over an uncomfortable revelation: that if they told their audience the truth about the election, it could destroy their business model.

What Fox's loyal viewers wanted to watch — and what Fox News was willing to do to keep them — emerged this week as a central question in a $1.6 billion defamation lawsuit brought against the network by Dominion Voting Systems."
Dominion, according to WaPo, has "laid out extensive evidence uncovered during the discovery process. It reveals that Fox News hosts and executives seemed to understand the various "stolen election" claims being promoted by Donald Trump and his team were false or baseless, and privately derided them.
But they largely declined to say that on the air, worrying that doing so and alienating Trump and viewers would be bad for business. It is one of the most revealing looks at what happened behind the scenes at the country's highest-rated cable news channel and most important conservative media outlet.
"There will be a lot of noise and confusion generated by Dominion and their opportunistic private equity owners," a Fox News spokesperson said in a statement, "but the core of this case remains about freedom of the press and freedom of speech, which are fundamental rights afforded by the Constitution and protected by New York Times v. Sullivan." The statement also said the filing contained "cherry-picked quotes stripped of key context." Below are some takeaways from the filing."
The New York Times published some of the messages by some of the most popular hosts at Fox News. "The hosts Tucker Carlson, Sean Hannity and Laura Ingraham, as well as others at the company, repeatedly insulted and mocked Trump advisers, including Sidney Powell and Rudolph W. Giuliani, in text messages with each other in the weeks after the election, according to a legal filing on Thursday by Dominion Voting Systems. Dominion is suing Fox for defamation in a case that poses considerable financial and reputational risk for the country's most-watched cable news network.
'Sidney Powell is lying by the way. I caught her. It's insane,' Mr. Carlson wrote to Ms. Ingraham on Nov. 18, 2020.
Ms. Ingraham responded: 'Sidney is a complete nut. No one will work with her. Ditto with Rudy.'
Mr. Carlson continued, 'Our viewers are good people and they believe it,' he added, making clear that he did not."
The weirdness went all the way to the top of the company.  Rupert Murdoch, the leader of Fox News,  even called Trump's voter fraud argument "really crazy stuff."
The documents filed in court also show just how out there Sidney Powell was following Trump's defeat in 2020. Business Insider stated that she sent Fox host Maria Bartiromo a message from a woman who claimed to be "a decapitated time-traveler" as evidence of voter fraud. 
"This was before Powell appeared on the November 8, 2020, edition of Bartiromo's Fox Business show, 'Sunday Morning Futures,' the outlet noted.
One particularly odd section deals with how the source claims to have gotten her information. It says:
'Who am I? And how do I know all of this?…I've had the strangest dreams since I was a little girl….I was internally decapitated, and yet, I live….The Wind tells me I'm a ghost, but I don't believe it.'
At another point, she described herself as being able to "time-travel in a semi-conscious state.'" 
Powell became famous in the aftermath of the 2020 election as, in the words of Politico, "one of the most outspoken leaders of a troupe of lawyers that filed dozens of suits seeking to contest Biden's win, force recounts or get state legislators to declare Trump the winner. Powell, who memorably vowed to "release the Kraken" as she mounted a campaign to expose massive wrongdoing in the election, was briefly identified as an official member of Trump's legal team and attended a Nov. 19, 2020, press conference at Republican National Committee headquarters along with Trump lawyer Rudy Giuliani.
At that marathon event, Powell repeatedly claimed that an 'algorithm' had been used to underweight Trump votes and overweight those for Biden, but that an overwhelming number of Trump votes 'broke' the formula and required another round of tampering by Trump opponents.
Three days later, Giuliani declared Powell was no longer part of the president's team, although she continued to attend Oval Office meetings and Trump repeatedly considered naming Powell as a special counsel to investigate alleged election irregularities."
None of Powell's (or Trump's) lawsuits have succeeded, but their challenges may be putting the former president in some hot water. 
A grand jury in Georgia investigating the election and supporters of Trump who claimed the vote to be rigged suggested that some of the former president's team, potentially including Trump himself, be indicted for perjury. 
"A majority of the grand jury believes that perjury may have been committed by one or more witnesses testifying before it," the grand jury wrote in the report. "The Grand Jury recommends that the District Attorney seek appropriate indictments for such crimes where the evidence is compelling," according to ABC News.
"The excerpt from the report does not list any names of those who grand jury members believe may have committed perjury. 
"Separately, the grand jury also found 'by a unanimous vote that no widespread fraud took place in the Georgia 2020 presidential election that could result in overturning that election.'
In a statement, a spokesperson for Trump said, 'The long awaited important sections of the Georgia report, which do not even mention President Trump's name, have nothing to do with the President because President Trump did absolutely nothing wrong. The President participated in two perfect phone calls regarding election integrity in Georgia, which he is entitled to do — in fact, as President, it was President Trump's Constitutional duty to ensure election safety, security, and integrity.'"
President Trump is likely right that the grand jury probably did not mean him, but Sidney Powell might be asking her headless time-traveling friend if she knows anything about the law soon. 
[Read More: Racist Attack On One Of America's Greats]