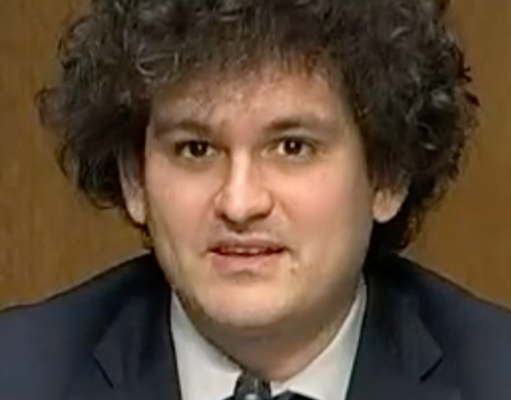 Just a day before he was supposed to testify to Congress and be grilled by Republicans, Sam Bankman-Fried, a megadonor to the Democratic Party has been jailed after being arrested in the Bahamas. He had been rumored to have fled the country following the collapse of an alleged Ponzi scheme connected to cryptocurrency. 
"The U.S. government charged Samuel Bankman-Fried, the founder and former CEO of cryptocurrency exchange FTX, with a host of financial crimes on Tuesday, alleging he intentionally deceived customers and investors to enrich himself and others, while playing a central role in the company's multibillion-dollar collapse," according to The AP.
"Federal prosecutors said Bankman-Fried devised "a scheme and artifice to defraud" FTX's customers and investors beginning in 2019, the year it was founded. He illegally diverted their money to cover expenses, debts and risky trades at the crypto hedge fund he started in 2017, Alameda Research, and to make lavish real estate purchases and large political donations, prosecutors said in a 13-page indictment.
Bankman-Fried, 30, was arrested Monday in the Bahamas at the request of the U.S. government, and remains in custody after being denied bail.
He has been charged with eight criminal violations, ranging from wire fraud to money laundering to conspiracy to commit fraud. If convicted of all the charges, Bankman-Fried — referred to by crypto enthusiasts as "SBF" — could face decades in jail."
Republicans suggested earlier in the week that the timing of the arrest couldn't have been more suspicious, contending that authorities prevented him from testifying before Congress because he is a liability for Democrats serving on the financial committees, both in the Senate and the House. 
I believe SBF was arrested before the Congressional hearings this week because the SEC and other regulators did not want to give Congress an opportunity to ask SBF about their failed oversight.

Why do you think SBF was arrested just before the Congressional hearings? pic.twitter.com/5EJTqhvIEW

— Warren Davidson (@WarrenDavidson) December 15, 2022
Tomorrow, Sam Bankman-Fried was scheduled to testify in front of the House Financial Services Committee. @HouseGOP was ready to grill him six ways to Sunday.

Now breaking tonight, SBF was just arrested!🧐

Why not allow him to 1st testify tomorrow and answer our many questions?

— Lee Zeldin (@RepLeeZeldin) December 13, 2022
From a tactical perspective, I don't understand why the U.S. government didn't wait until after @SBF_FTX testified under oath before Congress tomorrow before charging him with a crime. Prosectors actually did #SBF a favor by saving him from himself.

— Peter Schiff (@PeterSchiff) December 13, 2022
Bankman-Fried had originally refused to testify in front of the more Republican-heavy Senate, but had agreed to go before the House, where the Chairman of the House Financial Services Committee Maxine Waters (D-CA), who would steer the questions. Waters had been previously criticized for literally blowing kisses to the alleged fraudster at previous hearings on cryptocurrency. 
The New York Post reported, "Accused crypto crook Sam Bankman-Fried and his FTX associates pumped nearly $95,000 in donations to at least 11 members of the House Financial Services Committee ahead of the 2022 midterm elections, federal records show.
The string of individual campaign donations has raised eyebrows given the 11 lawmakers serve on the committee currently probing last month's collapse of the FTX crypto exchange.
The majority of contributions were made to Democrats — with New York Rep. Ritchie Torres receiving a total of $35,000 from various FTX-linked donors, according to The Post's analysis of Federal Election Commission campaign data.
The committee members were wrong to ever accept donations from Bankman-Fried or his FTX associates, leading experts on government ethics said Thursday. "These contributions … were unethical because they represented a conflict of interest on both the part of FTX and the regulatory body," said Gene Tempel, professor of Philanthropic Studies and Founding Dean Emeritus of the Indiana University Lilly Family School of Philanthropy."
BREAKING: SBF has been charged with violating campaign finance laws.

He is estimated to have given more than $42 million to Dems and more in "dark money" to Republicans.

But which politicians did he give money to??

Many of them, and their PACs.

Here is the total list: pic.twitter.com/oHyzU94CnV

— unusual_whales (@unusual_whales) December 15, 2022
James David Dickson at Michigan Capitol Confidential showed how the former FTX leader controlled Democrats in Congress. "Bankman-Fried donated $26,600 to Stabenow, according to Federal Election Commission records reviewed by Michigan Capitol Confidential.

Three other FTX employees, Mark Wetjen, Ryne Miller, and Zachary Dexter, also donated to Stabenow. Wetjen made a $5,800 donation to the Stabenow Victory Fund on Jan. 12. That's a day before Bankman-Fried's first donation. On Feb. 11, he made two donations of $2,900, totaling $5,800, to Stabenow for U.S. Senate. Miller, on March 16, made two donations of $2,900, totaling $5,800, to Stabenow for U.S. Senate.

Zachary Dexter made three donations to Stabenow, totaling $11,600. On March 22, he donated $5,800 to the Stabenow Victory Fund. On May 3, he made two donations of $2,900, totaling $5,800, to Stabenow for U.S. Senate.

On Aug. 3, Stabenow submitted Senate Bill 4760 of 2022, or the Digital Commodities Consumer Protection Act. It was referred to a committee that Stabenow chairs, the Senate Committee on Agriculture, Nutrition, and Forestry.
Remember the commercials calling Stabenow "Debbie Spend It Now?"

Those were bad. And so is thishttps://t.co/AXwRpoo56t

— James David Dickson (@downi75) December 16, 2022
Overall, he gave roughly $40 million, almost exclusively to Democrats, during the 2022 election cycle. 
"Progressive FTX founder Sam Bankman-Fried, now facing personal and legal ruin after his cryptocurrency exchange collapsed this week, appeared to admit in a new interview that his professed ethics were largely an act, calling it a 'dumb game we woke westerners play,'" Fox News wrote.
Bankman-Fried, 30, became a billionaire founding FTX, and his commitment to philanthropy in the forms of donations to causes addressing issues like pandemics and climate change, as well as his massive donations to Democrats and liberal PACs, made him a major player in Washington and subject of media fascination. Now he's facing investigations in multiple countries and has seen his fortune disappear."
He told Vox, "It's what reputations are made of, to some extent…I feel bad for those who get f—ed by it. [B]y this dumb game we woke westerners play where we say all the right shibboleths and so everyone likes us." 
Bankman-Friend also donated millions of dollars to help keep liberal media outlets afloat.
Blowing so much smoke up liberals' you-know-where bought Bankman-Fried a huge amount of goodwill in progressive circles and gave him access to power. The New York Times, for example, profiled him in May, and said, "For years, the crypto industry was dominated by political ideologues, shameless grifters and rich guys with yachts. Mr. Bankman-Fried is hoping to put a new face on the still-chaotic world of digital assets. He lives modestly for a billionaire and has pledged to give away virtually his entire fortune, which currently stands at $21.2 billion, according to Forbes. A growing force in political fund-raising, he has a super PAC that recently gave more than $10 million to a Democratic congressional candidate who supports some of his philanthropic priorities."
Fox News continued: "Bloomberg reported on his commitment to giving away his fortune in April, noting his 'Robin Hood-like philosophy." The Washington Post reported this week Bankman-Fried was "raised as a utilitarian — a doctrine holding that the most ethical choice is the one that does the most good for the most people.'
 This week, the paper was mocked for a separate article mourning that his fight to stop the next pandemic could be upended by his company's collapse and the ensuing industry upheaval."
Now that he puts them in a bad light (and the election is over), many Democrats who accepted cash from Bankman-Fried have declared they plan to give it back.