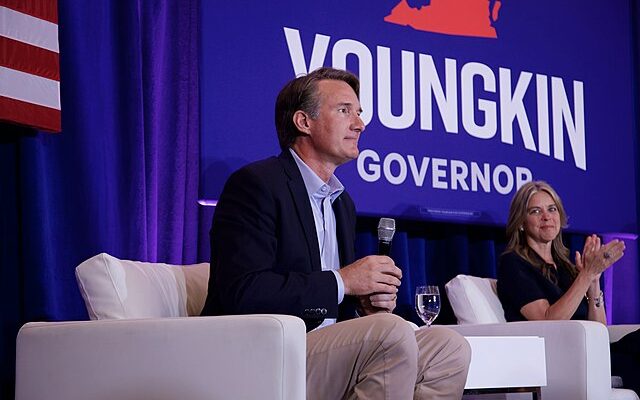 Glenn Youngkin appears to be dipping his toes into the pool to see if the water is warm for a 2024 run for the White House. The Virginia governor will have his chance in the spotlight on March 9, when he joins Jake Tapper of CNN for a national town hall that many are saying is a dry run to see how a presidential campaign may work out. 
The CNN Town Hall will focus on the issue of education. "During the Town Hall, Governor Youngkin will take questions from a live studio audience, and we will hear directly from parents, teachers, students and stakeholders about education and the issues that matter the most to families in Virginia and across the nation," CNN said in its announcement. 
The Hill writes, "Youngkin, who formerly served as the co-CEO of the private equity firm the Carlyle Group, ran for governor on a platform emphasizing parents' role in students' education and railing against diversity initiatives that he has called an effort at "political indoctrination" from the left. 
Youngkin has been included in some hypothetical 2024 GOP primary polls. He told NBC News in an interview in January that he was "humbled" by discussion about his potential candidacy, but he did not commit to whether he would run." 
Like his potential rival in Florida, Ron DeSantis, the Virginia governor recently asked his education secretary to review the Advanced Placement African American studies course that has become the subject of controversy.  
A local ABC affiliate noted, "The move underscores the effort from Gov. Youngkin and Republicans in other states to focus on classroom lessons about race, history and gender, and to ban critical race theory — an academic framework based on the idea that racism is systemic and is perpetuated in society –from their education systems.
A dispute over the College Board's proposed AP course — being piloted at 60 high schools across the country — ensued after the curriculum received heavy criticism from Florida Gov. Ron DeSantis (R), who blocked it from being taught in the state."
One of Youngkin's first moves in Richmond was to sign an executive order aiming to ban mask mandates in schools. He also launched a now closed email tip line for parents to report educators for teaching "divisive concepts."
"Later, Youngkin made headlines after he appeared at a Virginia Board of Education meeting — an unusual move for a governor — and urged the state to reexamine how history is taught in the commonwealth," wrote The Virginian-Pilot.
Youngkin rose to prominence in 2021 after a Loudon County father, outraged that the local school board allegedly covered up a transgender girl sexually assaulting his daughter while in a women's locker room, sparked attention to an important debate happening across the country. 
Youngkin's attorney general later indicted the superintendent of the school system. The Washington Examiner reports, "A special grand jury in Loudoun County has indicted former Loudoun County Public Schools superintendent Scott Ziegler on three misdemeanor charges, a week after issuing a scathing report detailing the school district's misdeeds in responding to a sexual assault.
The office of Virginia Attorney General Jason Miyares, who had impaneled the grand jury, announced Monday that a Loudoun county judge had ordered three misdemeanor indictments against Ziegler to be unsealed. Loudoun County Public Schools Public Information Officer Wayde Byard was also charged with felony perjury.
Ziegler was charged with one count of misdemeanor false publication, one count of misdemeanor prohibited conduct, and one count of misdemeanor penalizing an employee for a court appearance. The charges carry possible jail time of up to one year. Byard's perjury charge carries a maximum sentence of 10 years in prison.
Ziegler, who had served as superintendent for Loudoun County Public Schools since June 2021 after a brief stint as interim superintendent, faced widespread criticism for his response to a May 2021 sexual assault that occurred in the girl's bathroom at Stone Bridge High School. The perpetrator of the assault was transferred to Broad Run High School, where he committed another assault in October 2021. Ziegler was abruptly fired after the special grand jury released a report last week that accused LCPS administrators of "fail[ing] at every juncture" when responding to the assaults."
The governor had previously attempted to force the entire Loudoun County School Board to face voters in the past election, shortening their terms and stunning "many state political observers as an intrusion into local election integrity without modern precedent in Virginia."
Despite talk about presidential ambitions, Youngkin's top political advisor seemed to recently pour cold water on his prospects. The Washington Post wrote, "Virginia Gov. Glenn Youngkin (R) traveled to New York on Wednesday to meet with major GOP donors, making the first of several planned out-of-state political trips amid mixed signals about the Republican's White House ambitions.
While stoking renewed interest in Youngkin's potential 2024 bid, the trip comes at an awkward time — just days after the governor's chief political consultant, Jeff Roe of Axiom Strategies, seemed to discount his client's chances on national TV.
On Fox News on Sunday, Roe said the GOP nomination is a "two-person race between Donald Trump and Ron DeSantis," referring to the former president and the Florida governor, both of whom dominated a Fox poll of Republican primary voters on GOP nominee preferences. The poll put Youngkin at 1 percent.
'There's simply no room for a third or fourth, or even fifth person in this race,' Roe said."
Current polling of a potential GOP primary, at both a national and state level, shows a two-person race between former President Donald Trump and Ron DeSantis, the governor of Florida. While Youngkin might not be able to wear the crown himself, he could play a vital role as kingmaker in the state of Virginia. 
[Read More: Trump Fans Using 'Bots' To Attack Rivals]