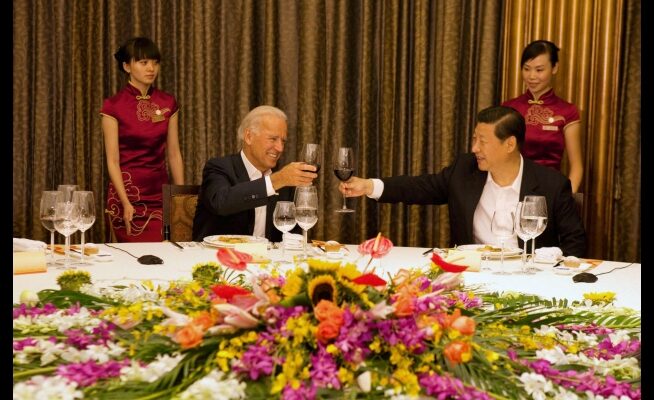 Over the past week, with the midterms behind them and the next election almost two years away, the Biden White House has admitted that they tried to fool the American people. A report released by the Department of Energy "shows that ending construction on the Keystone XL pipeline, which was designed to transport crude oil from Canada to Texas, cost the U.S. between 16,000 and 60,000 jobs and between $3.4 and $9.6 billion dollars in gross domestic product (GDP).
The report, which was commissioned to estimate the economic impacts associated with the Biden administration's decision to kill the pipeline, was compiled of various studies that took place between 2010 and 2014. The report was finalized in December, but no public announcement appeared to have been made on its behalf.
The larger of the estimates, which showed the country may have lost up to 60,000 jobs annually by ending the pipeline's construction, came from a study done by the Perryman Group (PG) on behalf of TransCanada — the company that was seeking U.S. federal government approval for the Keystone XL pipeline project."
According to this secondary model, one pushed by the White House as it tried to cover its tracks, "the estimated job loss was closer to 37,000 jobs per year. A different estimate, developed by the government's own environmental impact summary, put the number closer to 21,000 jobs annually."
The report can be found at this link.
On his first day in office, Joe Biden misled the American people, saying in an executive order, "The Keystone XL pipeline disserves the U.S. national interest. The United States and the world face a climate crisis. That crisis must be met with action on a scale and at a speed commensurate with the need to avoid setting the world on a dangerous, potentially catastrophic, climate trajectory. At home, we will combat the crisis with an ambitious plan to build back better, designed to both reduce harmful emissions and create good clean-energy jobs. Our domestic efforts must go hand in hand with U.S. diplomatic engagement. Because most greenhouse gas emissions originate beyond our borders, such engagement is more necessary and urgent than ever. The United States must be in a position to exercise vigorous climate leadership in order to achieve a significant increase in global climate action and put the world on a sustainable climate pathway. Leaving the Keystone XL pipeline permit in place would not be consistent with my Administration's economic and climate imperatives."
Two years ago, the president also stated that the pipeline was two years away from being completed and therefore had no impact on gasoline prices. 
In June, gas in the United States hit the highest price ever. Today it still sits at nearly a dollar more than when Biden took over the White House. 
Biden's allies were thrilled that so many Americans lost their jobs as we all pay more at the pump. The NRDC wrote, "The takedown of the notorious Keystone XL (KXL) tar sands pipeline will go down as one of this generation's most monumental environmental victories. After more than 10 years of tenacious protests, drawn-out legal battles, and flip-flopping executive orders spanning three presidential administrations, the Keystone XL pipeline is now gone for good. The project's corporate backer—the Canadian energy infrastructure company TC Energy—officially abandoned the project in June 2021 following President Joe Biden's denial of a key permit on his first day in office."
Republicans lit into Biden following the report. Human Events wrote, "Montana GOP Senator Steve Daines said the Biden administration had "finally owned up to what we've known all along, and that is that killing the Keystone XL Pipeline cost good paying jobs."
'It hurt Montana's economy, and was the first step in the Biden administration's war on oil and gas production in the United States,' he continued. 
The Keystone XL Pipeline was designed to transport crude oil from Canada through eastern Montana to Steele City, Nebraska, while the existing Keystone line already carries oil from Canada through eastern North Dakota to Steele City. However, Biden canceled the project immediately after taking office as a direct concession to environmental activists."
"Now we learn the truth," said Republican Senator Josh Hawley, who pointed out how "working class jobs," the same ones Biden claims to defend, were lost by his obsession with killing fossil fuels. "Not to mention our energy independence," he continued. "All for the fanatical climate religion of the left."
Republicans have been critical of Biden for his energy policies long before this report, The Washington Examiner noted. 
"'Countless jobs and billions of dollars were lost because [Biden] canceled the Keystone XL pipeline. Who benefitted? Certainly not the American people,' Senator Mike Lee of Utah, said. "It certainly energized radical leftists who categorically hate fossil fuels. But demand remains strong, forcing us to buy more from energy producers on other continents who don't share our interests or our commitment to providing clean, affordable energy to Americans." 
This might have been the first time that the Biden Department of Energy hurt the country, but it was certainly not the last. Last July, the White House was selling America's oil reserves to China, funneling it through a company connected to Hunter Biden. 
"In October," Fox News reported, "the Department of Energy (DOE) awarded the grant to Microvast, a Texas-based maker of technology for electric vehicle batteries, under the $1 trillion infrastructure package President Biden signed into law in November 2021. Microvast was one of just 20 American companies to receive a portion of the nearly $3 billion appropriated for a program designed to boost domestic battery manufacturing capabilities.
However, 69 percent of Microvast's revenue was generated in China and just 3 percent came from the U.S., according to a third quarter financial disclosure it filed with the Securities and Exchange Commission (SEC) last month. In the same filing, the company acknowledged that the Chinese government "exerts substantial influence" over its business activities and "may intervene at any time and with no notice.'
'Microvast is an American battery company,' a DOE spokesperson told Fox News Digital in a statement. "And thanks to the Bipartisan Infrastructure Law, it no longer needs to look to China to establish its manufacturing facilities. The President's historic agenda is helping to reshore manufacturing back to the U.S.'"
The SEC filings by the company are disturbing: "The PRC government may exert, at any time and with no notice, substantial interventions and influences over the manner in which we conduct our business activities, which we may not be able to anticipate," the company stated. 
"If the PRC government decides to substantially intervene, influence or establish new policies, regulations, rules or laws affecting our business, said substantial intervention or influence may result in a material change to our operations … and could significantly limit or completely hinder our ability to offer or to continue to offer securities to investors, and/or cause the value of such securities to significantly decline or be worthless," it added.
It seems like the public is just now catching on to Biden's actions of giving away the store. Even The Washington Post noticed that "China Finds a Place in the US 'Battery Belt'"
[Read More: Before Visit, Biden 'Sweeps Up' Illegals To Create Fiction There's No Border Crisis]