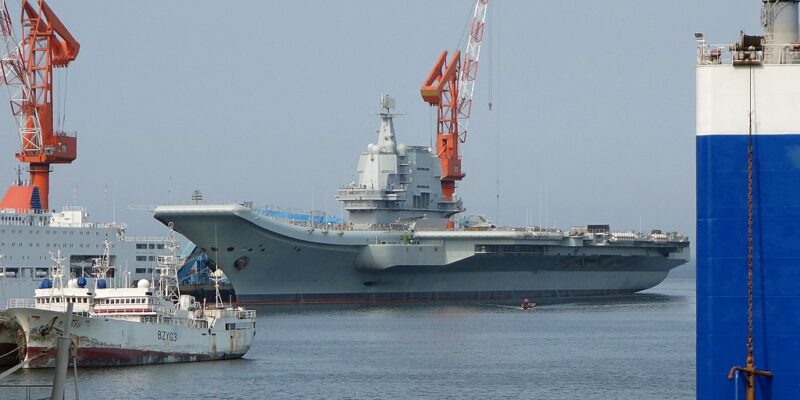 Hours before a conversation between President Joe Biden and Chinese President Xi Jinping, the Chinese navy sent the aircraft carrier Shandong through the Taiwan Strait, a sensitive region of the globe. Reuters reported that an American destroyer shadowed the Chinese warship.  
"A source with direct knowledge of the matter, who was not authorised to speak to the media and spoke on condition of anonymity, told Reuters the carrier Shandong sailed close to the Taiwan-controlled island of Kinmen, which sits directly opposite the Chinese city of Xiamen.

"Around 10:30 a.m. the CV-17 appeared around 30 nautical miles to the southwest of Kinmen, and was photographed by a passenger on a civilian flight," the source said, referring to the Shandong's official service number.

The USS Ralph Johnson, an Arleigh Burke guided missile destroyer, shadowed the carrier at least partly on its route. The Shandong did not have aircraft on its deck and sailed north through the strait, the source added. 

Taiwan also sent warships to keep an eye on the situation, the source said."
American military officials labeled the stunt "provocative," especially since Taiwan has been on high alert because of the ongoing Russian-Ukraine conflict. The small island nation worries that the deterioration of global peace might give the Chinese Communist Party in charge of the mainland the chance to strike. They have claimed that Taiwan has belonged to them since the Chinese civil war of the 1940s. 
Chinese foreign ministry spokesperson Hua Chunying recently stated, "It is common knowledge that the Taiwan question was caused by a civil war, and there is political confrontation between the two sides of the Taiwan Strait due to that civil war. However, China's sovereignty and territory have never been divided and cannot be divided. This is the status quo of the Taiwan question."
A Russian whistleblower recently released emails and letters stating that Xi planned to invade Taiwan this Fall. The letter said, "Not only that: Xi Jinping was at least tentatively considering the capture of Taiwan in the autumn—he needs his own small victory in order to be re-elected for a third term—there is a colossal power struggle among the [party] elite. Now, after the events in Ukraine, this window of opportunity has shut, which gives the United States the opportunity to both blackmail Xi and negotiate with his [political] rivals on favorable terms."
President Biden hoped to use his nearly two-hour call with President Xi to convince China that assisting Russia in its war against Ukraine would have dire consequences. CNN reported, "Biden's goal in speaking with Xi directly was partly to ascertain where exactly the Chinese President stood, and it remained unclear afterward whether he'd gained much clarity." 
The United States has sold Taiwan advanced weapons and assisted in training the island's soldiers over the years. Biden has promised to defend Taiwan multiple times. 
[Read More: Is Russia On The Brink Of Collapse?]