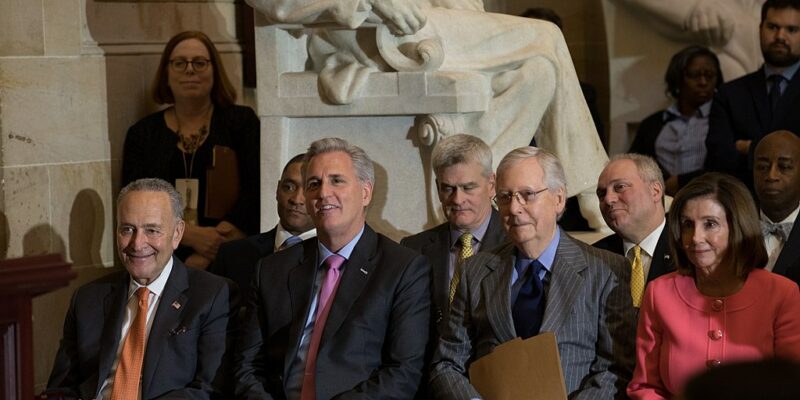 As we have noted over the past week, things are not going particularly well for the mainstream media. CNN announced that they will be firing woke commentators and are aiming to move away from being hyperpartisan repeaters of Democratic talking points. Joining them in the breadlines are other journalists who have recently been let go at major outlets like NPR, ABC News, and Gannett publishing.
Despite House GOP Leader Kevin McCarthy, who is expected to be the next Speaker of the House, vociferously objecting it's looking like Mitch McConnell has decided that the mainstream media needs to be bailed out and that the best way to do it is through funding the military. Democrats will be allowed to attach the controversial Journalism Competition and Preservation Act (JCPA) to the National Defense Authorization Act (NDAA). 
The latter funds our military, the former, as explained by American for Tax Reform, "creates an antitrust exemption to allow print, broadcast, or digital news companies to form a legal cartel in negotiations with online platforms that host their content. This media cartel would then negotiate the terms in which digital platforms are allowed to distribute content. If passed, this would allow liberal legacy media outlets to box conservative and independent outlets out of the cartels.
The left's narrative is that Big Tech companies are squashing traditional journalism, especially local newspapers. In reality, global newspaper circulation has been on the decline since 1989, long predating platforms like Facebook or Google. Tech companies already pay billions of dollars in licensing fees to prop up legacy media, making claims that media companies need an antitrust exemption to extract more special favors from Big Tech dubious at best.
Digitization of the news and the rise of social media has led consumers to look outside traditional outlets for their news. This competition in the news industry has benefited conservatives, who now have unprecedented opportunity to get their message out without depending on traditional biased news outlets. The JCPA risks undermining this progress by empowering establishment media companies, traditionally biased against conservatives, to collude when negotiating with Big Tech platforms."
Breitbart explained: The JCPA has absolutely nothing to do with national defense, so the move—a swan song of sorts for Pelosi, who just announced she is leaving congressional leadership but retaining her House seat after Democrats lost the majority to the GOP in the midterm elections—is an egregious step for an outgoing leader of the past against precedent as the NDAA has generally been reserved just for national security matters.

Proponents of the JCPA have been struggling for over a year to move the controversial proposal through Congress, hitting roadblocks every step of the way in committee hearings and fierce opposition from Republicans like McCarthy and others including Jim Jordan, Steve Scalise, Marsha Blackburn, Tom Cotton, and more.

That's why lobbyists supporting the bill on behalf of deep-pocketed industry interests zoned in on two must-pass legislative vehicles in this lame duck session of Congress as last ditch efforts to pass it before the GOP formally takes control of the House next year: the NDAA or a spending bill like an omnibus spending bill currently also being negotiated.

The JCPA, essentially a transfer of wealth from Silicon Valley to the discredited and distrusted corporate legacy media, is highly controversial. Beyond the financial payouts to media companies, they will be able to form a "joint negotiating entity"—a cartel, immune from antitrust law—to negotiate with Big Tech companies on the "terms and conditions" for carrying their content.
The "terms and conditions" delivered to social media platforms from mainstream media will likely include censoring conservatives on social media as the powerful outlets use their newfound leverage to go after their enemies.  
Breitbart had previously explained the tension among Republicans. The outlet said, "Some Republicans in the House have been convinced that it will somehow strike a blow against Big Tech to pass the JCPA, which will allow media companies to form cartels in order to pressure tech companies for financial payouts and other favors.
Even with the hastily-added Senate amendment aimed at addressing conservative concerns regarding collusion between the media industry and Big Tech on the censorship of competitors, the bill still contains plenty of ways for the cartel to sideline conservative media.
Provisions to ensure the cartel cannot discriminate on the basis of "viewpoint" are particularly unconvincing. The pretexts used by social media companies, "fact checkers," and other arms of the corporate censorship apparatus are almost always viewpoint-neutral. No one is censored for being a conservative, say the censors: they are censored for "misinformation," "hate speech," "conspiracy theories," and other purportedly viewpoint-neutral reasons.
The JCPA is a controversial bill pushed by the wealthiest media companies in the world. It is not something voters asked for, and it will result in deeper collusion between the left-leaning media industry and Silicon Valley."
The liberal bill will likely empower people like Yoel Roth, the woke former head of "Trust and Safety" at Twitter, before apparently being forced out by Elon Musk for his apparent lack of commitment to the principles of free speech.  
During remarks at the Knight Foundation's "Informed: Conversations on Democracy in the Digital Age" last month, Roth explained the now main view of the left when it comes to free speech: it's only for the left because the right doesn't deserve it. 
PM. wrote about the talk: "In the spring, the Babylon Bee had been declared by Twitter to be in violation of their "hateful conduct" policies for sharing a satirical article awarding Biden's transgender diversity hire, assistant Secretary to the Department of Health and Human Services Dr. Rachel Levine, a "man of the year" award. This was in response to Time Magazine naming Levine "woman of the year."
The satire account was locked out of Twitter pending their voluntary deletion of the tweet. Babylon Bee CEO Seth Dylan refused to comply. The violation was to the terms of Twitter's hateful conduct policy, which reads that users "may not promote violence against or directly attack or threaten other people on the basis of race, ethnicity, national origin, caste, sexual orientation, gender, gender identity, religious affiliation, age, disability, or serious disease."
"You know, it's interesting," Roth replied to Swisher. "It's interesting to think about what the competing tensions around that are. And I want to start by acknowledging that the targeting and the victimization of the trans community on Twitter is very real, very life threatening and extraordinarily serious."
This concept from Roth that words are violence is one traveling like wildfire through liberal circles. The idea is that if anyone says anything offensive, that could encourage others to do mean things. This has been called 'stochastic terrorism,' and the goal of this kind of accusation is to suppress free speech."
In other words, the left may call for violence and that's free speech, the right may call for free speech and that's violence. 
The censoring of the Babylon Bee and the demand that its writers recant by Twitter drove Elon Musk to buy Twitter. Musk has said that the fight for free speech "is a battle for the future of civilization. If free speech is lost even in America, tyranny is all that lies ahead."
A self-proclaimed free-speech absolutist, "Musk vowed to make his social media platform a more open 'digital town square' when he took over the app earlier this year." 
The left, bolstered by mainstream media, has vowed to shut him down in order to regain their censorship powers, even asking the White House to step in. 
Reporter to WH: "What tools do you have" to stop @elonmusk from restoring free speech at Twitter? pic.twitter.com/AgEVNVyTHF

— Tom Elliott (@tomselliott) November 28, 2022
Others, such as CNN are trying to spin that censoring bad stories for Democrats isn't censorship at all, saying, essentially, "your eyes deceive you!" 
CNN's @ChristineRomans: "Some want you to think" Twitter censoring Election Day-eve news of Biden corruption "was Big Tech censorship."

"What @Poynter said, which is a media watchdog group, they said, 'File the Twitter files under m for meh'." pic.twitter.com/6ou3HrgpmJ

— Tom Elliott (@tomselliott) December 5, 2022
A recent poll showed that 61 percent had no or little trust in the media. The public does not believe that the mainstream media deserves the power to censor what gets said in public, but the JCPA will likely only bolster those efforts. It's not clear why Mitch McConnell would think otherwise. 
[Read More: Whole Foods, Biden Administration Use Bogus Claim To Shutdown Lobster Industry]