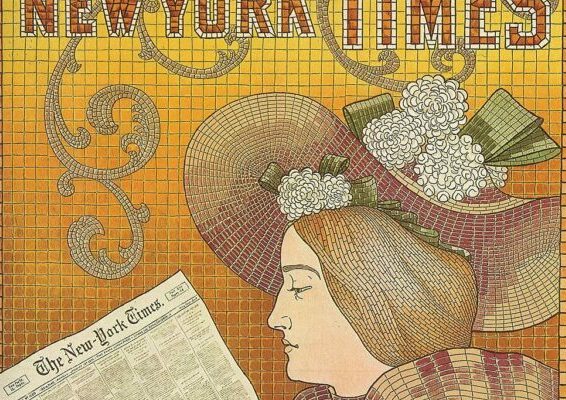 The mainstream media is being rocked by reality and liberal journalists who have spent much of their career covering "news" and tweeting about conspiracy theories or how much they dislike conservatives are having a hard time coping. The New York Times has become the latest outlet to see its staff hit by the forces of the market, but this time it's the newspaper getting the blame. 
The Intelligencer reports, "This morning at 8 a.m., New York Times publisher A.G. Sulzberger and CEO Meredith Kopit Levien received a letter from Bill Baker, unit chair of the Times guild, that was signed by more than 1,000 employees. Subject line: 'Enough. If there is no contract by Dec. 8, we are walking out.'
For months, the newsroom has been pressing its publisher for a bigger share of the Times' profits, but it turns out the guy whose predecessors were nicknamed Punch and Pinch is no pushover. So now they've decided to give the boss a hard deadline. The letter demands a weeklong marathon bargaining session over health-care funds and return-to-office policies and their pension plan. But what the employees really want is permanent increases in base pay. If they don't get enough of a salary bump, they're going to stop working for 24 hours next Thursday.
A walkout is technically a strike, though one with an end date. There was a one-hour walkout over a lapsed contract in 2011, and another quick afternoon walkout in 2017 over copy editors being eliminated. But those were mostly shows of solidarity. What the employees are preparing to do next week would be something not seen at the paper of record since 1978. Picture it: a full day without the New York Times. No one covering the tumult in Guangzhou or inside Buckingham Palace or what our president is saying. From midnight to midnight, no reporting, no filing stories, no podcasting, no comment moderating, and definitely no responding to editors' queries. There would be no live briefings."
The horror! The absolute horror! What would we do without a day of The New York Times! Could we even go on without Paul Krugman spinning how inflation is fine or Jamelle Bouie pumping up Marxism? How could we learn about the nanny Prince William hired!?! 
The NYT Guild communicated the only way they know how, via tweet: 
A company on track for an annual operating profit of $320 million or more should be paying its employees a minimum of $65,000 a year. The @nytimes thinks this is unreasonable. The @NYTimesGuild does not.

— NYTimesGuild (@NYTimesGuild) December 2, 2022
The Daily Caller had more details about the ongoing feud between "the paper of record" and its employees who often make up much of the record. The New York Times Guild, a union consisting of 1,300 New York Times employees, alleged in a letter to publisher A.G. Sulzberger and CEO Meredith Kopit Levien that management has been "dragging its feet" by reportedly proposing to slash their company benefits and halt wage raises. They have thus demanded that executives sign a contract by Dec. 8 committing to their requests for higher wages and reportedly to protect their pensions, healthcare and retirement plan.

The union alleged that The Times has committed a larger amount of their finances to profitable investments, such as purchasing the game Wordle and The Athletic. They also alleged that they allocated $150 million in stock buybacks to its investors, while offering wage increases that could lead to "pay cuts."

Danielle Rhoades Ha, a spokeswoman for the Times, told the Daily Caller on Friday that they are "committed" to reach an agreement with the union and have already agreed to raise their wages and reward about 50% more in additional earnings.

She also said, "While we are disappointed that the NewsGuild is threatening to strike, we are prepared to ensure The Times continues to serve our readers without disruption.We remain committed to working with the NYT NewsGuild to reach a contract that we can all be proud of. Our current wage proposal offers significant increases. The majority of members of the bargaining unit would earn 50 percent or more in additional earnings over the life of the new contract than they would have if the old contract had continued. Moreover, our accompanying medical and retirement proposals offer sustainable, best-in-class options for Guild members."

The spokesman also pointed out that the newspaper had proposed paying reporters between $150,000 and $204,000 a year in salary, but that it was rejected. The union also complained about not being allowed to work remote.
The fight at The Times comes amidst what The Washington Post has called "the dark winter" coming for mainstream media. The newspaper noted, "Other television networks are planning cost-cutting measures over the winter. NBCUniversal, the parent company of NBC News and MSNBC, will lay off employees in January, according to a Business Insider report, though a news division spokesperson declined to comment Thursday. ABC News parent company Disney is similarly planning cuts under the leadership of Bob Iger, who recently returned as the company's chief executive.
The country's largest newspaper chain, Gannett, is undertaking a round of job cuts that is expected to affect roughly 200 journalists — at papers large and small — over the next two days. The company also laid off about 400 employees in August and froze hiring for hundreds more positions. "While incredibly difficult, implementing these efficiencies and responding decisively to the ongoing macroeconomic volatility will continue to propel Gannett's future," Gannett spokesperson Lark-Marie Antón said in an email.
NPR is also facing a financial shortfall that will require $10 million in budget cuts over the next 10 months, chief executive John Lansing told employees on Wednesday. Also on Wednesday, Washington Post executive editor Sally Buzbee informed employees of plans to close the company's weekly print magazine, citing The Post's plans for "global and digital transformation."
'A lot of media companies right now are looking at the economy and saying to themselves, We're about to go into a recession and we're going to need fewer people,' said Chris Roush, dean of the School of Communications at Quinnipiac University."
The struggling media outlets join CNN in cutting staff. We wrote earlier that the television channel is dying, and new management has decided to fire much of its hyperpartisan and woke staff as their ratings have plummeted. The Guardian stated, "the cost-cutting new corporate management under the umbrella of Warner Bros Discovery has also indicated it wants to reel in a perceived left-leaning political bias in CNN's coverage."
How many of these other struggling outlets will follow suit?
[Read More: Dem Leader Begs For Spare Change In Saddest Fundraising Email Ever]