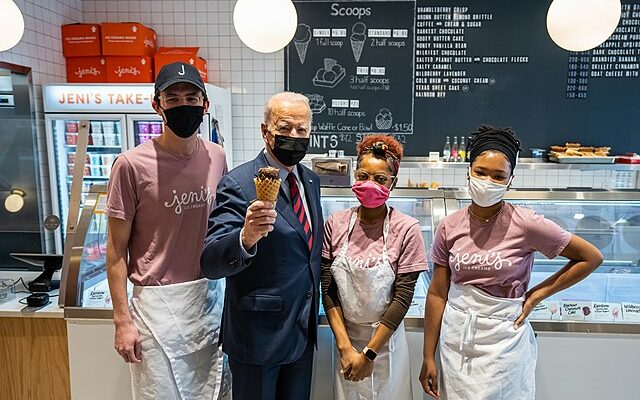 On Sunday night, hundreds of migrants from Mexico crossed the Rio Grande and entered El Paso, Texas. The caravan, filled with people mostly from Nicaragua, is one of the largest to cross into the United States in several years. 
The New York Times wrote, "Their arrival en masse into the United States surprised even those in El Paso, which has in recent months found itself overwhelmed by a steady stream of many migrants from Central and South America, more than 50,000 people in October alone.
Like the migrants from Venezuela who flooded into El Paso this year, those arriving from Nicaragua cannot be rapidly expelled under a pandemic-era public health policy known as Title 42, which federal authorities employ with migrants from other countries, such as Mexico.
And so the scenes unfolding in El Paso offered a preview of the challenges that border officials could soon face all along the southern border after the policy comes to an end, as it is expected to, absent court intervention, next week
Most of those who arrived on Sunday turned themselves in to federal authorities for processing. Soon, most of them would join the thousands of others who have crossed in recent days, many of whom have been released to seek help and food, some clustering at the downtown bus station, some sleeping on cardboard during a night when temperatures dipped toward freezing."
On December 9, 1,000 crossed into Eagle Pass, TX, in three groups: 650 people, 350 people, and then 700 people," according to Legal Insurrection. "On December 10, Border Patrol sources told Melugin that El Paso and Eagle Pass had over 4,800 migrants cross in total in 24 hours. Now we can add 2,600 crossings in El Paso in the last 24 hours."
Fox News obtained footage showing the moment the caravan with over 1,000 people crossed the Mexican border of the United States.
BREAKING: A huge migrant caravan of over 1,000 people crossed illegally into El Paso, TX last night, making it the largest single group we have ever seen. The city of El Paso reports Border Patrol now has over 5,000 in custody & has released hundreds to city streets. @FoxNews pic.twitter.com/ewUQX757Lt

— Bill Melugin (@BillFOXLA) December 12, 2022
The news channel reported, "The video, taken Sunday night, comes as U.S. Customs and Border Protection sources said Monday that its El Paso sector has seen 2,397 migrant encounters in the last 24 hours alone.

The city of El Paso has a dashboard that reports Border Patrol in that sector currently has around 5,100 migrants in custody.

'Customs and Border Protection's El Paso Sector on the Texas border with Mexico has seen an increase in encounters,' CBP said in a statement to Fox News on Monday afternoon. 'In order to process individuals as safely and expeditiously as possible, Border Patrol agents from Big Bend and CBP Officers from El Paso Field Office are assisting with processing.'

Prior to these border crossings, Mexican police escorted nearly 20 buses full of migrants into the Mexican city of Ciudad Juarez, which is located across from El Paso. The police released the migrants to various non-governmental organizations."
More video of this mass crossing in El Paso, which is still underway, from local media outlet @elpasomatters. https://t.co/bp6vN0qxf7

— Bill Melugin (@BillFOXLA) December 12, 2022
"'Welcome to the United States!' a young man in the middle of the Rio Grande shouted to the hundreds of migrants arriving at the border from shelters in Juárez on Sunday night. 'You made it!', said to the Texas Tribune.
"The migrants who crossed Sunday night were in a group of hundreds who were escorted by Chihuahua State Police from the city of Jiménez to Juárez earlier in the day in a caravan of 20 buses. The buses split up in Juárez and brought migrants to the Leona Vicario and Kiki Romero shelters.
U.S. immigration officials released 1,744 migrants in El Paso on Saturday and Sunday. Because that was more than the available beds at shelters run by nongovernmental organizations, 611 of them were released on the streets in downtown El Paso, according to the dashboard.
Border Patrol agents and U.S. Customs and Border Protection officers in the El Paso region, which includes New Mexico, have encountered almost 15,000 migrants in the past week, according to the dashboard. That is the highest weekly total of the year so far."
Officials have reportedly begun to mass release several hundred migrants to El Paso city streets. The El Paso dashboard tracking illegal immigrants released into the city said that over 1,700 were released by federal officials over the weekend, including 611 who were released in downtown El Paso. 
The city's website reads, "The migrant crisis has been ongoing since 2018. The current wave of migrants coming to El Paso began in April 2022 and the sudden surge we are seeing now started in late August. The number of people released to the City of El Paso and local non-government organizations (NGOs; i.e., humanitarian agencies) has grown from approximately 250 per day in early August to as high as over 1,000 per day during the month of September 2022. The number fluctuates daily and is currently averaging 900 per day. The City of El Paso places our priority on the individual migrant, providing food and water, connectivity, transportation assistance, and temporary shelter if needed. 
The people crossing come from all parts of the world to escape economic devastation and extreme crime. The situation is dynamic. However, the main countries migrants are coming from today are Venezuela, Ecuador, El Salvador, Haiti, Nicaragua, and Cuba. Though the numbers have been as high as 90% and as low as 50% from Venezuela, the number is currently holding at approximately 70%. The remainder of the migrants is from other countries including Ecuador, El Salvador, Haiti, Nicaragua, and Cuba."
Last week, when asked "why he's opting not to visit the U.S.-Mexico border during a trip to Arizona…President Joe Biden told reporters there are 'more important things going on' than the southern border crisis.
The president notably said last year that he didn't have a lot of time to visit the U.S-Mexico border, which has been facing a historic surge of migrants.
After being asked if Biden had plans to visit the border during the upcoming year, White House Press Secretary Karine Jean-Pierre "side-stepped the question, and instead pointed the finger at Republicans for politicizing the border and failing to find "any real ideas" to solve the issue.
'We know the president's never been down to the border. The possible next speaker says that he wants [Biden] to go with him. So, is he going to?' Jean-Pierre was asked last week by a reporter.
Jean-Pierre responded, "He's been there. He's been to the border. And since he took office President Biden has been taking action to fix our immigration system and secure our border."
DOOCY: "Kevin McCarthy says that he invited president Biden down to the border. How does the president RSVP? We know the president has never been down to the border…"

KJP: "He's been there. He's been to the border."

DOOCY: "When did he go to the border?" pic.twitter.com/bzLAQ2eJci

— Townhall.com (@townhallcom) November 30, 2022
I hope you're sitting down, but the White House Press Secretary wasn't being truthful.
In reality, the current president has no interest in solving the border crisis or even acknowledging that one exists. The Washington Post noted last year, "Biden, a former chair of the Senate Foreign Relations Committee, is justifiably proud of his long record of traveling overseas and meeting with foreign leaders. When he was running for vice president in 2008 against then-Gov. Sarah Palin, a foreign-policy neophyte, Biden's Senate office released a self-described "partial" list of leaders that Biden had met with, totaling about 150 names from nearly 60 countries, territories and international organizations.
But despite that long history, we cannot find evidence that Biden at one point made a visit to the southern border.
We did our own search through the Lexis-Nexis database and also could not find a record of a visit. There were many Senate hearings in which the border situation was discussed with Biden in attendance, but that's not the same as an actual visit. We also found clips of Biden traveling to Mexico to discuss the border situation, such as on a 2001 delegation headed by then-Sen. Jesse Helms (R-N.C.), but those trips do not appear to include a visit to the border.
But after digging some more, we discovered that Biden briefly drove past the border while on a campaign swing in 2008."
The only time the Biden Administration, or Democrats in general, care about migrants crossing the border is when they go through the gated communities in Martha's Vineyard. That's the only time you'll see liberals "seethe" about the border crisis. 
[Read More: Glenn Youngkin Protects Kids As School Board Leader Indicted For Cover Up]