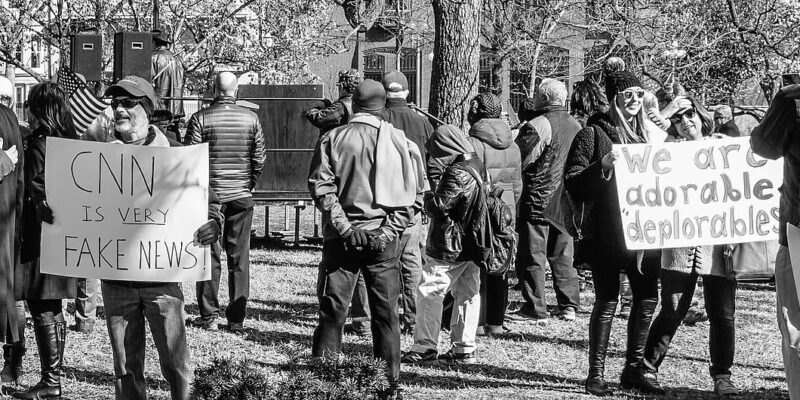 CNN is dying, and its new management has been discussing ways to fire much of its hyperpartisan and woke staff that has been blamed for its downfall from "the most trusted name in news." The original cable news network, according to The Guardian, "has been shedding viewers, coming in last in ratings of US cable news networks during the recent midterm elections.
At the same time, the cost-cutting new corporate management under the umbrella of Warner Bros Discovery has also indicated it wants to reel in a perceived left-leaning political bias in CNN's coverage.
Over the past year, incoming management at CNN outlined a course to return to a political middle ground and to the spirit of founder Ted Turner, who sought to "make news the star." The course would be steered by CNN's chairman and CEO, Chris Licht, and supported by Warner's chief executive, David Zaslav, and libertarian cable king and shareholder John Malone."
"Licht has faced major financial struggles at the network since he replaced former CEO Jeff Zucker following the latter's resignation in February. The network's profit is set to drop below $1 billion for the first time since 2016 with the rise of streaming services, reported to The Daily Caller.
CEO Chris Licht's attempt to save the ailing channel has begun. The Daily Caller continued: "The network's executives are set to notify a pool of staff, mostly paid contributors, about the end of their employment at the company, according to the email. Licht described these staffing changes as a "gut punch" to the network, as CNN" tries to stay fiscally afloat.
The memo read:

To my CNN colleagues,

Our people are the heart and soul of this organization. It is incredibly hard to say goodbye to any one member of the CNN team, much less many. I recently described this process as a gut punch, because I know that is how it feels for all of us.

Today we will notify a limited number of individuals, largely some of our paid contributors, as part of a recalibrated reporting strategy. Tomorrow, we will notify impacted employees, and tomorrow afternoon I will follow up with more details on these changes.

It will be a difficult time for everyone. If your job has been impacted, you will learn more through an in-person meeting or via Zoom, depending on your location. In those meetings, you will receive information specific to you about notice period or any severance that would apply, and your anticipated last day. I want to be clear that everyone who is bonus eligible will still receive their 2022 bonuses, which are determined by company performance.

I know these changes affect both our departing colleagues and those who remain, and we have resources designed to support you. I will include a link to those resources in my follow up email tomorrow.

Let's take care of each other this week.

Chris
The Hollywood Reporter noted, "The cuts are not a surprise, " with Licht warning employees in late October that the news division would be undergoing a restructuring, citing "widespread concern over the global economic outlook."
But they do come amid decreasing morale at CNN, which has already seen significant turnover this year since the Discovery merger. One of the first moves made after the merger closed was to shut down the CNN+ streaming service, laying off a couple hundred employees in the process.
Since then, the company has also made cuts at CNN Digital, and saw a handful of high-profile on-air anchors and correspondents depart like Brian Stelter and John Harwood. It has also begun to add new programming, most notably a new morning show led by Don Lemon, Poppy Harlow, and Kaitlan Collins."
Throughout his presidency, Donald Trump often referred to CNN, in many cases rightfully, as "fake news," and that moniker looks like it helped derail the channel's ratings. Two early examples of CNN's problem that Licht alleviated, Stelter and Harwood, were known to be extremely liberal hacks who, over time, drove down CNN's viewership. 
During his final sign off after being canned earlier in the year, for example, Stelter said, "I know I didn't have all the answers, I didn't even always have all the right questions… Here's what I do know. I know it's not partisan to stand up for decency and democracy and dialogue," Stelter told CNN viewers on Sunday. "It's not partisan to stand up to demagogues. It's required, it's patriotic. We must make sure we don't give a platform to those who are lying to our faces. But we also must make sure we are representing the full spectrum of debate and representing what's going on in this country and in this world."
But as Fox News noted, "Except Stelter's final 'Reliable Sources' did not represent the 'full spectrum of debate' as his line-up of guests was almost exclusively made up of liberal Trump critics who continued to bash the former president with no conservatives or moderates to push back."
Harwood, who joined CNN in 2020, was even worse. He actively functioned as a Democratic apparachik to help them win campaigns under the guise of being a newsman. In 2016, Harwood was outed by the website Wikileaks for bragging about how we used his position as debate moderator to try and undermine Republicans and support Democrats. Making him White House correspondent showed how broken CNN had become.
During that year, The Daily Caller reported, "The latest batch of emails from the account of Clinton campaign chairman John Podesta show New York Times reporter and CNBC anchor John Harwood giving the Clinton campaign tips about other candidates and bragging about feeling vindicated by provoking Donald Trump as a debate moderator.
In a December 2015 email to Podesta, Harwood bragged about his much-criticized debate performance in which he asked Trump "Let's be honest, is this a comic book version of a presidential campaign?"
Harwood titled the email 'I imagine that Obama feels some (sad) vindication at this demonstration of his years-long point about the opposition party veering off the rails.'"
One of the top shareholders of CNN's parent company, John Malone, said on CNBC, "I would like to see CNN evolve back to the kind of journalism that it started with, and actually have journalists."
"I would like to see CNN evolve back to the kind of journalism that it started with, and actually have journalists," claimed John Malone, the top shareholder of Discovery, which is poised to take over the network. pic.twitter.com/QnNhQwgBY0

— Mediaite (@Mediaite) November 19, 2021
Do those still exist? Earlier in the year, Pew Research noted, "Journalists in the United States differ markedly from the general public in their views of "bothsidesism" – whether journalists should always strive to give equal coverage to all sides of an issue – according to a recent Pew Research Center study. A little more than half of the journalists surveyed (55%) say that every side does not always deserve equal coverage in the news. By contrast, 22% of Americans overall say the same, whereas about three-quarters (76%) say journalists should always strive to give all sides equal coverage.
Journalists' attitudes also vary by the political leaning of their audience. Overall, 57% of those who say their outlet has a right-leaning audience think the profession should strive for equal coverage, while 42% of these journalists say equal coverage is not always deserved. For journalists who say their outlet's audience leans left, the trend is reversed, with 30% supporting equal coverage for all sides and a large majority (69%) saying it is not always deserved. Those who say their audiences are politically mixed are evenly divided (49% each)."
Americans overall no longer trust the media. The Washington Post shared a poll in October that asked, if the mainstream media posed a threat to American democracy? If so, was that threat major or minor?
The answers should terrify journalists: "As it turns out, 84 percent of respondents said yes, the mainstream media posed a threat to democracy, including 6 in 10 who said it posed a major threat. That was the highest percentage of any of the 10 options the pollsters presented — in part because it was one of the few options for which there was bipartisan support."
Chris Licht looks to have a big job ahead. Good luck with all that.
  Read More: Leftwingers Try To Implement Censorship Regime]