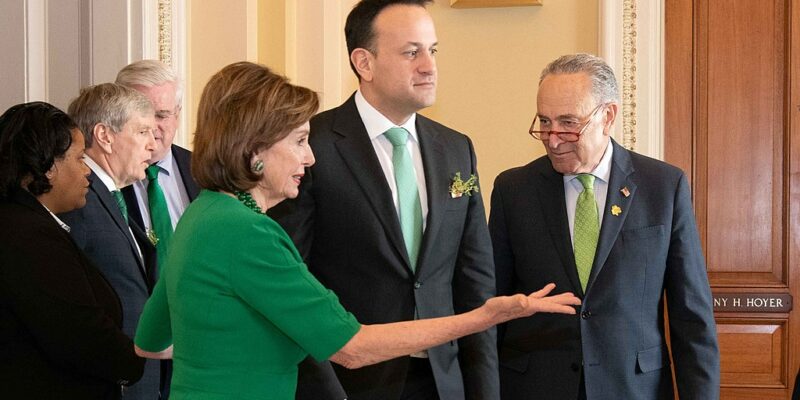 August was a rosy month for Democrats. Polling showed their numbers rising, they won an unexpected victory in a New York special election, and Biden signed a major piece of legislation, even it's inaptly named. The Washington Post wrote last month, "Democrats are voicing growing confidence about limiting losses in the House and potentially even salvaging their majority in the midterm elections, with candidates and allied groups making moves to capitalize on a backlash to abortion restrictions, signs of improvements in the economy and opposition to Donald Trump.
Democratic fundraisers have reported an uptick in donations over the last month, and at least one of the party's biggest donors is considering pouring more money into House races, according to people with knowledge of the situation.
Speaker Nancy Pelosi (D-Calif.) is privately voicing more confidence about the House landscape and opportunities to go on offense, people familiar with the conversations said, while President Biden's White House has grown more optimistic in its outlook. One Biden adviser reacted with umbrage at a private meeting with reporters this month to the suggestion that Republicans were likely to win back control of Congress."
Things change fast in politics, and it's looking like the wheels are beginning to fall off the Democratic wagon…again. The Washington Free Beacon writes, "Schumer on Monday night told a gathering of Democratic senators that if elections were held today there was "a 60 percent chance we hold the Senate, and a 40 percent chance we hold the House." Sources told Punchbowl News that patrons overheard Schumer loudly make the comments at a dinner at Trattoria Alberto, a restaurant near Capitol Hill. Other Democratic senators at the dinner included Chris Coons (Del.), Mark Kelly (Ariz.), Chris Van Hollen (Md.), Tom Carper (Del.), John Hickenlooper (Colo.), and Dick Durbin (Ill.)."
To make matters worse for Pelosi, some in her caucus told CNN that they don't want her back even if they manage to keep the House. 
CNN writes that "in interviews with more than two dozen House Democrats, a consensus is emerging: If they lose the majority, there would be overwhelming pressure for Pelosi to go, a prospect that Democratic sources say the powerful House speaker is keenly aware of.

But with polls and fresh momentum giving House Democrats some sparks of optimism about the midterm elections, multiple members say they are also starting to see how, if they do hold control, it could lead to Pelosi extending her time in power. Yet Democrats are split about that possibility, with a sizable contingent eager for new leadership regardless of the outcome, even if she'd be the heavy favorite to hold onto the gavel.

"It's time for generational diversity of our leadership ranks – regardless of the outcome of the election," said Rep. Dean Phillips, a Minnesota Democrat who voted for Pelosi for speaker, calling her "one of the most extraordinary speakers in history."

"That doesn't change my perspective that it's time for a new generation," Phillips said, noting that is a widespread view within the caucus.

Privately, the assessment tends to be blunter. "She has to go," one senior Democrat said. "No way she can stay," added another long-time House Democrat. "She doesn't have the votes," another veteran Democrat said, pointing to some vulnerable frontline Democrats who have vowed not to vote for her."
One big problem for Democrats comes from the fact that their leadership is ancient. The Speaker is 82. Her numbers Two and Three in the Democratic House leadership, Majority Leader Steny Hoyer and Majority Whip Jim Clyburn, are 83 and 82, respectively, but, according to CNN, they have signaled "they might be interested in succeeding her if and when she leaves."
Some people just don't know when to quit. 
On the Senate side, things have been mixed for the chances that Democrats maintain control after this November. If they do, Biden will get two more years to appoint judges, including a potential Supreme Court Justice. 
Earlier in the week, New Hampshire Republican primary voters did the Democrats a huge favor. They chose the Pro-Trump candidate, Don Bolduc, whose dying campaign was supported with money by Chuck Schumer because he was considered as weaker in the general election than his Republican opponent, Charles Morse, the candidate endorsed by the popular governor there. 
Roll Call noted, "Bolduc's campaign was low on cash in the campaign's final days, when Senate Majority PAC, which is aligned with Senate Majority Leader Charles E. Schumer, ran ads calling Morse a "sleazy politician" and tying his campaign to lobbyists. Likewise, a group called Democrats Serve spent $562,000 airing attacks on Burns. Both efforts had the effect of boosting the candidates' conservative credentials to Republican primary voters."
Recent polling showed Democratic Senate incumbent Maggie Hassan up 11 on Bolduc. The retired Army general won the Republican nomination with 37 percent of the vote and less than 2000 votes total. 
In Pennsylvania, the once double-digit lead for Democratic candidate John Fetterman has turned into a toss-up. The Lt. Governor has faced criticism ever since he failed to fully disclose his continued problems following a stroke and reports about his abuse of power have come to light. 
Fetterman's health concerns have persisted. He often wears hoodies and scarves to cover his neck and many have wondered why. Then a picture revealed that he has a massive lump on his neck, causing more speculation concerning his fitness for office. Tucker Carlson recently mocked the lump on this television program. 
Tucker Carlson highlights the large bump on U.S. Senate candidate John Fetterman's (D) neck that has not received very much media attention which comes as questions swirl about his fitness for office following the stroke he suffered. pic.twitter.com/3kPFDzKpEu

— Jason Rantz on KTTH Radio (@jasonrantz) September 14, 2022
The revelation follows reports that the Democrat only agreed to a debate after "Fetterman's team asked for a closed-caption monitor — and two practice sessions to get used to closed captioning — to help with the Democrat's auditory processing issues related to his stroke," Politico wrote.
Politico continued by noting that Mehmet Oz, the Republican nominee, "would agree to the debate under three conditions: if the moderator explained to the audience that Fetterman was using a closed-captioning system, if the practice debate did not include real debate questions and if the debate was 90 minutes instead of 60."
Fetterman has pushed back at extending the debate another half hour.
Despite his problems, the Philadelphia Inquirer said that "Among likely voters, Fetterman led Oz 52% to 47% in a CBS News poll released Wednesday. But nearly two-thirds of Republicans said they wished their party had nominated someone else, CBS found, and only 15% of Oz supporters said they plan to support him because they like him."
Philadelphia voters recently told Fox News that Fetterman's health would not impact their vote in the upcoming November midterm elections. 
538 gives Democrats a 71 percent chance to keep the Senate as of the time of this writing. The same site gives the Republicans the same percentage to take the gavel from Pelosi. 
Nate Cohn, the New York Times elections wonk, recently raised red flags for Democrats. He stated, "Democrats are polling well in exactly the places where surveys missed most in 2020."
[Read More: Wealthy Liberals Call In National Guard Over 50 Illegal Immigrants]