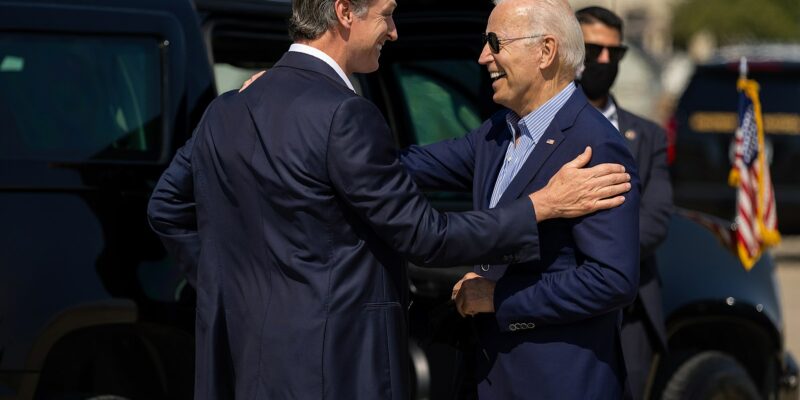 Every week, more and more Democrats try to ignore the fact that Joe Biden is president. It's not exactly a mystery why. Joe has a certain Midas-like ability to turn everything he touches into crap. 
For example, "President Biden threw an "inflation reduction" party Tuesday — even as inflation hit a worse-than-expected 8.3%, the stock market tumbled and stubbornly high prices for food and housing continue to slam American households.
Biden, 79, had classic folk-rocker James Taylor kick off the White House South Lawn bash with his 1970 hit "Fire and Rain" — a song reportedly about suicide and heroin addiction — to belatedly celebrate passage of his Inflation Reduction Act spending bill.
But Biden, who hailed the 74-year-old Taylor as "a voice that heals our soul and unites a nation," failed to mention the market rout sparked by the dismal Labor Department's Consumer Price Index released earlier Thursday."
There's a reason Biden remains one of the most unpopular presidents in history.
These missteps and his lagging popularity and age make it easy to predict that Joe Biden will not be running for a second term. But, there are plenty of other Democrats ready to try and take his place. California Governor Gavin Newsom looks to be trying to take the mantle. While Kamala Harris has to sit on the sidelines, he wants to fight the most prominent Republican not named Trump. 
It was recently reported that California Gov. Gavin Newsom has challenged Florida Gov. Ron DeSantis to a debate prior to the gubernatorial elections in November.

On Friday, Newsom tweeted at the Republican governor: "Hey @GovRonDeSantis, clearly you're struggling, distracted, and busy playing politics with people's lives. Since you have only one overriding need — attention — let's take this up & debate. I'll bring my hair gel. You bring your hairspray."

Newsom was responding to a tweet from journalist Dan Rather, who posed an idea for Chris Licht, the CEO of CNN, to set up a televised debate between Newsom and DeSantis.

"Two governors of big states, potential presidential candidates. Prime time ratings I bet would be huge. Who would have the courage to show up?" Rather tweeted on August 26.
Newsom has been taking the fight to Ron DeSantis for quite awhile. A month or so ago he put up billboards and ran ads attacking the governor's position on abortion, trying to persuade Floridians to leave the Sunshine State for California.
The debate challenge is just further upping the ante, but it can't make Biden feel comfortable. It's hard to show any more disrespect to a president not even halfway through his first term than to challenge the likely nominee of the opposition party to a debate, but Biden isn't going down without a fight. He's using the bully pulpit given to him by the White House to embarrass the Californian upstart.
Politico reports, "Biden delivered an indirect but embarrassingly public rebuke for the ambitious governor by calling for passage of the bill, which would make it easier for farmworkers to unionize, as Newsom signaled he may veto the legislation for a second time.
To add further insult, Biden delivered his message just before Labor Day as Newsom was preparing to buff his pro-union credentials by signing a bill vehemently opposed by the restaurant industry that will help set wages and working conditions for the state's fast-food workers.
The governor is privately seething over the Biden endorsement, said five people with knowledge of the governor's thinking who spoke on condition of anonymity to disclose internal discussions. Newsom's office declined to comment for this story.
Now, Newsom must choose between the state's powerful agricultural interests and a celebrated union — all while under a glaring national spotlight amid intense speculation about his presidential ambitions that he stoked with recent high-profile sparring with Republican governors."
The Biden-Newsom struggle, along with Newsom challenging Ron DeSantis to a debate, is another sign of the generational conflict happening within the Democratic Party. The younger generation appears to have finally said enough is enough when it comes to being led by octogenarians.  
Yesterday we reported that House Democrats might dump Pelosi even if they do manage to keep the House. Who will be the next Democratic leader to be smacked by the young crowd? 
Charles Schumer turns 72 in November. Is he next? 
[Read More: Report: Dems Planning To Dump Pelosi Regardless]