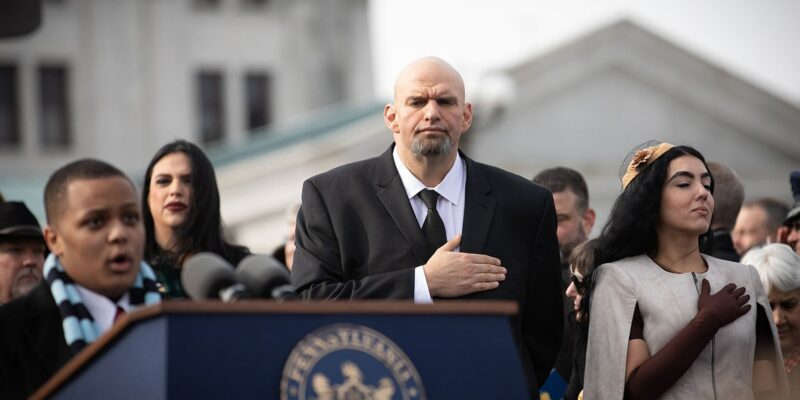 The Senate race in Pennsylvania may very well decide whether Mitch McConnell or Chuck Schumer lead the Senate next year and the Democratic candidate, John Fetterman, has become a darling of his party. When he's not staking out crazy positions, such as saying that murderers should get parole or signing pledges to end fracking, he often portrays himself as a working man running to help the working man. The truth might be a bit more complicated. 
According to reports, while serving as mayor of Braddock, Pennsylvania, the Democratic candidate for Senate had a cop do some digging against his rivals. When the town solicitor called him out for corruption, Mayor Fetterman got him fired. For the party that has often used the power of government to support attacks on its opponents while supporting its friends, it's no wonder why Fetterman is a dream. 
The Washington Free Beacon writes, "In a heated 2009 mayoral campaign, Braddock solicitor Lawrence Shields accused Fetterman of "abuse of your mayoral authority" for ordering a Braddock cop to obtain a police report from a 2004 domestic incident involving Fetterman's challenger, Jayme Cox. Braddock city council members called for Fetterman's arrest for violating state laws regarding the handling of criminal information in cases where charges are dropped.

Three years later, Fetterman cast the tie-breaking vote—his only vote in 13 years as Braddock mayor—to fire Shields as solicitor, purportedly to save money in the borough's budget. Fetterman said he was an "enthusiastic yes" in favor of ousting Shields. Shields and Fetterman's campaign did not respond to requests for comment about whether the earlier criticism of Fetterman was a factor in Shields's firing.

The incident is another black mark on Fetterman's tenure as mayor of the dilapidated steel town, which the progressive candidate has touted on the campaign trail as evidence of his blue collar bona fides. In 2013, Fetterman pulled a shotgun on an unarmed black jogger he wrongly suspected of firing a gun near his house. The jogger, Christopher Miyares, said Fetterman aimed a shotgun at his chest. Fetterman admitted in a television interview that he "may have broken the law," but he has refused to apologize for the incident.

Fetterman admitted to asking a police officer for the report on Cox and discussing it with others. But he denied pressuring the officer to dig up the information and said it was necessary to inform voters about Cox, who had charges dropped after taking a domestic abuse class."
In a way, it's understandable that Fetterman would treat people this way. He's never held a private sector job and he's mostly interacted with others while having some kind of position of authority. He's the epitome of someone who is a trust fund baby pretending to be working class. 
It turns out that's exactly what he is.
The Meadville Tribune noted that "public records show — and Fetterman has openly acknowledged — that for a long stretch lasting well into his 40s, his main source of income came from his parents, who gave him and his family $54,000 in 2015 alone. That was part of the financial support his parents regularly provided when Fetterman's only paying work was $150 a month as mayor of Braddock, a job he held from his mid-30s until he turned 49. He lived in an industrial-style loft he purchased from his sister for $1 after she paid $70,000 for it six years earlier.
Fetterman, 52, grew up, in his own words, in a "cushy" environment in York County. His upbringing helped him get an MBA from the University of Connecticut and a master's degree from Harvard without taking on student debt.
Fetterman now earns $217,610 as lieutenant governor, a job he started in 2019, and his family's assets top $700,000. His parents supported him financially for nearly all of his 13 years as mayor, aid that he says allowed him to devote himself to public service. He no longer receives that assistance, his campaign said. The campaign did not answer when asked if the $54,000 disclosed from 2015 was typical of his parents' aid."
The Democrat has run an odd campaign so far. In July, NCP reported how Fetterman was misleading his supporters about his health following his stroke in the spring. The Washington Post also noted, "Fetterman, his Democratic opponent, has been recovering from a stroke since mid-May. The Democrat has struggled to regain the ability to speak fluidly but is expected to resume campaign events in the coming weeks. In the meantime, Democrats have settled on a strategy of hammering Oz further, focusing on his recent return to Pennsylvania after living for decades in New Jersey, New York and Florida."
He has had a rough return to the campaign trail. During his first appearance back, while constantly flanked by his wife, the Lt. Governor seemed to struggle with his speech, which one commentator labeled as "scary." 
He again struggled at the second campaign event following his health crisis, held earlier in the week. While rallying with the United Steelworkers he spoke for less than five minutes, again mumbling his words and at some points being confused. 
Fetterman seems to have struggled to regain his ability to speak, which may explain why his campaign has been chiefly online–almost entirely focused on Twitter. The Atlantic reported that the Democratic Senate candidate "has also become well known recently for his relentless roasting of Oz [The Republican] on social media. He's posted meme after meme on Twitter mocking the Trump-endorsed Republican, and has reminded voters that Oz is from New Jersey, not Pennsylvania. Fetterman has enlisted the New Jersey celebrities Steven Van Zandt and Snooki to make fun of Oz in videos, and he's started a petition to induct Oz into the New Jersey Hall of Fame. "Could John Fetterman Shitpost His Way to the U.S. Senate?" The Daily Beast asked earlier this month. "I mean we sure are trying," Fetterman responded on Twitter.
Some in Fetterman's party aren't supportive of all this trolling. 'With all eyes on Fetterman and Oz, Pennsylvania, and perhaps politics itself, has become an afterthought,' Luke Winkie wrote this week in Slate. I get this criticism, but I think it's a bit silly; Fetterman is still posting about policy goals. He's not leading in the polls because of his posts on Twitter, a platform that most Democratic voters are not even on."
The liberal magazine couldn't help but put two and two together, writing, "The more important thing to note is that Fetterman's constant posting seems like a way to distract from—or at least compensate for—his health problems. The progressive Democrat has spent most of the summer off the campaign trail since having a stroke in May, when doctors implanted a pacemaker with a defibrillator. There are still lingering questions about Fetterman's health. He's recently started attending small private events, but he has yet to hold a non-fundraiser public event. In his first interview since the stroke, Fetterman told the Pittsburgh Post-Gazette that he still has problems with his hearing and sometimes slurs his words. He sounds pretty stilted in a video that he and his wife made this week."
Others have noted that Fetterman has so far refused to debate his Republican opponent, Dr. Oz. The Philadelphia Inquirer reported, "KDKA-TV in Pittsburgh wants to hold the first televised debate in the race for one of the country's most important U.S. Senate seats, but to this point, only Republican nominee Mehmet Oz has agreed to participate." 
Oz has challenged the once outspoken Democrat to five debates but the Democratic darling is so far mum.
The electorate may be catching on. Fetterman had a double-digit lead over the celebrity doctor a few months ago. This week's polls showed Oz had cut his deficit to merely 3 points. If things continue, it might be the Democrats holding their breath. 
[Read More: After Ignoring Calls For Slavery Reparations, Biden Gives Them To White College Liberals Instead]