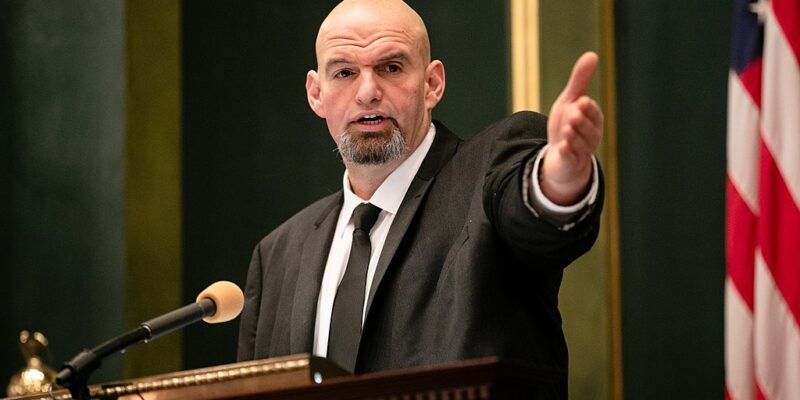 Update, July 11: The Washington Post is reporting some new disturbing details about Fetterman's health after being mislead by the candidate. The newspaper writes, "Fetterman, his Democratic opponent, has been recovering from a stroke since mid-May. The Democrat has struggled to regain the ability to speak fluidly but is expected to resume campaign events in the coming weeks. In the meantime, Democrats have settled on a strategy of hammering Oz further, focusing on his recent return to Pennsylvania after living for decades in New Jersey, New York and Florida."
It's looking like another Democrat has been found insisting on COVID regulations while ignoring them personally. This time it's John Fetterman, Pennsylvania's lieutenant governor and Democratic nominee for the Senate this November. 
Fetterman is often portrayed as an everyman candidate, but when Governor Tom Wolf threatened a small diner that reopened against his COVID-19 protocols, the Senate candidate eagerly jumped in to defend him. He told The York Dispatch that he didn't think the governor was "getting the credit he deserves for his handling of the virus outbreak" and was quoted as asking, "Why is there only tyranny if there is a 'D' next to their name?"
Maybe his confusion came from not realizing that only Democratic elected officials were allowed to ignore COVID rules. Everyone else had to watch their lives get turned upside down. 
Or, maybe he was just really excited for his upcoming vacation?
The Washington Free Beacon reports: Pennsylvania state police spent $3,500 for overtime, food, and lodging during Fetterman's trip to Ocean City, N.J., from June 24-27, 2020, according to records obtained by the Washington Free Beacon. Fetterman, the Democratic Senate nominee for Pennsylvania, made the trip amid a surge of cases in both New Jersey and Pennsylvania. The Pennsylvania Department of Health warned at the time against nonessential travel. New Jersey's governor threatened to crack down on Jersey Shore revelers because of a spike in cases there two days before Fetterman's junket.

Fetterman has aggressively pushed lockdowns, masking, and other measures to fight the pandemic. He vowed in March 2020 that he and his family would "stay at home, minimizing social interactions and trips to indoor public places." He criticized "a small, tiny minority" of anti-lockdown protesters in May 2020, and said "renegade counties" in his state had caused COVID-19 outbreaks by violating his administration's stay-at-home orders. He also said school closures, which have caused learning and behavioral setbacks for school kids, were "an absolute necessity" in the fight against the virus.

Fetterman campaign spokesman Joe Calvello acknowledged the vacation but said that Alleghany County, where Fetterman resides, "was not in lock down" at the time of the trip. He said Fetterman has never claimed reimbursement for travel expenses and that he cut spending on travel, food, conferences and office supplies during his first two years in office.

Fetterman's security detail stayed during the 2020 trip at the Port-O-Call hotel, the "premier resort" where the Fettermans appear to have stayed during other vacations. While Fetterman did not post photos during the 2020 jaunt, as he did in other years, he was reportedly spotted maskless on the Ocean City boardwalk with his wife during the trip. Fetterman has been an avid supporter of universal-masking requirements during the pandemic. He urged people to "stay home," "stay apart," and mask up. He joins an extensive list of Democrats who have violated their own masking or social distancing policies.
Fetterman has had quite the month or so. Merely days before the polls closed in the Pennsylvania primary, he suffered a health crisis that left him in the hospital. He told supporters, "I had a stroke that was caused by a clot from my heart being in an A-fib rhythm for too long. I'm feeling much better, and the doctors tell me I didn't suffer any cognitive damage. I'm well on my way to a full recovery."
For days, the Lt. Governor seemed to be hiding his condition. The New York Times discussed the issue at the time and its potential to impact national politics. The newspaper wrote, "With such an important race in the balance, one that could decide the Senate majority, the state of Mr. Fetterman's health is of intense public interest. Yet, despite repeated requests, his campaign did not make him or his doctors available to discuss his stroke and his medical treatment.
And specialists in stroke, heart disease and electrophysiology said that some of the campaign's public statements do not offer a sufficient explanation for Mr. Fetterman's described diagnosis or the treatment they say he has received….Medical specialists asked questions about Mr. Fetterman's treatment with a defibrillator. They say it would make sense only if he has a different condition that puts him at risk of sudden death, like cardiomyopathy — a weakened heart muscle."
The Senate candidate gained accolades from health professionals in 2018 after losing nearly 150 pounds. The Tribune-Review noted that he "weighed 418 pounds, and his waist size ballooned to 56 inches." He bluntly told the newspaper, "I was fat. It's embarrassing to talk about." The Pennsylvanian credited "cutting out grains and sugar" for his weight loss.
Fetterman's health has received attention from both parties. Democrats, NBC News reported, "have expressed concerns about how the Fetterman campaign has handled both the stroke and discussion of the gun incident," where the candidate chased an African American jogger with a shotgun.  
Republicans looked to "tarnish the brand of a Democrat who built a reputation as a larger-than-life straight talker." The National Republican Senate Committee has run attack ads featuring "news coverage of pundits and reporters discussing the Fetterman campaign's evolving explanations of his health and hospitalization, asking, 'Does John Fetterman Have a Problem Telling the Truth?'"
The bombshell from the Free Beacon should only add to the growing concerns over Fetterman's judgment and commitment to being a "regular Joe" rather than just pretending.
The Democrat will face Celebrity doctor Mehmet Oz, a Republican, this November in a race that may decide control over the Senate.  
[Read More: Gavin Newsom Takes on Ron DeSantis as Race for 2024 Heats Up]