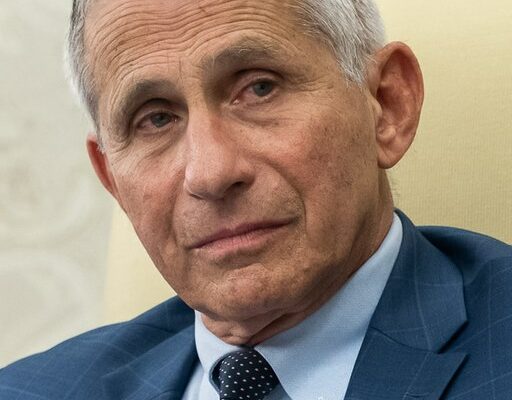 What is Fauci hiding in his emails? Was he talking to tech companies about his critics? Did he ask Facebook to target those who weren't toeing his line regarding vaccines? Did he ask Twitter to call lab leak theories misinformation? Was the Biden White House pressuring too?
That's the question a judge recently wondered concerning a lawsuit involving Trump and Biden's COVID advisor. Bloomberg reported in May that "The attorneys general of Louisiana and Missouri sued President Joe Biden on Thursday, alleging the federal government worked with Meta, Twitter, and YouTube to censor free speech.
Biden, his press secretary, White House medical adviser Anthony Fauci, and other federal officials' colluded with social media companies' to remove from their platforms 'truthful information' about the efficacy of masks against Covid-19, a theory about the origins of the pandemic in a Chinese lab, and election security, Missouri Attorney General Eric Schmitt (R) said in a statement."
Although a judge has demanded that he do so, Fauci and the White House have been unwilling to reveal his correspondence to tech companies in which he allegedly called for the censorship of those who disagreed with his recommendations. 
US District Judge Terry Doughty, however, isn't taking no for an answer and has said enough is enough when it comes to the bureaucrat dragging his feet.
​The New York Post reports that the Biden administration must turn over emails that press secretary Karine Jean-Pierre, chief medical adviser Dr. Anthony Fauci and other top officials sent to social media companies in response to a lawsuit claiming the White House colluded with Big Tech to censor viewpoints it disagreed with as "misinformation," a federal judge in Louisiana has ruled.

US District Judge Terry Doughty's Tuesday order was the latest development in a lawsuit filed in May by Attorneys General Eric Schmitt of Missouri and Jeff Landry of Louisiana, who charged the executive branch acted in cahoots with social media giants like Facebook and Twitter to "censor freedom of speech" on a number of topics, including the COVID-19 pandemic and elections.

"This Court believes Plaintiffs are entitled to external communications by Jean-Pierre and Dr. Fauci in their capacities as White House Press Secretary and Chief Medical Advisor to the President to third-party social media platforms," Doughty, an appointee of former President Donald Trump, wrote in his 10-page order.

"The White House has waived its claim of privilege in relation to specific documents that it voluntarily revealed to third parties outside the White House," the judge continued before ordering the documents to be turned over within 21 days.
The plaintiffs in the lawsuit claim to identify 45 people at Health and Human Services who contacted social media companies. 
We know that the White House has worked to silence critics of its handling of COVID, especially anyone who questioned vaccines. In July, an independent journalist, Alex Berenson declared that he and Twitter reached a "mutually acceptable resolution" that allowed him to rejoin the internet platform. 
The Left, after all, often resorts to censorship when it has to, which is why Biden tried to create a "Disinformation Board" almost immediately after taking office. 
Fox News wrote, "After previously hinting that the Biden administration may have played a role in his deplatforming from Twitter, Berenson published screenshots of an April 2021 exchange between Twitter employees regarding a meeting it had with White House officials. 
'They had one really tough question about why Alex Berenson hasn't been kicked off the platform,' the Twitter employee wrote on the workplace communication platform Slack.
In another post, a Twitter employee wrote, 'They really wanted to know about Alex Berenson. Andy Slavitt suggested they had seen data viz that had showed he was the epicenter of disinfo that radiated outwards to the persuadable public.'
The August 2021 tweet that benched the former New York Times journalist from Twitter was regarding how the virus was still transmissible even after vaccination, suggesting that calling it a 'vaccine' wasn't actually accurate. 
'It doesn't stop infection. Or transmission. Don't think of it as a vaccine,' Berenson told his Twitter followers at the time. 'Think of it – at best – as a therapeutic with a limited window of efficacy and terrible side effect profile that must be dosed IN ADVANCE OF ILLNESS. And we want to mandate it? Insanity."
Berenson won his lawsuit because he was speaking the truth, even if he was sometimes couching it with exaggerations. Nature recently noted, "COVID vaccines slash risk of spreading Omicron — and so does previous infection" but that "each vaccine dose a person had reduced the risk of passing on the virus by a further 12%, on average. How recently people had been vaccinated was also important. For every 5 weeks that passed since a person's last vaccine dose, the risk of transmitting the infection to a close contact increased by 6%."
Fauci, on the other hand, has seemed to grow enamored with power, becoming sainted by liberals and scorned by conservatives after convincing Trump to support lockdowns. 
In April 2020, CNN reported, "Summoned to the Oval Office last weekend to state their case for keeping the country closed, Fauci and Birx arrived armed with tangled multicolored lines, stippled mountains of various heights and one ominous inky blue bell curve showing American deaths from coronavirus rising to 2.2 million if social distancing efforts were abandoned.
The graphics were weaponry in a pitched battle with some of Trump's economic advisers — and at times with Trump himself — who argued continued restrictions against large gatherings were ravaging the American economy. Evidence of that was delivered Thursday when the federal government announced jobless claims skyrocketed to 6.6 million last week.
Still, the charts — printed in color and blown up for effect — seemed to work, even as some of Trump's advisers now question their accuracy. Trump announced hours later he was extending his coronavirus guidelines another 30 days, despite a strong inclination to open the nation for business."
That sudden taste of power given to him by President Trump seemed to go to Fauci's head. At one point during the pandemic, the chief medical adviser said that "he was the science" and that to criticize him was to criticize everyone studying the disease. It became his way or the highway.
Would anyone be shocked to learn that "America's Doctor" was using his influence to push Big Tech companies to shut down his critics? Emails have already revealed that he quickly shut down any talk that COVID-19 had come from a lab leak in Wuhan.
A year ago, Newsweek broke the story that "Fauci was 'untruthful' to Congress about Wuhan Lab research….Richard Ebright, board of governors professor of chemistry and chemical biology at Rutgers University and laboratory director at the Waksman Institute of Microbiology, told Newsweek these documents show "unequivocally" that NIH grants were used to fund controversial gain-of-function (GOF) research at the Wuhan Institute of Virology in China—something US infectious disease expert Dr. Anthony Fauci has denied." 
Kentucky Senator Rand Paul, an ophthalmologist who studied medicine at Duke University, has been clear about what will happen if Republicans win the midterms. He told a conservative podcast, "If we win in November, if I'm chairman of a committee, if I have subpoena power, we'll go after every one of [Fauci's] records. We'll have an investigator go through this piece-by-piece because we don't need this to happen again." 
I suppose that's better than what Ron DeSantis said he'd like to do to him.
Fauci announced his retirement in August. He may be taking home the largest federal pension in the history of the United States, but it's hard to see him being able to hide his actions forever. 
[Read More: Cynical Liberals Work In Jan 6 or 'MAGA' To Their September 11 Speeches]