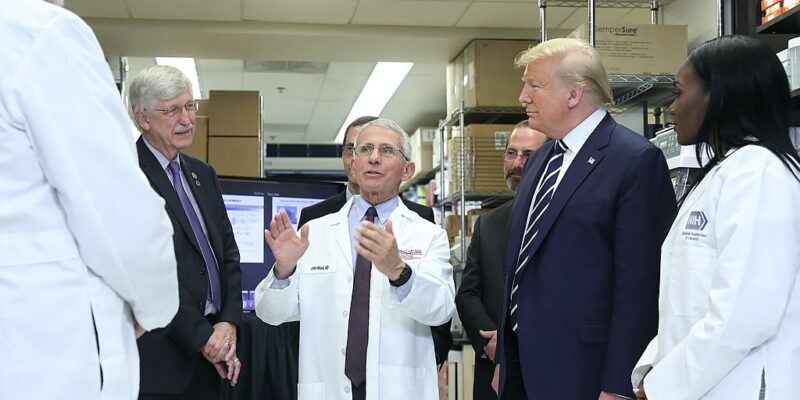 Earlier this week, Dr. Anthony Fauci, director of the National Institute of Allergy and Infectious Diseases (NIAID), said in an interview with Politico that he intends to retire by the time Biden's presidential term expires in 2025. 
Asked by NPR when he expects to leave, he communicated, "I plan to step down from my current position sometime between now and then and to go on and pursue other directions in my professional career. That has somehow been interpreted as my announcing my retirement. When I do decide on the date of stepping down I will make a formal announcement."
"Fauci, 81, told NPR that he does not have an exact date in mind for his decision but that it may come "sooner rather than later." As for what's next, he said he is not sure what he will do after leaving his position partially because he hasn't decided when he will be leaving."
The NIAID director has had quite a career so far. Despite their later spats, during the beginning of COVID-19, President Trump provided Fauci with near-unprecedented authority over the pandemic response, opening a Pandora's Box of sorts. With Trump handing the reins to Fauci by making him the face of the president's response task force, he pushed national stay-at-home orders at the beginning of the pandemic and supported federal guidelines signed off and extended by the president to cover much of the Spring of 2020. 
"Two weeks to flatten the curve" became two years and we're still going through a pandemic and worrying about masking indoors, wondering how many boosters we need.
Before news broke that Biden contracted COVID, The New York Post recently reported that "the quadruple-vaccinated infectious disease expert gave a series of interviews Tuesday to warn of surging cases sparked by the latest Omicron variant, BA.5 — and caution Americans that even those recently recovered from an infection are likely still at risk." 
Fauci became a folk hero of sorts during the pandemic, especially to liberals completely obsessed with COVID-19. From prayer candles donning his face to a book deal, Fauci went from being a little-known bureaucrat to a hot commodity. 
Vox reported in May 2020: "Fauci, the longtime director of the National Institute of Allergy and Infectious Diseases, has established a near-ubiquitous media presence in no time at all, becoming the subject of glowing magazine profiles ("How Anthony Fauci Became America's Doctor"), late-night talk show appearances, online thirst (#FauciFanClub), and, of course, kitschy fan-made merchandise. On e-commerce sites like Etsy, Redbubble, and Amazon, the keyword "Fauci" currently displays thousands of results, with all sorts of pro-Fauci slogans (#TeamFauci, Fauci Gang, I Heart Dr. Fauci). Out of the context of this pandemic, you would think the man was running for president." 
He may have never campaigned, but at some times during the early parts of the pandemic, it felt like President Trump had made him president. Now, upon retirement, his pension will be earning him more than any president. Adam Andrzejewski crunched the numbers and revealed that Anthony Fauci will earn the largest pension in the history of the United States of America upon his retirement.  
Via Open The Books, Andrzejewski laid out the details: Today, Fauci earns a federal salary of $480,654 per year. However, by 2024, Fauci will likely be making $530,000 in salary – an increase of nearly $200,000 since 2014. Therefore, we estimate that Fauci's first year pension payout will exceed $414,000 – more than the salary for the President of the United States ($400,000).

Bureaucrats who have worked in government as long as Fauci are able to retire on the vast majority of their annual earnings. The Office of Personnel Management calculates it by taking 80% of an average of the bureaucrat's three highest-paid years of service, and also letting the worker cash in any unused sick leave. Employees of Fauci's tenure also get an additional 2% annuity payment every year.

As President Biden's first term comes to a wrap just after the end of the 2024 fiscal year, Fauci's retirement makes it past the Oval Office milestone. He would stand to retire with a $414,667 annual payout.

We called his post-2021 retirement package an unprecedented golden parachute. Now it's even bigger. Taxpayers, of course, helped fund the Fauci retirement pension and we guarantee it too.
Fauci has long received accolades for his work. During a 1988 presidential debate, George HW Bush "pointed to Dr. Anthony Fauci when asked to cite modern-day heroes who inspire Americans."
In June 2008, George W. Bush presented Fauci, along with Ben Carson, with the Presidential Medal of Freedom. One of the architects of the 43rd president's PEPFAR initiative to fight the disease, the doctor claimed that the president's massive spending efforts to fight HIV/AIDS "saved 14 to 15 million lives." 
Although the doctor and researcher has had a long and distinguished career, it hasn't been without controversy. As he became more popular, his former research and statements on his AIDS/HIV work received new scrutiny. 
Historian Phil Magness declared that Fauci's wild theorizing spurred panic about AIDS in the 1980s. Writing for the American Institute for Economic Research, he wrote, "In May 1983, amid the rapidly escalating AIDS crisis, a doctor at the National Institutes of Health (NIH) promoted a stunning theory about the newly encountered disease in the Journal of the American Medical Association (JAMA). Noting that the same issue of the journal contained an article documenting one of the first cases of the immunodeficiency disease's appearance in an infant, the author sounded an alarm about 'the possibility that routine close contact, as within a family household, can spread the disease.'"
The economic historian continued that "the article took an increasingly speculative turn in promoting this new theory. 'If indeed the latter is true, then AIDS takes on an entirely new dimension,' it continued. 'If we add to this possibility that nonsexual, non-blood-borne transmission is possible, the scope of the syndrome may be enormous.' Although the article reiterated the need to 'be cautious' in accepting these findings as they awaited more evidence, the discovery 'should at least alert us to the possibility that we are truly dealing with AIDS in children,' as transmitted through routine interaction.
Magness demonstrated that "press accounts, noticing Fauci's article, immediately sounded the alarm. 'Household contacts can transmit AIDS,' read one nationally syndicated report on the UPI wire dated May 5, 1983. The Associated Press queried the next day 'Does AIDS spread by Routine Contact?' and quoted Fauci as their lead authority. The New York Times raised the specter of household transmission between family members, invoking Fauci's commentary as its main authority."
Early in the COVID-19 pandemic, Fauci also received criticism for changing his masking stance. He went from initially saying that they wouldn't do much to help those not infected to supporting mask mandates. 
Trump's presidential COVID-19 advisor has said he laments the politicization of the virus, but in many ways, his sometimes opaque communications helped spur it on. Last week we discussed how the politicization of the pandemic response, including the encouragement of lockdowns, hurt our nation's kids. 
With Fauci's confidence, the United States remains an outlier in recommending masks from the age of 2 years old, which Fauci again doubled-down on recently. The World Health Organization does not recommend masks for children under age 5, while the European equivalent of the CDC doesn't recommend them for children under age 12.
Along with his constant later fighting with President Trump, other Republicans have made loud accusations against Fauci over his funding of experiments at the National Institute of Allergy and Infectious Diseases. These included the funding of "risky virus research in Wuhan" that "would make a coronavirus more dangerous to humans" and brutal experiments on puppies that "included cutting their vocal cords out, infesting the dogs with ticks, and placing dogs in cages with infectious sandflies." 
Throughout the past few years, outside of public fighting with Rand Paul, Senator from Kentucky, Fauci has tried to remain above the fray. Although he has not indicated what he plans to do when he retires, the most famous doctor in the world will certainly have the resources to do whatever he wants when he steps down. His golden parachute might make some CEOs blush. 
[Read More: Mother, Victim of Shooting Gives BLM A Piece Of Her Mind]