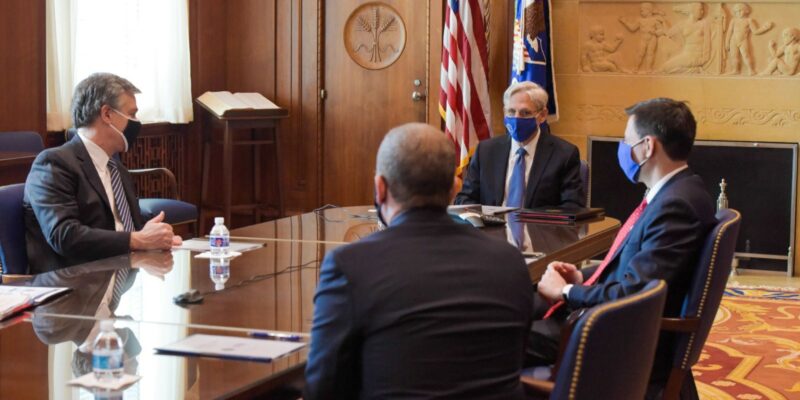 Update 8/10/2022: An eagle-eyed Twitter user has discovered new video of the judge who signed off on the Mar-a-Lago raid. During a previous interview with NewsMax, Judge Judge Bruce Reinhart said that he was a personal friend to former Attorney General Eric Holder and "went through mental gymnastics" to defend Lois Lerner's deletion of two years of emails while she was under investigation for using the IRS to target conservatives.
Original Story
Unless you are living under a rock, you have heard by now that the DOJ sent the FBI on a raid of Mar-a-Lago earlier this week. NBC News reported, "Trump lawyer Christina Bobb, who said she was present for Monday's search, told NBC News that Trump and his team have been 'cooperative with FBI and DOJ officials every step of the way," while adding that the bureau "did conduct an unannounced raid and seized paper.'"
NBC News also said that the FBI raid was related to the National Archives wanting documents from the president. The outlet continued, "Trump this year had to return 15 boxes of documents that were improperly taken from the White House, the National Archives and Records Administration, or NARA, said in February.
'In mid-January 2022, NARA arranged for the transport from the Trump Mar-a-Lago property in Florida to the National Archives of 15 boxes that contained Presidential records, following discussions with President Trump's representatives in 2021,' the National Archives said in a statement Feb. 7."
Previously it had been reported that the documents in question contained "correspondence with North Korean leader Kim Jong Un that Trump has described as "beautiful letters" and a handwritten letter that former President Barack Obama had left behind in the Oval Office for his successor."
The unprecedented nature of a sitting president siccing the FBI on a former president and possible opponent in the next election at the behest of the National Archives is obviously disturbing and reaks of corruption. But if you really want to go down the rancid rabbit hole, we must take a look at who signed the warrant in the first place: Florida federal magistrate Bruce Reinhart. 
The New York Post dove into the background of who issued the warrant: The Florida federal magistrate judge who signed off on a search warrant authorizing the FBI raid of former President Donald Trump's Mar-a-Lago resort left the local U.S. Attorney's office more than a decade ago to rep employees of convicted pedophile Jeffrey Epstein.

Sources tell The Post that Judge Bruce Reinhart approved the warrant that enabled FBI agents to converge on the palatial South Florida estate on Monday in what Trump called an "unannounced raid on my home."

According to the paper, Reinhart resigned from the South Florida US Attorney's Office effective on New Year's Day 2008 and went to work for Epstein's workers the following day. In 12 years as a federal prosecutor, according to his official biography, Reinhart "managed a docket that covered the full spectrum of federal crimes, including narcotics, violent crimes, public corruption, financial frauds, child pornography and immigration."

The Epstein employees Reinhart represented, by his own admission to the Herald, included Epstein's pilots; his scheduler, Sarah Kellen; and Nadia Marcinkova, who Epstein once reportedly described as his "Yugoslavian sex slave."
The Miami Herald wrote, "Reinhart's defection was one of many highly unusual turns that the Epstein case took 12 years ago, moves that could merit examination as the multimillionaire's controversial non-prosecution agreement is dissected in the wake of his arrest last week on sex trafficking charges."
The Florida newspaper also stated that Reinhart made plans that would establish his private practice to serve Epstein while still in office, "On Oct 23, 2007, as federal prosecutors in South Florida were in the midst of tense negotiations to finalize a plea deal with accused sex trafficker Jeffrey Epstein, a senior prosecutor in their office was quietly laying out plans to leave the U.S. attorney's office after 11 years.
On that date, as emails were flying between Epstein's lawyers and federal prosecutors, Bruce E. Reinhart, now a federal magistrate, opened a limited liability company in Florida that established what would become his new criminal defense practice."
In 2015 Reinhart joined Newsmax T.V. as a "former U.S. prosecutor" to defend Epstein.
That Attorney General Merrick Garland did not even have the wherewithal to go to a real judge to obtain a warrant against a former president is petty bad. That he allowed someone connected to Jeffrey Epstein is blitheringly incompetent.As lawyer Ron Coleman wrote, "U.S. Magistrate Judges are *not* Article III judges. Not appointed by the POTUS. Not confirmed by the Senate. They sign virtually all federal warrants."
We need better people in charge.
The U.S. Court has explains that "magistrate judges are judicial officers of the U.S. district court appointed by the district judges of the court to handle a variety of judicial proceedings.
They have authority to issue warrants, conduct preliminary proceedings in criminal cases, such as initial appearances and arraignments, and hear cases involving petty offenses committed on federal lands. In most districts, magistrate judges handle pretrial motions and hearings in civil and criminal cases. While most civil cases are tried by district judges, magistrate judges may also preside over civil trials if all parties consent.
The position and authority of magistrate judges was established in 1968. By federal law, magistrate judges must meet specified eligibility criteria, including at least five years as a member in good standing of a state or territory's highest court bar. They must also be vetted by a merit selection panel that consists of lawyers and non-lawyers from the community. By majority vote of the U.S. district judges of the court, magistrate judges are appointed for a renewable term of eight years. In addition, there are a small number of part-time magistrate judges who serve four-year terms."
In 2018, then Florida governor, now Florida Senator Rick Scott, appointed both Reinhart and his wife, Carolyn Bell, to powerful judicial positions. Reinhart got to be magistrate for the U.S. District Court in South Florida, while Bell joined the Palm Beach County circuit bench.
Outside of defending alleged pedophiles and sex traffickers from the law, Reinhart once "represented former Boynton Beach police officer Michael Brown. The veteran cop last month was sentenced to six months house arrest and three years of probation after being convicted of a civil rights violation in connection with the 2014 beating of a passenger in a car that fled police."
Reinhart recently declared that the conservative website PragerU needed to pay over $200,000 to Google in lawyer fees. The magistrate awarded the money to the tech giant after the website lost a lawsuit in which they claimed YouTube had been illegally censoring conservative content. 
[Read More: Biden Creates 87,000 more IRS Agents To Target Americans]