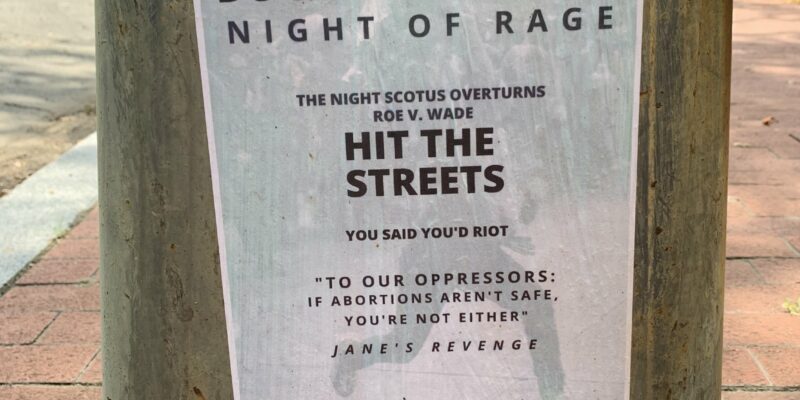 Jane's Revenge, the pro-choice terrorist group that has claimed responsibility for the firebombing of dozens of pro-life pregnancy centers throughout the nation, recently released another threat. The group began perpetrating violence after a leaked draft of a Supreme Court ruling that showed the Justices intended to say that state legislatures should vote on abortion regulations rather than be handed down by courts. 
In a "communique," which is just a way for stupid people who think they're sophisticated to say "press release," the group took ownership of the previous violence and vandalism against pro-life organizations all over the country. They have promised to escalate attacks if Americans are allowed to use democratic means to negotiate laws about abortion. 
In their screed, which reads like a 6th-grade teacher trying to write at a 12th-grade level after buying a thesaurus, the group said, "You have seen that we are real, and that we are not merely pushing empty words. As we said: we are not one group but many. You have seen us in Madison WI, Ft. Collins CO, Reisertown MA, Olympia WA, Des Moines IA, Lynwood WA, Washington DC, Ashville NC, Buffalo NY, Hollywood FL, Vancouver WA, Frederick MA, Denton TX, Gresham OR, Eugene OR, Portland OR, among others, and we work in countless locations invisibly. You've read the communiqués from the various cells, you've seen the proliferating messages in graffiti and elsewhere, and you know that we are serious.

We were unsurprised to see thirty days come and thirty days pass with no sign of consilience or even bare-minimum self-reflection from you who impersonate healthcare providers in order to harm the vulnerable. History may not repeat itself, but it certainly rhymes, and we've already seen such stanzas where medical autonomy is stripped away, humanity is increasingly criminalized, and merely surviving becomes largely untenable.

Your thirty days expired yesterday. We offered an honourable way out. You could have walked away. Now the leash is off. And we will make it as hard as possible for your campaign of oppression to continue. We have demonstrated in the past month how easy and fun it is to attack. We are versatile, we are mercurial, and we answer to no one but ourselves. We promised to take increasingly drastic measures against oppressive infrastructures. Rest assured that we will, and those measures may not come in the form of something so easily cleaned up as fire and graffiti. Sometimes you will see what we do, and you will know that it is us."
Despite the Department of Homeland Security issuing warnings about increased violence from radical pro-choice groups, the Biden administration has been completely silent about attacks on pro-life organizations. NCP has previously explained the reason: Democrats will always back their radical leftwing base so long as it does not cost them votes. The Biden Department of Justice, led by Attorney General Merrick Garland, recently took a lenient stance on two radicals who threw Molotov cocktails at police vehicles during the George Floyd protests. It's no surprise that this group—likely made up of angry school teachers whose most meaningful life experience was attending a protest in college—feels so emboldened.    
The radical group concluded their blog post by writing, "Sometimes you will think you merely are unlucky, because you cannot see the ways which we interfere in your affairs. But your pointless attempts to control others, and make life more difficult, will not be met passively. Eventually your insurance companies, and your financial backers will realize you are a bad investment.

From here forward, any anti-choice group who closes their doors, and stops operating will no longer be a target. But until you do, it's open season, and we know where your operations are. The infrastructure of the enslavers will not survive. We will never stop, back down, slow down, or retreat. We did not want this; but it is upon us, and so we must deal with it proportionally. We exist in confluence and solidarity with all others in the struggle for complete liberation. Our recourse now is to defend ourselves and to build robust, caring communities of mutual aid, so that we may heal ourselves without the need of the medical industry or any other intermediary. Through attacking, we find joy, courage, and strip the veneer of impenetrability held by these violent institutions.

And for the allies of ours who doubt the authenticity of the communiqués and actions: there is a way you can get irrefutable proof that these actions are real. Go do one of your own. You are already one of us. Everyone with the urge to paint, to burn, to cut, to jam: now is the time. Go forth and manifest the things you wish to see. Stay safe, and practice your cursive."
Republicans have demanded that the White House do something to address their radical allies plotting more violence against Americans. Fox News reported that Rep. Michael Guest, the vice ranking member on the House Homeland Security Committee, has demanded that Homeland Security Secretary Alejandro Mayorkas address the increased number of attacks against pro-life crisis pregnancy centers and Catholic churches.
The news channel reported, "In a letter addressed to Mayorkas Thursday, Guest, who is the vice ranking member of the House Committee on Homeland Security, outlined the growing number of criminal acts of violence and vandalism targeting pro-life organizations such as pregnancy centers and churches" that have occurred across the U.S. in recent weeks "following an unprecedented leak of a draft Supreme Court opinion." Mayorkas has been too busy trumping up charges against the border patrol to speak about the dozens of attacks on pro-lifers over the past few months.  
More than 100 House Republicans also sent a letter to the DOJ stating, "We write to express serious concerns over recent attacks targeting religious organizations and crisis pregnancy centers and request the Department of Justice respond with how its National Security Division plans to investigate these acts of domestic terrorism," the Republicans said. "Since the draft Dobbs v. Jackson Women's Health U.S. Supreme Court opinion was leaked on May 2, 2022, U.S. Supreme Court Justices and pro-life advocates have experienced heightened threats and violence."
Florida Senator Marco Rubio also demanded action from Garland. In a letter to the the attorney general, he wrote, "Despite the damage that has already been done and even though these groups have kept their promise to raise the violent stakes, the DOJ has not been faithful to its promise of ensuring the public's safety against these violent, radical activists. To date, there has not been a single charge brought against any individual or group despite the countless pro-life centers in America that have been firebombed and vandalized in recent months."
Flyers have appeared in Washington, D.C., calling for a "night of rage" on the day the Supreme Court issues its ruling on the abortion case. They are likely to rule that elected officials should set abortion policy based on the precepts of democratic, representative government. 
 No prominent Democrat has taken on the group or even signed the letter asking that federal law enforcement do its job to protect the public. They are too busy saying "democracy is at stake" and focusing on Donald Trump's connection to the mobbing of the Capitol on January 6, 2021, to lift a finger to defend our democracy against those who threaten public officials and promise violence in response to Americans being tasked with voting on controversial issues. When they're not spending their time pushing drag shows at schools and libraries, anyway.
[Read More: Biden Promised Border Agents 'Would Pay' Despite Hoax Being Debunked]