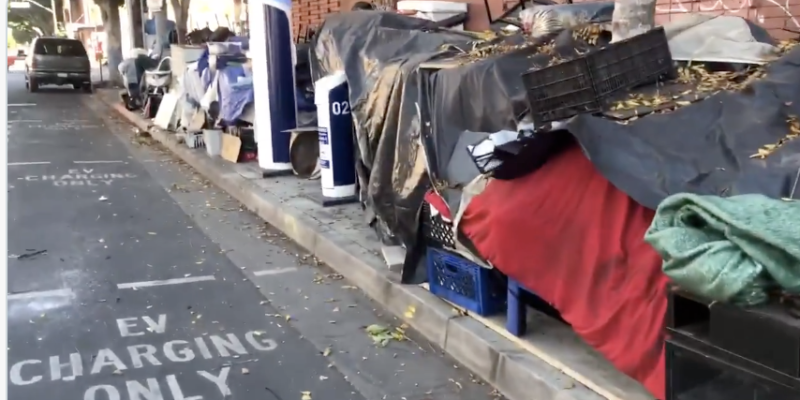 Federal Reserve Chairman Jerome Powell caused jitters through the market late last week. On Friday, Powell sent the stock market crashing over 1000 points by saying that the central bank will continue to fight inflation until "the job is done." 
Biden's falsely labeled "Inflation Reduction Act," which, as NCP noted, does little to fight inflation but does do things like "help the U.S. Postal Service decarbonize its mail-delivery fleet and shift to electric vehicles" and doubled the size of the IRS, things might go from bad to worse for regular people seems to have soured experts on our chances of getting inflation under control. 
Powell concluded, "Reducing inflation is likely to require a sustained period of below-trend growth. While higher interest rates, slower growth, and softer labor market conditions will bring down inflation, they will also bring some pain to households and businesses."
The Fed Chairman slightly misspoke. He should have said that a White House being driven by 25-year-old Twitter fanatics will "bring more pain" to American households. While very-online liberals continue to celebrate, in the words of Obama's top economist, "pouring roughly half trillion dollars of gasoline on the inflationary fire that is already burning."
And burning it is, nowhere is that made more clear than the fact that 1 in 6 Americans are presently in arrears on their utility bills, according to the National Energy Assistance Directors Association.
According to some reports, "The issue is the "worst crisis" the National Energy Assistance Directors Association (Naeda) has documented, propelled by higher electricity prices and a soaring natural gas costs.

There have been a lot of utility shutoffs, a dire possibility as the summer dragged on and the heat shattered records. The Bloomberg article noted the number of Americans who have had to make hard choices between using their tighter wallets for food, housing or electricity.

The report also said that California's PG&E Corp. saw an over 40% jump in the number of residential customers behind on payments since February 2020, while New Jersey's Public Service Enterprise Group saw a boost of over 30% for those who are at least 90 days late."

"I expect a tsunami of shutoffs," Jean Su, a senior attorney at the Center for Biological Diversity, which tracks utility disconnections across the US, told Bloomberg. 
The Daily Mail wrote, "In July, the average price of electricity in the US hit a record-high $0.166 per kilowatt hour, a 4 percent jump from the prior month and up 16 percent from a year ago, according to Commerce Department data.
As electricity prices soar, many Americans are being pushed closer to disaster, facing the prospect of electricity shutoffs amid dangerously hot temperatures.
Single mother Adrienne Nice, 45, of Minneapolis told Bloomberg that she awoke on July 25 to find her power shut off, after racking up $3,000 in overdue utility bills.
Rising gas prices meant that driving from job to job now takes a significant cut out of her income, and soaring utility bills made it impossible for her to keep up with payments, she said."
USA Today explained the dramatic impact of utility shutoffs on normal Americans:
"With 

heatwaves

 hitting much of the world this summer, a loss of electricity to cool the home can be fatal. 
According to the 

National Weather Service

, there were an average of 188 heat-related deaths per year in the U.S. from 2017 through 2021, up from an average of 81 in the five years before that.  
Experts expect shutoffs due to non-payment to get worse as climate change and rising prices collide in the coming years and decades. 'It's higher prices. It's heat waves and increasing needs for energy,' David Konisky, co-director of the Energy Justice Lab told Bloomberg."
The Biden Administration has shown no inclination to reduce the price of energy. It's long been noted that Biden has no interest in lowering gas prices. He's only deployed gimmicks to make it seem like he wants lower prices while once in a while praising the high costs as a way to establish a "liberal world order."
When it comes to electricity, like every other liberal Democrat, he only cares about "green" energy. In June, the White House announced "Bold Executive Action to Spur Domestic Clean Energy Manufacturing," saying, "Today's clean energy technologies are a critical part of the arsenal we must harness to lower energy costs for families, reduce risks to our power grid, and tackle the urgent crisis of a changing climate." 
His "bold action" was really just using the government to prop up the struggling solar panel industry. Following in the footsteps of Barack Obama's Solyndra Scandal, which, according to The Washington Post, was a "green-technology program was infused with politics at every level," Biden's big plan to lower energy costs involves allowing renters to use solar power and using HUD tax credits to assist low-income people in connecting to solar power. 
There's little effort to make more electricity available to lower costs.
American Action Forum explained how Biden's plans won't help regular people lower their electricity bills. The group wrote, "President Biden has used expansive federal powers to force a rapid shift in domestic energy production and consumption away from conventional fuels and toward wind and solar power. The most substantial measures to force this shift in the energy market have been done through executive action to disincentivize or even block conventional fuel production, while providing new preferential treatment and subsidies for wind and solar power. These interventions have inflicted inefficiency and higher costs on consumers – which ultimately lowers utilization of clean energy – contrary to the administration's objective.
Moreover, the overreliance on solar power is in direct conflict with the administration's objectives concerning China, the largest producer of solar panels. At the same time, tariffs and other policies directed toward China are counterproductive to President Biden's climate goals, producing something of a Catch 22. To add insult to injury, new subsidies could also lead to tariff retaliation by trading partners or the adoption of similar subsidies abroad, further distorting the global market and decreasing consumers' access to competitively priced clean energy products.
The bottom line is that these policies have suppressed fossil-fuel-generated electricity even though solar capacity has still not expanded at a pace to immediately meet the country's energy needs. Faced with potential electricity blackouts this summer, the president doubled down on his interventionist strategy by declaring a national emergency and invoking the Defense Production Act to insert the federal government into the production of solar power components."
Biden would rather play games with his green energy allies on the left than support a sustainable electric grid now while investing in reliable energy in the future, even as our global competition restarts nuclear energy programs. 
No place may more exemplify the Left's complete delusion on energy than California. In May, California officials said that the state would likely have an "energy shortfall equivalent to what it takes to power about 1.3 million homes when use is at its peak during the hot and dry summer months." 
What did they do to make sure this didn't happen? Well, force everyone to buy electric vehicles, of course. KSBY reported last week that state regulators "passed sweeping new regulations on Thursday that will eventually phase out gas-powered cars. The Golden State will require all new cars, trucks and SUVs to be electric or hydrogen-powered by 2035." 
More using electricity for transportation while producing less electricity for use. Biden looks at what's happening in California and thinks we need to do that to the country as a whole. 
As more and more Americans have the lights turned off on them because they can't affod their utility bills, at least they'll get a new $7,500 subsidy on a $89,000 electric vehicle. That is if you can find one that qualifies.
Oops, sorry, with the Biden subsidy, it now costs $97,000. 
[Dem Darling Populist Turns Out To Be A Fraud]