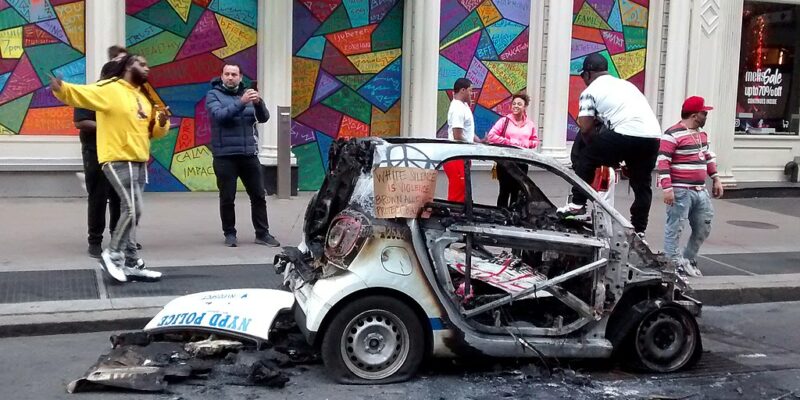 One thing that has always been true and will always be true in our politics: Democratic presidents will always take care of their own party, whether that means pardoning a donor who committed millions in tax fraud or commuting the sentence of a far-left "terrorist" who claimed the right to wage war against the United States. It should be no surprise that Joe Biden is following in his predecessors' footsteps, using the pardon and prosecution powers to protect activists who'd otherwise get the book thrown at them. 
During the May 2020 George Floyd protests, two New York lawyers were caught firebombing police vehicles. Reuters documented what happened, "Urooj Rahman, 33, and Colinford Mattis, 34, had pleaded guilty last October to possessing a destructive device and expressed regret, but fought federal prosecutors' effort to brand them as terrorists, more than doubling their potential sentences to 10 years." Unsurprisingly, the Biden DOJ led by Attorney General Merrick Garland went lenient on them. 
The National Review comments, "Democratic prosecutors at the federal, state, and local levels have been scandalously soft on the many crimes committed in the course of those riots and protests. Large numbers of offenders were let off scot-free by progressive prosecutors; even those whose crimes caused death have been given sentences no longer than ten years. In so doing, the progressive district attorneys and the Justice Department have imperiled public safety in our cities and undermined public confidence in the even-handed administration of law. It is unsurprising that urban crime and violence have spiked in many cities after the law failed to restore order or punish criminality.

The Biden administration has just added to this shameful spectacle by retroactively reducing the plea-bargained sentence in one of the most high-profile of those crimes, in which two white-shoe lawyers in Brooklyn threw a Molotov cocktail into a police car.

Colinford Mattis and Urooj Rahman were well-compensated attorneys in their early thirties when they joined the protesting mob in May 2020. Rahman was caught on tape throwing the firebomb into an unoccupied police car, and Mattis was arrested with more such improvised explosives in his car and was videotaped trying to hand them out to others. These are gravely serious crimes, more so than those committed by all but a tiny handful (at most) of the people charged in connection with January 6. An unapologetic Rahman told reporters later, 'The only way they hear us is through violence.'"
Democrats will always take care of their own, no matter how violent, no matter who gets hurt, and no matter how unapologetic they are. If they are helpful in the politics of the moment, they are often treated as patriots merely expressing liberal values who deserve a reprieve from the consequences of their crimes. Sometimes they're rewarded with tenure. Other times they get book deals and become role models for state Democratic parties. 
However, the people are beginning to notice the results of being so soft on violent crime, even in a city as liberal as San Francisco. Bill Ayers' adopted son, far-left San Francisco District Attorney Chesa Boudin, was "annihilated" in a recall election on Tuesday. In 2019, Boudin was part of a Soros-backed slate of reform-minded DA candidates who supported Black Lives Matter and demanded new ways of crime prevention, including defunding the police. He won by fewer than 3,000 votes.
Boudin's parents were members of the violent left-wing Weather Underground with Ayers, and the latter ended up raising Chesa in Illinois after Boudin's parents went to prison for participating in the murder of a Brinks truck driver in the 1980s. During a parole board hearing, Boudin's father, Dave Gilbert, explained what a great family man he was, saying, "We actually dropped our son off [before taking part in a murder, emphasis NCP]— you know, the most adorable creature in the world — dropped him off at a babysitter and said we'll be back in a few hours." 
Things have not gone great for the city since Boudin became the city's DA. "Three years later," NBC News reports, "many San Franciscans have grown exasperated by a perception of impunity for low-level crimes like shoplifting, while violent crime is also up." The Federalist reported several stories of repeat offenders left alone by Boudin's office committing the same crimes again. 
San Fran Mayor London Breed recently said enough was enough and called for a crackdown on crime in the Golden City. She even included emergency increases in police spending. The mayor said, "It's time that the reign of criminals who are destroying our city, it is time for it to come to an end. And it comes to an end when we take the steps to be more aggressive with law enforcement. More aggressive with the changes in our policies. And less tolerant of all the bull— that has destroyed our city," she said in December." It's not a mystery as to why Boudin was kicked out of office, even if some progressives have told themselves that San Francisco is actually really conservative. 
Boudin won't feel too bad that the voters fired him, perhaps. His time in office did see some success, at least personally. He leveraged his position to get dear old dad out of jail for his murder charge. The DA lobbied fellow Democrat Andrew Cuomo to spring his dad from prison back in 2021, and the New Yorker listened. As one of his final acts as Governor, right before his official resignation for sexually harassing staffers, Cuomo commuted the sentence of Boudin's father, David Gilbert. In October of that year, the convicted murderer and political activist was freed from his 75-year prison sentence after getting in front of a sympathetic parole board. 
After all, Democrats always take care of their own. 
[Read More: Biden Policies Leading To Largest Immigrant Population In Century]