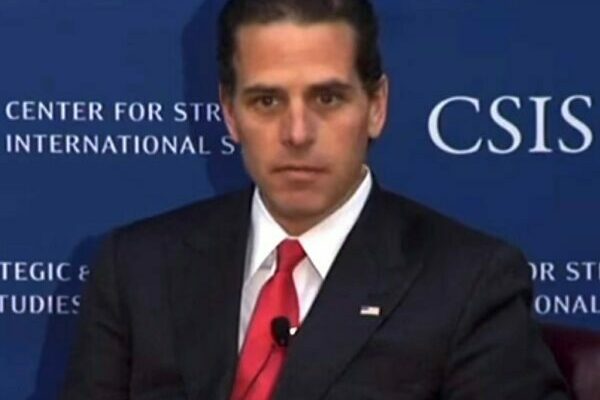 Another week, another revelation that we are just living in Hunter Biden's world. According to the Washington Examiner, which is now in control of 28 GB of Hunter's abandoned phone data, the crown prince of the Biden dynasty claimed to be the one pulling the strings. In a 77-minute conversation with Phillipa Horan–a British artist who apparently helped the president's son break into the art world, a grift from which he's netted hundreds of thousands of dollars from anonymous buyers–he talked about a wide range of topics, including his past drug addictions to his dad's aspirations for the White House.
During the December 3, 2018 recording, Hunter told his art friend that Joe would "talk about anything that I want him to, that he believes in." The newspaper also revealed that Hunter claimed, "If I say it's important to me, then he will work a way in which to make it a part of his platform. My dad respects me more than he respects anyone in the world, and I know that to be certain, so it's not going to be about whether it affects his politics." 
The Examiner released a significant portion of the conversation, much of which discussed the 46th president of the United States' mindset. When looking around at the state of the nation, these revelations really help make things clearer. 
The Examiner reported that Hunter said, "All those fears you think that I have of people not liking me or that I don't love myself … I don't fear that. You know why I don't fear that? Because the man I most admire in the world, that god to me, thinks I'm a god," Hunter Biden added in the 77-minute recording, which was taped about five months before Joe Biden launched his successful 2020 presidential campaign in late April 2019. "And my brother did, too. And the three of us, it was literally — I had the support to know I can do anything."

The recording was located on a copy of Hunter Biden's abandoned laptop within a password-protected backup of his iPhone XS. Konstantinos "Gus" Dimitrelos, a cyber forensics expert commissioned by the Washington Examiner, located the password during his examination of the hard drive.

"Everyone thinks it, talks about how — 'How can you be as good as your dad?' I'm better than my dad," Hunter Biden said. "You know why I'm better than my dad? Because my dad tells me I'm better than him, since I was 2 years old."

The conversation was taped at a house in Plum Island, Massachusetts, amid the throes of Hunter Biden's addiction to crack cocaine.
Hunter also told Horan that his father often requested his advice when considering political decisions, bragging about needing to be on early phone calls with the then-candidate's political consultants and talking about polling. A few days after serving in his key advisory role, the data revealed by the Examiner showed that he also Googled the best way to make crack cocaine. He put "I think I put too much baking soda in my mix with cocaine to make crack how do I fix it." into the search engine. 
Today the White House essentially said that they have no plan to get gas prices under control. The president wrote, "At a time of war, refinery profit margins well above normal being passed directly onto American families are not acceptable" and added that the biggest driver of gasoline prices was a shortage of refining. 
In May, we noted that an oil refinery CEO predicted we'd see gasoline rationing this summer. Around the same time the Department of the Interior ended the potential to drill for oil in over a million acres in Alaska's Cook Inlet and canceled two lease sales in the Gulf of Mexico. 
Just yesterday, Biden was blaming Putin rather than refiners for the increase in gasoline in a rant to the AFL-CIO. The president said, "First, I'm doing everything in my power to blunt Putin's gas price hike. Just since he invaded Ukraine, it's gone up $1.74 a gallon — because of nothing else but that." 
When you think about it, it does sometimes seem like the president is getting advice from "a god" who searches Google for a recipe for making crack. 
[Read More: Nancy Pelosi Walks Drag Queen Runway On TV]