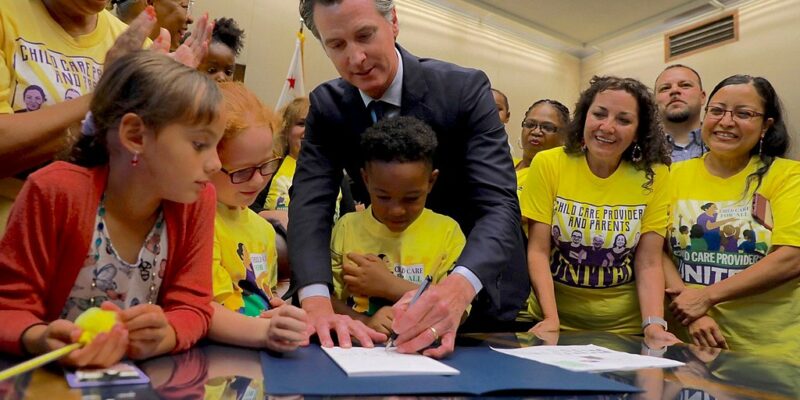 When a president is doing as poorly as Joe Biden, it only seems natural to think about the next election, even if you're a Democrat who supported the current occupant of the White House in 2020. Over the holiday, California Governor Gavin Newsom spent over $100,000 of his re-election campaign funds to buy attack ads targeting Florida Republicans on Florida television. 
Donald Trump isn't the only one who's got an eye on Ron DeSantis in 2024. The rivalry between the two governors is heating up.
WPTV out of West Palm Beach reported that "the 30-second spot scheduled to air on Fox News starting Monday takes shots at Florida Gov. Ron DeSantis and his policies, while drawing a contrast with California.

'Freedom, it's under attack in your state. Republican leaders, they're banning books, making it harder to vote, restricting speech in classrooms, even criminalizing women and doctors,' Newsom says while images of DeSantis and former President Donald Trump flash on screen.

'I urge all of you living in Florida to join the fight. Or join us in California, where we still believe in freedom — freedom of speech, freedom to choose, freedom from hate and the freedom to love,' Newsom says.
Florida Republican Kat Cammack, criticized Newsom's attack ad and stood up for her home state. She told Fox News: "There's a saying in politics that you never punch down, right? You only punch up. And if I was Governor Gavin Newsom, I would be desperate to. Over 60,000 Californians have gotten their Florida driver's licenses in the last three years. In Florida, we're about freedom and faith and family. And in California, it looks like high taxes, crack pipe distribution centers, homeless tent cities and apps that you can download in order to report feces on the sidewalk. It's no wonder that everyone is fleeing to the Sunshine State. Let me tell you, it's not because of the humidity that is 100%."
She continued by pointing out that California is "20th in the nation in education, we're number three. We have some of the lowest unemployment and low taxes in the country. They have some of the highest. This is a clear distinction in what works when it comes to governing a state."   
Republican-controlled states have been winning the post-pandemic economy. The Wall Street Journal recently wrote, "By many measures, red states—those that lean Republican—have recovered faster economically than Democratic-leaning blue ones, with workers and employers moving from the coasts to the middle of the country and Florida.
Since February 2020, the month before the pandemic began, the share of all U.S. jobs located in red states has grown by more than half a percentage point, according to an analysis of Labor Department data by the Brookings Institution think tank. Red states have added 341,000 jobs over that time, while blue states were still short 1.3 million jobs as of May."
Not that Gavin Newsom particularly cares. Back in 2021, the 54-year-old California governor easily beat a recall attempt. He is also expected to win re-election this November. He sees himself as bullet-proof with Golden-State voters. 
Newsom has said that he carries little interest in running for president, but the ad certainly says otherwise. He's almost certainly keeping his options open, especially if the wheels fall off of the Biden White House. 
He's not the only Democrat reconsidering whether Biden should even run for president again. A few weeks ago, we wrote that Democrats were beginning to look elsewhere for 2024. 
Things have only gotten worse for Biden's standing in the party. CNN recently noted that following their defeats in the Supreme Court, Democrats have begun to wonder if Biden is up to the job of being president. "Top Democrats complain the President isn't acting with — or perhaps is even capable of — the urgency the moment demands," the news channel reported. 
The pressure has continued to mount in the White House. On his Inauguration Day, the president said that he would fire anyone who treated a colleague with "disrespect or talked down to someone." CNN declared Biden himself has since thrown that rule out the window.
"Several officials say Biden's tendency to berate advisers when he's displeased with how a situation is being handled or when events go off poorly has trickled down the ranks in the West Wing, leaving several mid-level aides feeling blamed for failings despite lacking any real ability to influence the building's decision-making. That's contributed to some of the recent staff departures, according to people familiar."
A member of Congress said that the Biden administration is "rudderless, aimless and hopeless." One can only imagine what is happening behind the scenes. 
President Biden's spokesperson has tried to quell rumors that the president will not seek re-election. White House Press Secretary Karine Jean-Pierre tweeted last June, "To be clear, as the President has said repeatedly, he plans to run in 2024." 
Fewer and fewer people seem to believe that. Both Vice President Kamala Harris, despite not knowing how to spell "Louisiana," and Secretary of Transportation Pete Buttigieg are allegedly preparing for Biden not running in 2024. 
Mayor Pete has more support from Democratic insiders, and the New York Post has reported that "anyone but Kamala Harris" faction is rising. Rumors have long lingered that Harris has former president Obama in her corner, though.
Newsom seems like an obvious third choice. A poll from late June showed that "Newsom would be a stronger general election candidate than Harris. When running against Trump, Newsom not only fares better than Harris does (albeit narrowly), but he also has more room to grow (21% of voters said they were undecided in the Newsom-Trump matchup compared to 18% who said the same in the Harris-Trump matchup)."
 A Trump versus Newsom 2024 battle might be a little weird for Kimberly Guilfoyle, the fiance Donald Trump, Jr. The former prosecutor and Fox News contributor was married to Gavin Newsom for a few years and the two were once considered a "power couple in the liberal elite." 
[Read More: Bezos Turns On Biden, Citing His 'Misdirection' or 'Deep Misunderstanding' of Economics]