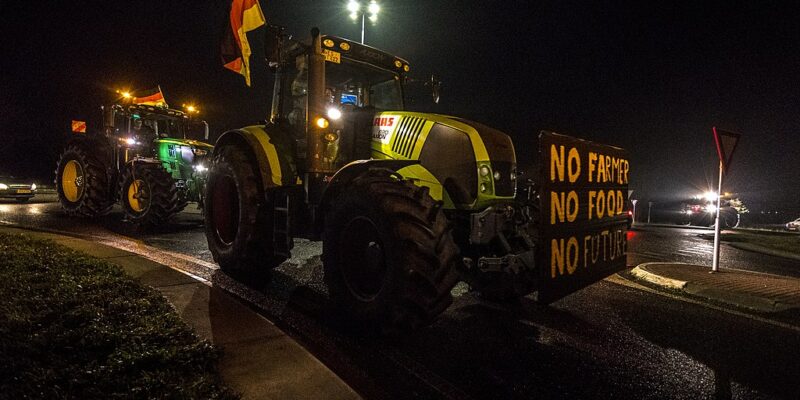 Over the past few weeks, Dutch farmers have told their government no deal on plans to introduce the European Union's version of the Green New Deal. Last month legislators introduced policies to force agriculture workers to use less fertilizer and reduce their livestock as a way to lower emissions of nitrogen oxide and ammonia. 
Officials in the Netherlands have said they aim to cut livestock by 30 percent to meet its climate goals. Politico reports that "The Dutch government wants to reduce emissions of nitrogen oxide and ammonia, which are produced by livestock, by 2030. Cuts could reach 70 percent in some areas, under the plans."
The National Review offers more details about the ongoing protest: "On Monday, farmers in tractors blocked supermarket distribution centers and spread manure outside of officials' homes in protest. On Monday and Tuesday of last week, a demonstration by 40,000 farmers in tractors blocked traffic in the country's key agricultural center, and others parked tractors outside the parliament building as lawmakers voted on the proposals. Some dropped bales of hay along the roads while others set bonfires outside town and city halls.

Dutch fishermen have joined the farmers in protesting the proposed regulations. Fishermen blocked the port in Harlingen with trawlers, preventing ferries from leaving for hours. The protests presumably stem from fishermen's anger at permit requirements beginning next year, which will require modifying their trawlers to be in compliance with government emissions regulations.

What's happening in the Netherlands is just one sign of the climate-regulation-related angst and unrest we'll continue to see as governments turn the screws. Over the last few years, Dutch courts have blocked several construction and infrastructure projects over concerns that the projects would violate emissions regulations. Both Dutch and other European courts have ordered the Netherlands to formulate plans to curb emissions of nitrogen oxide and ammonia, prompting the government to look for ways to reduce emissions in other sectors in order to allow the construction and infrastructure projects to go forward.

Legislators are seeking to slash emissions of pollutants (mostly nitrogen oxide and ammonia) by 50 percent by 2030, in what ministers call an "unavoidable transition" to improve the quality of land, air, and water. In some areas, emissions could be cut by 70 percent. The government is seeking to decrease emissions particularly in areas that are part of natural habitats protected by the European Union. Provincial governments have one year to craft plans to abide by the imminent regulations. In June, the government stated callously, "The honest message . . . is that not all farmers can continue their business, and not always in the way that they farm now." Rightfully pointing out that this is an unfair attack on their industry, farmers say they should not have to lose their livelihoods for the sake of the Netherlands' and the EU's green policies."
According to European media, Dutch officials are so eager to quash the protests by the farmers that police officers fired shots "at tractor-riding farmers who were protesting against plans to cut nitrogen emissions on Tuesday evening in northern Netherlands.
Police said they were responding to a 'threatening situation' when the farmers, who were attempting to push past a blockade to get onto a highway in the province of Friesland, started to drive their tractors into officers and their vehicles. According to the Friesland police, their shots hit a tractor, but no one was injured." 
Eva Vlaardingerbroek, a former politician and writer in the Netherlands, wrote, "This is who the Dutch police shot at. A farmer boy named Jouke who's only 16 years old. The bullet holes on his tractor show that they missed his head by only 2 cm. He is still being detained and isn't allowed any contact with his family. They're at their wit's end.
The Dutch police have fired shots at completely peaceful and unarmed farmers. This is why you don't give up your guns; unarmed people don't stand a change against tyranny."
The Dutch farmers may have launched a continental movement. According to EuroWeekly, "Farmers in Poland and Italy have now also joined the mass European protests seen in Netherlands, as reported on Friday, July 8. The farmers protests seen in Poland and Italy, come after strikes in the Netherlands have led to many supermarkets running out of food, as the anti-government movement continues." Other nations have seen similar protests arise.
Pictures of empty supermarket shelves have flooded Twitter showing the effect of angering the farmers as they blocked trucks from leaving food distribution centers.
One commenter posted a video and said, "Dutch farmers have shut down supermarkets and distribution centers. The shelves are empty & the cupboards are bare."
Another posted video of tractors blocking roads and ports, writing: "Big blockages of farmers in the Netherlands. Distribution centers, supermarkets and highways in the country have been blocked since this morning, especially the border with Germany. Ports are blocked by fishermen in support of farmers."
So far the protests have not come to America, despite pressures being put on the agricultural sector. In June, 93 Republican members of the House wrote the president a letter "calling on his Administration to reverse overly burdensome regulations and policy barriers to U.S. agriculture production that have caused needless uncertainty for farmers, ranchers, and rural communities across the country."
Climate change activists and politicians have had their eyes on farmers and ranchers for some time and have complained about the Senate giving agricultural states equal representation in the Senate. Vox's Ian Millhiser routinely argues that the Senate should be abolished, despite that move being disallowed by the Constitution without complete unanimity from the states.
In 2019, Senator Ed Markey of Massachusetts and Rep. Alexandria Ocasio-Cortez accidentally released a radical plan to "set a goal to get to net-zero, rather than zero emissions, in 10 years because we aren't sure that we'll be able to fully get rid of farting cows and airplanes that fast." The New York Post reported that the "language was later changed to 'emissions from cows.'"
The plan clearly has influenced Joe Biden. In 2020, his campain stated that he "believes the Green New Deal is a crucial framework for meeting the climate challenges we face. It powerfully captures two basic truths, which are at the core of his plan: (1) the United States urgently needs to embrace greater ambition on an epic scale to meet the scope of this challenge, and (2) our environment and our economy are completely and totally connected." 
In an early executive order, the White House took on methane produced by farmers and ranchers. "The President called on the Department of Agriculture (USDA) to work with farmers and ranchers to identify voluntary, incentive-based approaches that will advance climate goals. In response, USDA is pursuing multiple workstreams to reduce methane emissions from the agricultural sector, including (1) the adoption of alternative manure management systems and other methane-reducing practices; (2) the expansion of on-farm generation and use of renewable energy; (3) the development of a climate-smart agricultural commodities partnership initiative and (4) increased investments in agricultural methane quantification and related innovations." 
It seems like only a matter of time before Democrats move away from incentives and consider using force. 
[Read More: Biden Depleting Strategic Petroleum Reserves, Sending Oil Overseas To Hunter-linked, Chinese Company]