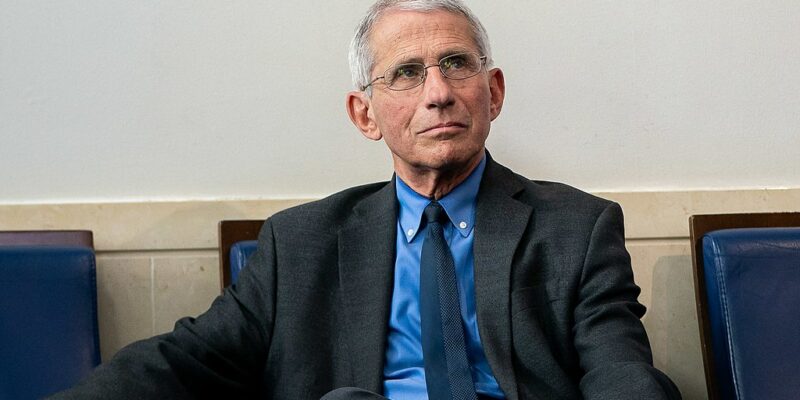 To no one's surprise, Anthony Fauci believes that federal health administrators should have more power than the judicial branch tasked with dispensing our national checks and balances. His comments should serve as a reminder that unelected bureaucrats will usually grasp at power, and once it's been given, it's hard to get it back and hold them accountable through democratic means. Remember, these are the people who talk about "norms" when they're allies are out of power. 
The Hill writes, "Top infectious diseases expert Dr. Anthony Fauci on Thursday said a judge's decision this week to strike down a federal mask mandate on public transportation systems could set a 'disturbing' precedent for the next public health crisis.

The White House's chief medical adviser told CBS's Robert Costa that the Centers for Disease Control and Prevention (CDC) should be the arbiter of public health decisions, not the courts. Fauci said the mask mandate was 'not a judicial matter.'

'The CDC has the obligation to protect the American public and they make their recommendations based on science and solid public health information,' Fauci said.

'The CDC will abide by the order of the court because it's a legal obligation,' Fauci added, 'but one of the problems we have there is the principle of a court overruling a public health judgement … is disturbing in the precedent that it might send.'"
After initially pretending that it would not appeal the ruling in order to get good press among plummeting approval numbers, the White House announced that it plans to appeal the decision by US District Judge Kathryn Kimball Mizelle, a Trump appointee, who ruled that the CDC did not adequately explain its decision to impose the mandate or follow appropriate procedures for rulemaking.  
Fauci whined and essentially stomped his feet on national television when the subject of who should hold governmental power to implement face masking again, saying that the CDC is better equipped "Far more than a judge with no experience in public health." 
Fauci and the CDC justified extending the transportation mask mandate by claiming that the BA.2 subvariant of COVID was spreading like wildfire. However, the Chief Medical Advisor to the President admitted that it did not "appear to be associated with an increase in hospitalizations and severe disease."
Fauci and the other federal bureaucrats who've been determined to curtail our freedoms over the past year always justify their actions by saying "just in case." We have to wonder if they had their way, whether we'd be living under the same Zero Covid policies that have seen starvation and lockdowns throughout China and Australia.  
Luckily, Americans are not willing to put up with this kind of stuff for much longer, as made evident by the City of Brotherly Love. On April 18, Philadelphia health officials, citing the same stats mentioned by Fauci, ordered a new indoor mask mandate for the city. After protest and anger, the same board ended the directive a few days later. The AP reports, "The health department did not release data to back up its reversal on masking, saying more information would be provided Friday. But the acting health commissioner, Dr. Cheryl Bettigole, told the Board of Health at a public meeting Thursday night that hospitalizations had unexpectedly gone down 25% in a matter of days."  
Wow, cases went down, as if by the magic. Maybe the best cure for COVID is a free people telling these bureaucrats off? Then again, we should remember that the best way to prevent yourself from getting COVID is to be a Democrat having a party or attending a concert while being a liberal TV pundit.  
[Read More: GOP Leaders Wanted Trump Gone]