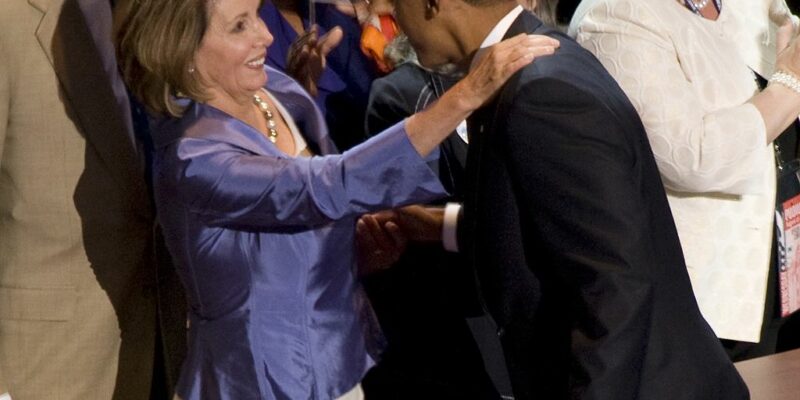 Several high-ranking officials, including Speaker of the House Nancy Pelosi, have tested positive for COVID-19 following a super spreader event at the White House. A spokesman for the California Democrat said, "After testing negative this week, Speaker Pelosi received a positive test result for COVID-19 and is currently asymptomatic." At 82-years old, Pelosi is the oldest Speaker of the House in the history of the United States and second in the line of presidential succession. Pelosi canceled her weekly press conference. 
The news came after a large "super spreader" event hosted by President Biden in which Democrats, who have spent the last two years chiding Americans about not wearing masks, went maskless to welcome former President Barack Obama back to the White House. 
Politico explained: "Commerce Secretary Gina Raimondo and Attorney General Merrick Garland on Wednesday revealed they had tested positive for Covid-19, becoming the latest D.C. figures to contract the virus in what is taking on signs of a new wave pummeling the capital city.

By Wednesday afternoon, the spread of the virus had gotten further inside the White House and seemingly closer to the president, with Vice President Kamala Harris' communications director, Jamal Simmons, announcing that he too had become infected. Harris' was in close contact to the Vice President as defined by CDC guidance,' the VP's office said, adding that Harris would both follow CDC guidelines and 'plans to continue with her public schedule.' Simmons had been at a White House event the day before celebrating the passage of the Affordable Care Act. While there, he was seen shaking hands and talking to former President Barack Obama, who recently tested positive for Covid-19. Both were mask-less.

The news of the infections rippled through D.C. Scores of reporters and elected officials have revealed — privately and publicly — in recent days that they have Covid. It's touched Congress, the White House and major newsrooms. It's impacted going-away parties and insider gatherings. It's cast a shadow over the functions of President Joe Biden as well, though the White House says he remains virus-free and has not yet had what is deemed to be a close contact."
This is the second time Democrats have hosted a super spreader event on behalf of Barack Obama. During the peak of the Delta variant wave of the pandemic, liberals hosted a birthday party for the 43rd President of the United States. Anthony Fauci had called the variant "the greatest threat to our in the U.S. to our attempt to eliminate COVID-19." 
At the time, liberal media members pushed back at the idea that these events were actually risky. According to reporting over the past couple years, the risk of spread has less to do with science and more to do with whether or not Democrats participated in an event. For example, at Barack Obama's birthday party? Not a super spreader event. What's he supposed to do, not have a birthday party?
A motorcycle rally outside in Sturgis, South Dakota? That's a super spreader event. 
Nancy Pelosi kissing Joe Biden on the cheek at last week's event? That did not meet the White House's definition of "close contact," according to White House Press Secretary Jen Psaki. 
President Trump hosting an outdoor event to celebrate Amy Coney Barrett's appointment to the Supreme Court? Super spreader. 
The best example of the Democratic imperviousness to COVID-19 came when Vice President Harris recently visited a school. The New York Post reported, "Harris visited Thomas Elementary School in northeast DC on Monday to announce the Biden administration's plans to upgrade public schools with energy-efficient facilities and transportation. After interacting with students and educators, the vice president delivered a speech with children standing behind her — all wearing masks."  
To be fair to our vice president, she was merely following Stacey Abrams' lead in "following the science" that liberals cannot get COVID while children can.
[Read More: Rogan Says Schools Pushed Wokeness on his Daughter]