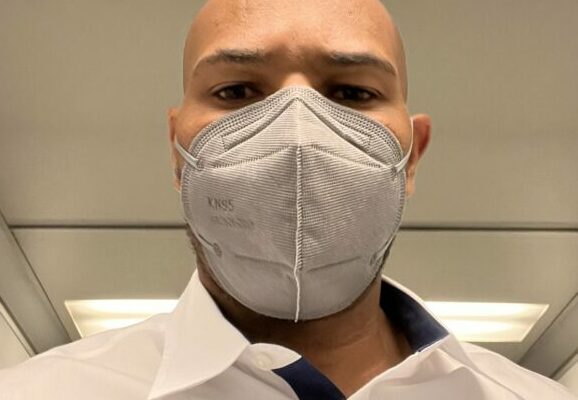 The 20th Surgeon General, Jerome Adams, is a former vice admiral in the U.S. Public Health Service Commissioned Corps and served the Trump Administration throughout his attempts to resolve the pandemic. He portrayed himself as a tough guy, but it turns out he's living his life in fear of his own shadow. 
Following the news that the Biden administration would not be appealing the end of the federal mask mandate, Adams went on Twitter and fired off panicked criticisms of U.S. District Judge Kathryn Kimball Mizelle's ruling, which left the decision on mask enforcement up to individual transportation providers.
Newsweek reported, "Adams shared a CNN article headlined 'CDC mask mandate for travelers struck down by federal judge.'

'Restate this headline. I'll go first: Federal Judge says kids under 5 with chronic illnesses- stay home, or you're on your own!' Adams wrote.

The former surgeon general later retweeted his own post and added: 'This isn't just about planes. This means a 4 year old kid with cancer who's parents have no vehicle might be forced to sit next to a floridly sick/coughing covid patient with no mask on a bus, while going to get chemo.'

Adams went on to say in a further tweet that 'millions of parents' of children under five years old had 'just got the middle finger from a federal judge.'"
According to studies, there's "a 1 in 1.7 million chance of passengers contracting COVID-19 on a flight." In December, an airline CEO under oath testified that "masks don't add much, if anything, in the air cabin." because "the environment is very safe, very high quality compared to any other indoor setting."
Southwest Airlines later released a statement explaining the precautions taken inside an airplane to prevent the spread of COVID-19. They said that each plane has a "sophisticated air distribution system [that] introduces fresh, outdoor air and HEPA-filtered air into the cabin, creating a protective environment prior to the added layer of wearing a mask."
This did not stop the former surgeon general from clutching his pearls when, gasp, a pilot made an innocuous joke to him as he walked by in the airport. After undoubtedly needing to compose himself, Adams took to Twitter again: "Flying today. A @delta pilot walked by me in the airport and said, take your mask off man-breath free! Why is it those who so strongly felt others were imposing their beliefs (in health, wellness and compassion) on them, feel so free to impose their beliefs on others?!"  
So much for following the science. I hope there was a fainting couch nearby.
Beware people who purposely confuse letting individuals choose to do something or not with "imposing beliefs" on others. If the former president was getting his advice from people as weak-kneed as Adams, it's no wonder that he allowed lockdowns and supported mask mandates when the pandemic first hit our shores. 
[Read More: Fauci Says Courts Shouldn't Trump CDC]