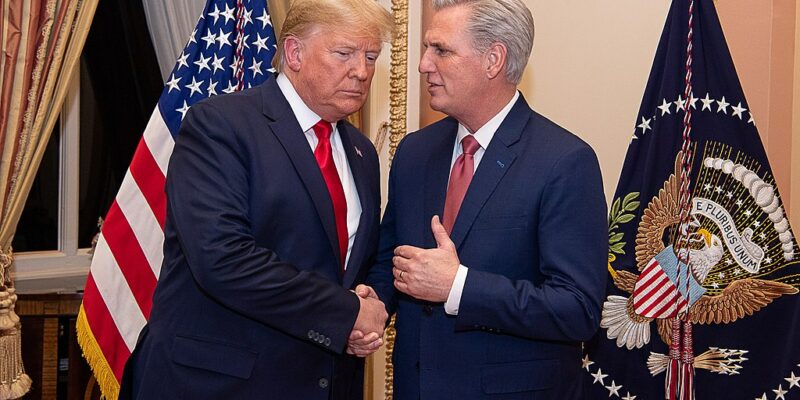 Update: Politico is reporting "Newly released audio showing that Kevin McCarthy wanted Donald Trump to resign in the wake of the Jan. 6 insurrection has prompted allies of the former president to question whether McCarthy is fit for the top job in the House.
While the GOP leader is still seen as the overwhelming favorite to be speaker in 2023, given Republicans' likelihood of taking back the House, it could endanger McCarthy's chances to win over a necessary block of pro-Trump Republicans — particularly if Trump comes out against McCarthy's speakership bid."
Speculation is already beginning that McCarthy, the expected Speaker of the House if the Republicans gain control in November is once again seeing the position slip through his fingers. In 2015 McCarthy was expected to be named the successor to Speaker John Boehner before an alleged affair with a fellow member of Congress derailed his bid and veteran Republican Congressman Walter Jones issued a letter asking potential leaders to "attest they had not committed any embarrassing misdeeds." McCarthy withdrew shortly thereafter.
Fox News has has said that Trump does not consider his relationship with McCarthy to be damaged.
During the days and weeks that followed the mob at the U.S. Capitol on January 6, 2021, Kevin McCarthy and Mitch McConnell allegedly believed that President Trump should be held responsible for "inciting the deadly riot" and discussed ways they might be able to drive the New York billionaire out of politics for good. McCarthy, states a new book called This Will Not Pass: Trump, Biden and the Battle for America's Future, "went so far as to say he would push Mr. Trump to resign immediately: 'I've had it with this guy,' he told a group of Republican leaders."
DNYUZ reports that "within weeks both men backed off an all-out fight with Mr. Trump because they feared retribution from him and his political movement. Their drive to act faded fast as it became clear it would mean difficult votes that would put them at odds with most of their colleagues.

"On a phone call with several other top House Republicans on Jan. 8, Mr. McCarthy said Mr. Trump's conduct on Jan. 6 had been 'atrocious and totally wrong.' He faulted the president for "inciting people' to attack the Capitol, saying that Mr. Trump's remarks at a rally on the National Mall that day were "not right by any shape or any form.'

During that conversation, Mr. McCarthy inquired about the mechanism for invoking the 25th Amendment — the process whereby the vice president and members of the cabinet can remove a president from office — before concluding that was not a viable option. Mr. McCarthy, who was among those who objected to the election results, was uncertain and indecisive, fretting that the Democratic drive to impeach Mr. Trump would 'put more fuel on the fire' of the country's divisions.

In the following days, Mr. McCarthy heard from some Republican lawmakers who advised against confronting Mr. Trump. In one group conversation, Representative Bill Johnson of Ohio cautioned that conservative voters back home 'go ballistic' in response to criticism of Mr. Trump, demanding that Republicans instead train their denunciations on Democrats, such as Hillary Clinton and Hunter Biden."
A different report about the book said that on Monday, January 11, the GOP Senate leader met with "two longtime advisers" and told them, "The Democrats are going to take care of the son of a bitch for us," referring to Trump's second impeachment by Democrats in as many years. Neither McCarthy or McConnell voted to impeach or remove President Trump. 
Penned by New York Times writers Alexander Burns and Jonathan Martin, This Will Not Pass: Trump, Biden and the Battle for America's Future claims to be "the authoritative account of an eighteen-month crisis in American democracy that will be seared into the country's political memory for decades to come."
It's been a rough week for the former president. He apparently "stormed out of a world exclusive interview with Piers Morgan in a blazing row over the 'stolen' U.S. presidential election" after a 70-minute interview with the British talk show host, calling him a "disloyal fool." In an op-ed, Morgan claims, "This certainly wasn't a Trump-bashing interview, as you know. I've always tried to be fair about you." 
[Read More: DeSantis Strips Disney of autonomous control around Orlando]