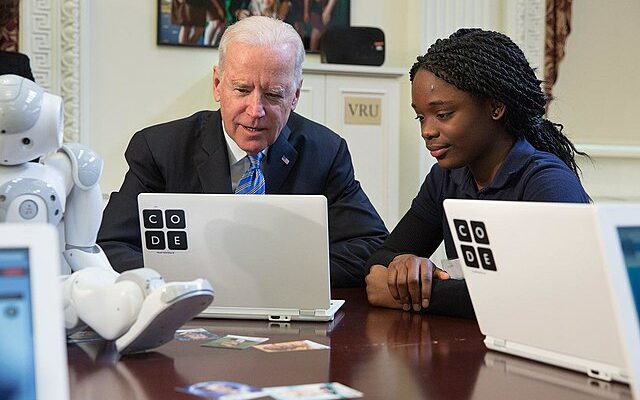 According to a recent letter from the National Archives and Records Administration, it appears that during his time as vice president, President Joe Biden may have utilized pseudonyms in almost 5,400 emails, electronic records, and documents. 
The letter was a response to a lawsuit filed by the Southeastern Legal Foundation that sought all emails from when then-Vice President Joe Biden used three personal pseudonym email accounts to forward government information and discuss government business with his son, Hunter Biden, and others.
Republicans have been demanding the release of the emails they say could show Biden used the names to discuss foreign business with his son and share information on countries where he was doing deals, according to The Daily Mail.

The White House has insisted Biden was never in business with his son, and vice presidents and high-level government officials often use pseudonyms to prevent being inundated with spam and emails from the public.

At the time, the Obama administration dismissed criticism the communications were 'secret' because they were all archived.

But the sheer volume of emails raises questions over whether then-VP Biden broke the 'absolute wall' he said he maintained between the 'the personal and private, and the government'.

Emails from Hunter's laptop also reveal business partners referred to Biden as the 'big guy.'
"We have performed a search of our collection for Vice Presidential records related to your [June 9, 2022] request and have identified approximately 5,138 email messages, 25 electronic files and 200 pages of potentially responsive records that must be processed in order to respond to your request," Stephannie Oriabure, the director of NARA's archival operations division, wrote to the Southeastern Legal Foundation on June 24, 2022, Monday's lawsuit revealed. 
Earlier this month, reports The New York Post, "House Oversight Committee Chairman James Comer (R-Ky.) demanded that NARA hand over any unredacted records in which Joe Biden used a pseudonym during his vice presidency as part of his probe into the role the former vice president played in Hunter Biden's foreign business dealings. 
Emails previously released by the Archives and retrieved from Hunter's abandoned laptop reveal that Joe Biden used the email address "Robert.L.Peters@pci.gov" while he was Obama's second-in-command and that his aide John Flynn cc'd Hunter on 10 emails containing the elder Biden's daily schedule between May 18 and June 15, 2016."
Biden has maintained that he had a "wall of separation" between what he was doing in Ukraine and the millions of dollars flowing into Biden Family coffers.
The then vice president must have merely been using fake email name to keep his son up to date on whom he was speaking with in the Eastern European country because he's a loving father, not because his son was being paid handsomely to make an investigation into Burisma go away. 
Last week, State Department memos from the Obama administation revealed that officials were concerned as to why the then vice president was insisting on removing Victor Shokin, a Ukrainian prosecutor. 
"U.S. officials faced pressure from Burisma emissaries in the United States to make the corruption allegations go away and feared the energy firm had made two bribery payments in Ukraine as part of an effort to get cases settled.
A top U.S. official in Kyiv blamed Hunter Biden for undercutting U.S. anticorruption policy in Ukraine through his dealings with Burisma.
But in a private, classified email shared with Just the News, one of the top U.S. officials in the Kyiv embassy told then-Ambassador Marie Yovanovitch at the end of the Obama administration that Hunter Biden had, in fact, impacted the U.S. anti-corruption agenda in Ukraine."
[Read More: Ukrainian Prosecutor Reveals What Bidens Knew]