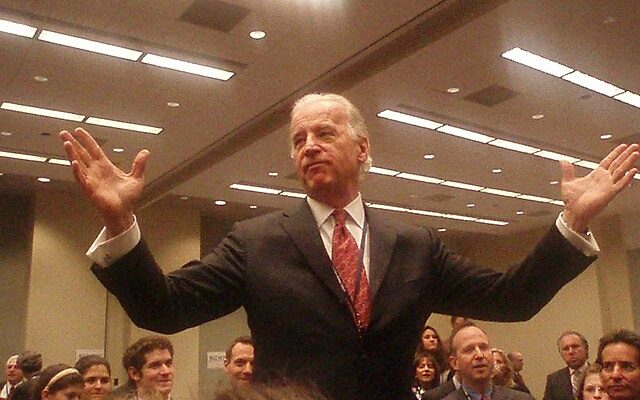 Earlier in the week Chairman of the House Oversight Committee revealed that Joe Biden had used several fake names to pass information to his son about what was happening in Ukraine. 
The Kentucky congressman requested "that the National Archives and Records Administration (NARA) provide unredacted documents and communications from President Biden's time as vice president as part of the panel's probe into the president's son Hunter Biden.
Specifically, Comer is requesting that the National Archives provide the committee special unredacted access to a tranche of emails from Biden's vice presidential records, which includes messages related to Ukraine and the Ukrainian gas company Burisma sent or received by President Biden or Hunter Biden. Hunter Biden sat on the board of Burisma at the time. Redacted copies of those emails were previously released publicly under the Freedom of Information Act (FOIA). 
Comer is also asking for documents and communications in which Biden used a "pseudonym"; that included Hunter Biden or his business partners Eric Schwerin and Devon Archer; and all drafts of the speech that Biden delivered to the Ukrainian legislature in December 2015."
One of Hunter Biden's business partners and best friends, Devon Archer recently testified that the president's son was "hired" by corrupt oligarchs in Eastern Europe because of his father.  
After Comer's reveal, The New York Post went back and cross-listed the fake email addresses with Hunter's email archives. You'll never believe it, but the emails were not about the weather. 
Then-Vice President Biden emailed Hunter under the aliases "Robin Ware," "Robert L. Peters" and "JRB Ware" between 2014 and 2016, keeping his son abreast of scheduled talks with then-Ukrainian President Petro Poroshenko and Kyiv Prime Minister Volodymyr Groysman, among other communications, the newspaper reports.

The elder Biden had one of his aides, John Flynn, send his daily schedule to the private email address "Robert.L.Peters@pci.gov" at least 10 times between May 18 and June 15, 2016, copying Hunter on a May 26 message with a note about an "8.45am prep for 9am phonecall [sic] with Pres Poroshenko."

Hunter didn't only receive heads-up about Ukraine from his dad's office. In June 2015, Joe Biden's longtime assistant Kathy Chung sent both Hunter and "Peters" a list of 25 cell phone numbers linked to major political players — including Bill and Hillary Clinton, Senate party leaders Mitch McConnell and Harry Reid, then-DNC Chairwoman Rep. Debbie Wasserman Schultz, and then-Attorney General Loretta Lynch.

Biden had pressured Poroshenko five months earlier to fire Ukrainian prosecutor general Viktor Shokin, who was investigating the natural gas company Burisma Holdings, where Hunter earned roughly $1 million per year while serving on the board between 2014 and 2019.
There's only one reason the vice president would keep his son up to date about his diplomatic discussions via private email, writes Ed Morrissey at Hot Air.
He writes, "Why would a vice president's aide send that kind of information to the vice president's son, if not to provide business contacts? In fact, why would a vice president use pseudonyms at all in conducting this kind of 'business' except to hide illegal activity from Congress and other prying eyes? There is no other explanation other than to cover up personal corruption in allowing the vice president's son to profit from inside information coming from a position of high public trust — and likely for the vice president himself to benefit from that profit, too."
Charles Cooke, editor of The National Review, has laid out the only conclusion possible: the president is a crook.
"I am fairly generous in trying to find plausible reasons why someone could have done something or why the evidence that we have doesn't suggest criminal or immoral behavior," Cooke said. ". . . But my efforts yesterday to conceive of a reason why, if it is true, the president — at the time, vice president of the United States — should be using a pseudonym to exchange emails with Burisma and his son . . . Well, that search was fruitless."
The president has run out of explanations, and he appears to be caught dead to rights. Morrisey, who is hardly a firebrand, lays out the ramifications of the Oversight Committee's request: "If Comer can firmly establish that 'Robert L. Peters,' 'JRB Ware,' and 'Robin Ware' were all email accounts used by Joe Biden, this is smoking-gun evidence of rank corruption."
That The Post already has a copy of at least one of the emails will make it hard for bureaucrats friendly to the president at the Archives to play dumb. Comer has given The National Archives, which hold the former vice president's emails, until August 31 to provide the documents. 
[Read More: Foreign Military Weapons Found Stashed At Border, What Was Being Planned?]