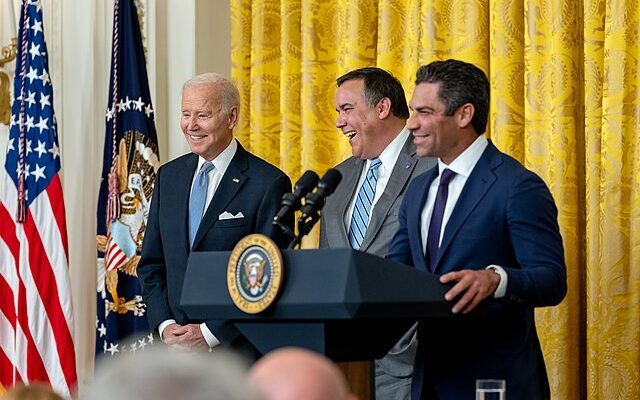 The first Republican candidate running for president has dropped out of the race for the White House. Mayor Francis Suarez, the mayor of Miami, announced via Twitter that he has ended his campaign. 
Running for President of the United States has been one of the greatest honors of my life. This country has given so much to my family and me. The prospect of giving back at the highest levels of public service is a motivator if not a calling. Throughout this process, I have met…

— Mayor Francis Suarez (@FrancisSuarez) August 29, 2023
"Running for President of the United States has been one of the greatest honors of my life," Suarez wrote in a lengthy statement on his X account. "While I have decided to suspend my campaign for President, my commitment to making this a better nation for every American remains."
On the stump in early voting states, Suarez honed his message on his economic and policing record in Miami, railing against the "defund the police" movement and highlighting his family's history migrating from Cuba to the United States, writes NBC News.

Prior to the debate, Suarez suggested to reporters that he would drop out if he didn't make the stage.

"If you can't meet the minimum thresholds, you shouldn't be trying to take time and volume away from people that do," he said during a press conference at the Iowa State Fair, adding, "I don't think candidates should just sort of linger around if they don't have a credible path."

Suarez's campaign announced in early August it had met the 40,000 unique donor threshold — one of the three benchmarks candidates must reach before being given a lectern on the stage in Milwaukee.
In July, New Conservative Post reported that Suarez had "been slapped with a complaint that he has accepted nearly half a million dollars from China, which violates federal campaign laws. According to a complaint filed to the Federal Election Commission, the Florida mayor got a hefty sum from an online flower shop that earns most of its money in the communist country." 
Like Vivek Ramaswamy, who allegedly was talked into running for president in exchange for a Trump cabinet position, The Miami Mayor's entire campaign appeared to exist to attack Florida Governor Ron DeSantis on behalf of Donald Trump. Shortly after announcing his run, wrote The Washington Examiner, Suarez "wasted little time in attacking Gov. Ron DeSantis (R-FL) after launching his 2024 bid this week.
During a Fox & Friends appearance, Suarez knocked DeSantis over an oft-repeated critique that he isn't a people person.
"You know, the governor isn't particularly a relationship guy. You know, he doesn't have, from what I understand, a great relationship with a lot of our federal elected officials," Suarez said, bringing up an attack that former President Donald Trump used to previously slam DeSantis.
Suarez sought to contrast his own personability to DeSantis, as the two Floridians challenge Trump, another Florida resident, for the GOP presidential throne. 'I'm very different. Like I said, I'm accessible. I call people. I'm a people person,' he said. 'I love people, and I look at them in the eye and shake their hands, you know, when I see them.'
This isn't the first time Suarez has sought to undermine DeSantis. In April, Suarez told Fox News host Brian Kilmeade during an interview that DeSantis "seems to struggle with relationships, generally.'
Last month, Suarez slammed DeSantis over his yearlong feud with Disney after the organization announced it was pulling a large investment out of Florida. 'Look, he took an issue that was a winning issue that we all agreed on, which was parental rights for K through third-graders,' Suarez said. 'And it looks like now it's something that spite or maybe potentially a personal vendetta, which has cost the state now potentially 2,000 jobs in a billion-dollar investment.'"
Larry Sabato, the director of the University of Virginia Center For Politics, noted the gaping hole that will be left with Francis Suarez dropping out. Who will the mayor's zero percent in polling go to?
Which Republican candidate will capture Francis Suarez's 0%? Let the speculation begin! https://t.co/jBtusSn2oc

— Larry Sabato (@LarrySabato) August 29, 2023
Like North Dakota Governor Doug Burgam, Suarez had offered to pay donors $20 for a $1 donation to his campaign, allowing him to cross the threshold needed to make the first debate stage. At least one Twitter user stated that the mayor had yet to fulfill his end of the bargain.
you still owe me $20

— Dr. Richard Harambe (@Richard_Harambe) August 29, 2023
[Read More: National Archives Reveals Biden's Fake Name Emails Was Used More Than Thought]