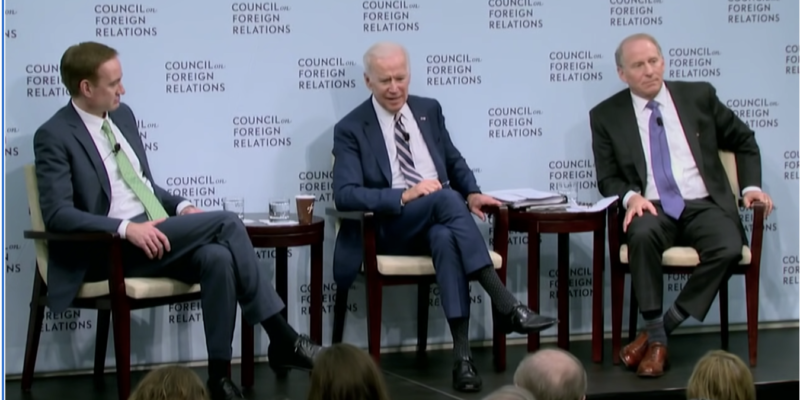 In a bombshell exclusive conversation with Fox News, Viktor Shokin, the former Ukrainian Prosecutor General, offered details about how then Joe Biden interfered with his country's justice system to have him removed from office to protect his son.  
"During the interview with Fox News' Brian Kilmeade, Shokin said he was ousted in 2016 because he was investigating Burisma, the Ukrainian natural gas company where Hunter Biden served on the board. Shokin also claimed that Joe and Hunter Biden accepted bribes in the case, and that the then-vice president ultimately hurt America's reputation and created the groundwork for Russia to invade Ukraine.
'I have said repeatedly in my previous interviews that Poroshenko fired me at the insistence of the then Vice President Biden because I was investigating Burisma,' Shokin told Fox News in the interview which aired Saturday evening.
'You understood me correctly, this is how it was,' he added after a follow-up question from Kilmeade about Biden's involvement. 'There were no complaints whatsoever and no problems with how I was performing at my job. But because pressure was repeatedly put on [then-Ukrainian President Petro] Poroshenko, that is what ended up in him firing me.'
During a January 2018 appearance at the Council on Foreign Relations, then Vice President Joe Biden bragged about threatening to withhold military aid to Ukraine as a pressure tactic to force the firing of the prosecutor general he did not like. It was later revealed that his son Hunter Biden was being paid nearly a million dollars to sit on the board of a company that Shokin was investigating. 
"I have no doubt that there were illegal activities engaged in by Burisma," he told Fox News' "One Nation" host Brian Kilmeade through a translator in an interview that aired on Saturday night.

"It continued to expand and Zlochevsky, who at the time held the post of minister … started bringing in people who could provide protection for him. Hunter Biden was among them and the corruption network expanded as a result," he said.

Kyiv's former top prosecutor has emerged as a key figure in the investigation into the Biden family foreign business dealings and accusations of bribery. Shokin's accusations, if deemed credible, could add fire to calls for a House impeachment inquiry into the president — which could happen as soon as next month, according to The New York Post.

Shokin claims he was forced out of office in 2016 by former Ukrainian President Petro Poroshenko "at the insistence of then-Vice President Joe Biden" amid an investigation into Burisma Holdings and Zlochevsky, Shokin told Kilmeade.
In September 2019, House Democrats impeached President Trump over a whistleblower's accusation that he threatened to withhold aid to Ukraine as a pressure tactic to force the Ukrainian government to investigate allegations that Joe Biden's son Hunter benefited financially from the firing of that same Ukrainian prosecutor.
Last week, Just The News revealed memos from the Obama State Department showing Trump's suspicions were at least justifiable. The documents challenge the argument advocated by Democrats who claimed that Biden's ultimatum in December 2015 to withhold US loan guarantees for Ukraine until Prosecutor General Viktor Shokin was removed from his position aligned with US policy objectives.
"U.S. officials faced pressure from Burisma emissaries in the United States to make the corruption allegations go away and feared the energy firm had made two bribery payments in Ukraine as part of an effort to get cases settled.
But in a private, classified email shared with Just the News, one of the top U.S. officials in the Kyiv embassy told then-Ambassador Marie Yovanovitch at the end of the Obama administration that Hunter Biden had, in fact, impacted the U.S. anti-corruption agenda in Ukraine.
'The real issue to my mind was that someone in Washington needed to engage VP Biden quietly and say that his son Hunter's presence on the Burisma board undercut the anti-corruption message the VP and we were advancing in Ukraine b/c Ukrainians heard one message from us and then saw another set of behavior with the family association with a known corrupt figure whose company was known for not playing by the rules,' embassy official George Kent wrote to Yovanovitch in the Nov. 22, 2016, email marked 'confidential.'"
Liberal mainstream outlets have already been trying to dive on the grenade for Joe Biden and the cynicism is so thick that it almost churns your stomach.
For example, The Washington Post, calling Shokin "not a reliable narrator" wrote, "To hear Shokin tell it, regardless of Biden's motives, this threat in and of itself was corrupt.
'The fact that Joe Biden gave away $1 billion in U.S. money in exchange for my dismissal, my firing, isn't that alone a case of corruption?' Shokin said through an interpreter.
No, it's not, writes Wapo reporter Aaron Blake, "U.S. foreign aid is often conditioned on countries taking official actions that the U.S. government regards as important. That's especially the case, as it was in Ukraine, with rooting out corruption.
Indeed, this was precisely the defense that then-acting Trump White House Chief of Staff Mick Mulvaney offered back in 2019 regarding Trump's having sought to use foreign aid for leverage with Ukraine.
'We do that all the time with foreign policy,' Mulvaney said. 'We were holding money at the same time for — what was it? The Northern Triangle countries. We were holding up aid at the Northern Triangle countries so that they would change their policies on immigration.'
Mulvaney was right. But the issue with Trump was whether he was leveraging Ukraine for personal gain — and there was more evidence that this was true of him than of Biden."
To The Washington Post the vice president's son getting $1 million from a company paying his son to get a prosecutor fired was not for personal gain, but President Trump asking for an investigation into the payments and the motivation was for personal gain. 
That should be something to remember as "fact check" season starts from the usual group of outlets.