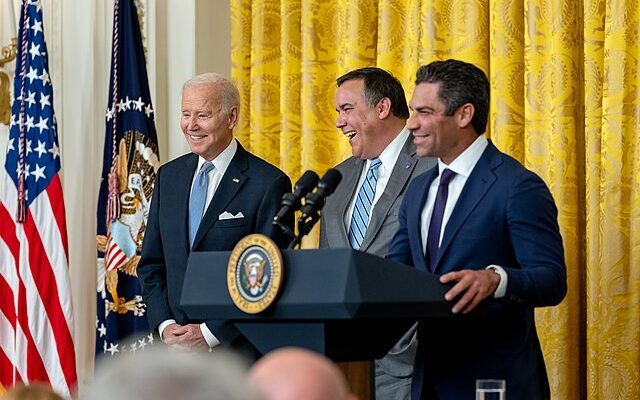 Republican presidential candidate Francis Suarez, the mayor of Miami, has been slapped with a complaint that he has accepted nearly half a million dollars from China, which violates federal campaign laws. According to a complaint filed to the Federal Election Commission, the Florida mayor got a hefty sum from an online flower shop that earns most of its money in the communist country. 
The 27-page complaint alleges "unknown persons" used PassionForest LLC, a less than year-old company that sells artificial flowers online, to conceal the true source of the contributions made to Suarez, according to the Campaign Legal Center, a nonpartisan watchdog group. The 45-year-old Republican mayor announced a long-shot presidential bid last month, writes Bloomberg.

PassionForest operates mostly out of China, according to the complaint, suggesting "it may have been used to conceal illegal foreign national contributions."

"PassionForest's only known activity was selling artificial flowers on Amazon.com, supporting the conclusion that it could not have made a $500,000 contribution without someone else – the true contributor – providing it with funds for that purpose," the Campaign Legal Center said in its complaint.

Suarez's SOS America PAC received the $500,000 from PassionForest in October, according to fillings.

The mayor's office referred calls to SOS America. In an email statement, the PAC said "the complaint makes no accusations whatsoever against SOS America PAC or the mayor. This is nothing more than a political attack and it will be seen for what it is."
Suarez entered the race, it appears, to serve as a stalking horse for former president Donald Trump. Entering the race in early June, the Miami mayor has spent most of his time not talking about himself, but rather attacking Florida Governor Ron DeSantis. 
After throwing his hat in the ring, Suarez went onto the Fox News program "Fox & Friends," and hit DeSantis hard, saying that the governor does not hold the political acumen to beat Trump and pointing to the endorsements the former president has rung up in the state of Florida. 
"You know, the governor is not particularly a relationship guy," Suarez said on the program. "He doesn't have, from what I understand, a great relationship with a lot of our federal elected officials."
"That is why he lost, I think, 12 out of 13 [congressional] endorsements in his own state … because he doesn't call people and he doesn't try to build a relationship," the mayor continued.
It's not surprising that Suarez would be the number choice China's communist leaders for the Republican nomination. During an interview, the mayor was asked during a radio interview to comment on alleged human rights abuses in China. 
When asked if his campaign would mention the Chinese minority during his run for the White House, Suarez responded by asking, "What's a Uyghur?"
Politico noted, "The Chinese government has faced significant international criticism in recent years over its treatment of Uyghurs, a Muslim minority in the western province of Xinjiang. Beijing, which broadly denies any human rights wrongdoing, is accused of detaining Uyghurs in reeducation camps, where prisoners allege they have been subjected to torture and rape. The U.S., Canada, United Kingdom and European Union have all leveled sanctions against Chinese officials over Beijing's treatment of Uyghurs and Secretary of State Antony Blinken has accused China of committing 'genocide and crimes against humanity.'
The foreign policy gaffe was especially striking given the increasingly outsize role China plays in U.S. foreign policy calculations. Relations between Washington and Beijing have worsened in recent years not just over China's treatment of Uyghurs but also tensions surrounding trade policy, Taiwan and Chinese territorial claims in the South China Sea, amid other issues."
The mayor has yet to meet any threshold to make the upcoming Republican debate on August 22. A recent poll by Morning Consult showed Suarez bringing a whopping 0 percent nationally. 
In a happier note, if his campaign organ does have to give back the cash, maybe China can at least send him a nice bouquet. 
[Read More: Dem Donor May Have Bought Her Way Into An Appointment With Purchases Of Hunter's 'Art']