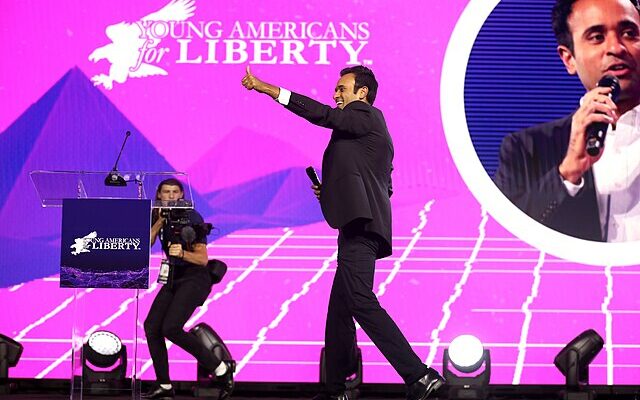 GOP presidential candidate Vivek Ramaswamy has gained notable name recognition from his long-shot campaign, but a new report from ABC News suggests that his purpose for running was not only to become famous. 
Conservative activists are coming out of the woodwork to say that his purpose of running is to undermine Florida Gov. Ron DeSantis to pave the way for former President Donald Trump to win the nomination. 
Most commentators analyzing the GOP primary have noted Ramaswamy's notably amicable and deferential approach towards Trump, bordering on, or even overtly resembling, an attempt to align himself closely with the former president. Now those observations have a clear motivation attached. 
Is Vivek on a Kamikaze mission to do Trump's dirty work? It certainly looks that way. 
Multiple sources who were on the call tell ABC News that they were baffled by the news. They had figured that maybe Ramaswamy, then a little-known biotech millionaire, had been working on a new business venture, or was writing a book, or was even contemplating a run for Senate in his home state of Ohio — but launching a long-shot bid for the White House was the last thing they expected.

Ramaswamy pitched himself as a candidate who could make serious waves in the Republican primary at the meeting. When met with some skepticism, Ramaswamy argued that his candidacy could also dissuade Florida Gov. Ron DeSantis from entering the race, according to a source who was on the call. In the lead-up to his announcement, Ramaswamy would tell several other conservative activists that he believed that if he ran, it could stop DeSantis from running or impact his viability as a candidate if he did enter the race, sources said.
Ramaswamy is an entrepreneur, author, and former hedge fund manager. He gained notoriety for his venture capital firm, Roivant Sciences, which focused on developing and commercializing drugs in various therapeutic areas. After making millions, he decided to enter politics as a way to "become famous," a goal that one adviser said "he's been wanting to be famous for a long time." 
One alleged "insider" on the Trump campaign said that despite accepting the arrangement, Team Trump routinely makes fun of the young candidate.
4) Despite Ramaswamy's devotion to this arrangement, senior Trump staff enjoy mocking the young CEO as "Vivek RamaScamy" and among the president's older business associates he's taken to calling him "Vivian"…

— Max Twain (@MaxTwain24) August 21, 2023
Mediaite notes that "Ramaswamy's announcement came way out of left field for those who know him. Reportedly, he had been trying to launch a podcast with The Daily Wire that fell through right before his announcement and was taking several steps to raise his profile in conservative media. Now that he's arrived on the national stage and displayed his loyalty to the MAGA base, people are talking, including his supposed target, DeSantis. When the DeSantis campaign posted a massive cache of debate prep notes, one note that stood out — in addition to defending Trump from any attacks by former New Jersey Gov. Chris Christie — was to 'hammer Vivek Ramaswamy."'
Now we can all see why Trump decided not to participate in the debates. He can have a lackey attack his challengers without being attacked himself.  
If Vivek's plan was to kill DeSantis for Trump and become famous, it's working. The entrepreneur has climbed to third in polling nationally. However, he still polls near the bottom in the polling of Iowa and New Hampshire, two crucial early states.  
The young upstart recently raised eyebrows by throwing out the idea that federal officers may have been on the airplanes that flew into the Twin Towers on September 11, 2001.
He
said
, "I think it is legitimate to say how many police, how many federal agents, were on the planes that hit the Twin Towers. Maybe the answer is zero. It probably is zero for all I know, right?"
[Read More: Biden Literally Auctioning Off American Border Security]