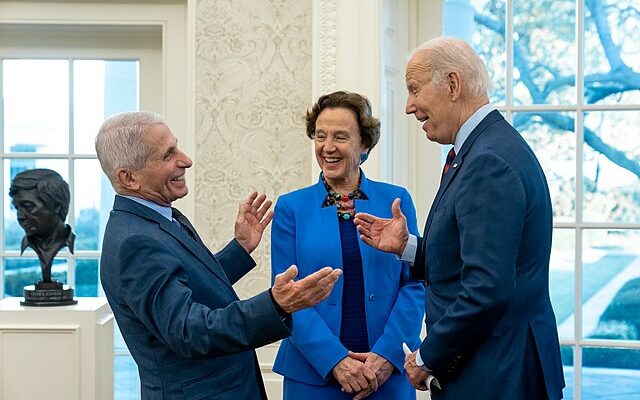 Although he retired, thus making it easier to avoid testifying before Congress, Anthony Fauci is still costing American taxpayers a pretty penny. No, we're not talking about his exorbitant pension. Instead, newly released documents show that Fauci receives security as if he's a former president. 
"Documents obtained by "Jesse Watters Primetime" from the US Marshals Service through a request described how the marshals took over that responsibility from the Department of Health & Human Services at the beginning of 2023," according to The New York Post.
"Paul sent a letter to HHS Secretary Xavier Becerra in June requesting additional details about Fauci's current employment status and special taxpayer-funded benefits.
On "Jesse Watters Primetime," host Jesse Watters said a source's tip led to a FOIA request to the US Marshals that revealed the security detail for Fauci.
Watters reported the documents also stated Fauci's perks include limousine transportation."
ONLY ON PRIMETIME: After months of rumors, Primetime has cracked the case. We filed a FOIA and we can now reveal that taxpayers are funding Fauci's security detail.

The U.S. Marshals are taking him around in limousines and giving him around-the-clock security. @RandPaul says… pic.twitter.com/FBGn2hwVCC

— Jesse Watters (@JesseBWatters) July 18, 2023
This is not the first time that Watters and Fauci have gotten into a spat. 
NPR reported back in 2021, "Speaking at Turning Point USA's Americafest over the weekend, Watters urged young conservatives to "ambush" the nation's top infectious disease expert and "go in for the kill shot." He walked them through how to approach Fauci and how to phrase their questions, focusing on a conspiracy theory about the origins of the coronavirus pandemic.

"Now you go in for the kill shot. The kill shot with an ambush, deadly, because he doesn't see it coming," Watters said at one point, according to a transcript and a nearly six-minute video clip. "This is when you say, 'Dr. Fauci, you funded risky research at a sloppy Chinese lab, the same lab that sprung this pandemic on the world. You know why people don't trust you, don't you?' Boom, he is dead. He is dead. He's done."

Watters — a regular commentator on the prime-time show The Five who made his name doing ambush-style interviews in a recurring segment on Bill O'Reilly's former show — also told audiences to be respectful and "just make sure it's legal."

While it is clear from the full context of Watters' remarks that he was not explicitly calling for violence, the viciousness of the chosen metaphor was striking, particularly given that Fauci has spoken publicly about receiving death threats. He is among the public figures who have faced a barrage of conservative criticism and violent threats over their handling of the highly politicized coronavirus pandemic.
As royalty does, President Trump's top presidential adviser during COVID responded to Watters by calling for him to be "fired on the spot" for suggesting such insolence. 
Senator Rand Paul, who has had a combative relationship with Dr. Fauci, said that Fauci receiving such security made it "not clear" if Fauci would had indeed ended his employment with the federal government like he said he did in 2022. 
"This raises questions about Dr. Fauci's current status and whether he is still receiving certain taxpayer-funded benefits associated with active public service, such as legal counsel and protective services," the senator wrote.  
Paul's letter also asked the Secretary of Health and Human Services whether Dr. Fauci still had access to non-public government facilities and if he was receiving any legal or security services from the government. 
The Kentucky senator is still waiting for a reply. 
The news about Fauci's security comes during the same week that the Biden Administration finally stopped US funding for one of Fauci's favorite places: The Wuhan Institute of Virology. Fauci famously went around restrictions put in place by President Obama to prevent the Chinese lab from pursuing "gain of function" research, which is believed to have led to the creation of COVID-19 and the global pandemic that made Fauci famous and led to him making millions of dollars. For years, Fauci and his supporters claimed it was a conspiracy theory to say that the US funded the Wuhan Institute or that the virus had been made in a lab. 
In June, Fauci announced that he will be taking on a new job, receiving a nice gig at a local Washington university. The former head of NAID will take the title of distinguished university professor at Georgetown's School of Medicine in the infectious diseases division and will also join the university's McCourt School of Public Policy. 
He plans to "participate in medical and graduate education and engage with students" at Georgetown.
It has not been revealed if the elite private university, with its $3 billion endowment, has any plans to pick up the tab for taxpayers for the doctor's limousines. 
[Read More: 2024 Kingmaker Makes Surprise Move]