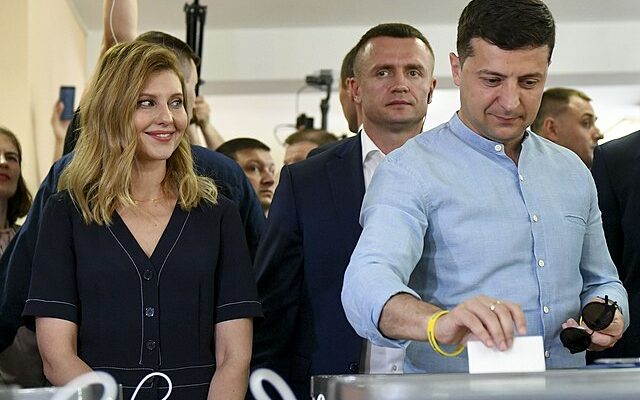 In Joe Biden's State of the Union Address in 2022, the president defended sending billions of American taxpayer dollars to help Ukraine defend itself against Russian aggression. 
The Washington Post reported at the time that "Biden spoke as a president weakened politically at home but also as the leader of a world united — perhaps surprisingly so to Russian President Vladimir Putin — against Russia's invading armies. Amid divisions at home over his domestic agenda and warning signs for his Democratic Party ahead of the November midterm elections, Biden spoke also as the architect of an international coalition that has responded swiftly to Putin's decision to trample the borders of a sovereign state with tough sanctions on Russia and weapons shipments to Ukraine.
Biden wasted no time in addressing the war in Ukraine, opening his speech with ringing praise for the courage and resilience of the Ukrainian people, condemnation for Putin and an expression of resolve by the United States to make the Russian leader pay for his transgressions. 'We are inflicting pain on Russia and supporting the people of Ukraine,' he said. 'Putin is now isolated from the world more than ever.'"
'He [Putin] thought he could roll into Ukraine and the world would roll over," Biden stated. "Instead he met a wall of strength he never imagined. He met the Ukrainian people."
Urging Congress to send more and more weaponry and wealthy to Eastern Europe, the president concluded, "Now is the hour. Our moment of responsibility. Our test of resolve and conscience, of history itself. It is in this moment that our character is formed. Our purpose is found. Our future is forged….We will save democracy."
A year and a half later, along with nearly $100 billion more in aid, Ukrainian President Volodmir Zelensky recently told the United States that he would only hold elections if the United States sends more money. 
The National Desk writes that the former comedian-turned-democratic-hero said that the country being under martial law and the ongoing war would force him to maintain his power without a democratic mandate. 
"I told him: if the United States and Europe give us financial support… I'm sorry, I will not hold elections on credit, I will not take money from weapons and give it to elections either," Zelenskyy said, recalling a conversation with Sen. Lindsey Graham, R-S.C. "But if you give me this financial support, if the parliamentarians realize that we need to do this, then let's quickly change the legislation and, most importantly, let's take risks together."
The Ukrainian leader also acknowledged a lack of the infrastructure required to allow 7 million citizens of the country to cast votes.
"We need help from Europe here, because Ukrainians today are mostly in the European Union. Polling stations must be opened there so that people can come," he said. "7 million people have to vote. We do not have such infrastructural capacities – we need to provide appropriate opportunities there."
Reuters reported that Zelensky used frontline soliders as a human shield to defend his undemocratic posturing. He said those fighting Russia's invasion would need to be included. "They are defending this democracy today, and not to give them this opportunity because of war – that is unfair. I was against the elections only because of this."
This is not first time that the world's most famous "champion of democracy" has caused some eyebrows to be raised by appearing to make moves to consolidate his own power.
Shortly after Biden's State of the Union, Zelesnky invoked emergency powers to suppress several opposition political parties and seize control over the media. The move included barring 11 different opposition parties from performing "any activity." 
The Week noted that the "ban includes the Opposition Platform – For Life party, which holds 43 seats in Ukraine's national parliament and is the largest opposition party.
Opposition Platform – For Life is a pro-Russia party, but on March 8, party leader Yuriy Boyko demanded that Russia "stop the aggression against Ukraine," according to Ukrainian outlet LB.
That same day, Viktor Medvedchuk, who was accused of treason against Ukraine in May and escaped from house arrest shortly after the invasion began, was removed from his post as the party's co-chair. Russian President Vladimir Putin is godfather to Medvedchuk's daughter.
Zelensky's information policy involves 'combining all national TV channels, the program content of which consists mainly of information and/or information-analytical programs, [into] a single information platform of strategic communication' to be called 'United News.'"
According to NPR, fears have risen that the constraints placed against the opposition by Zelensky will last long after the war is over. 
Ukraine has played a predominant role during the Biden White House, both internationally and at home. Recent State Department memos and emails released by the National Archives appear to show that as vice president, Joe Biden used his power to help his son Hunter "earn" a million dollars from a Ukrainian energy company, Burisma, by pressuring Zelensky's predecessor to fire a prosecutor investigating it for corruption. 
The Biden administration recently asked Congress to give "more than $13 billion in emergency defense aid to Ukraine and an additional $8 billion for humanitarian support through the end of the year, another massive infusion of cash as the Russian invasion wears on and Ukraine pushes a counteroffensive against the Kremlin's deeply entrenched forces," the Associated Press reported.
[Read More: 2024 GOP Candidate Drops Out Of Race]