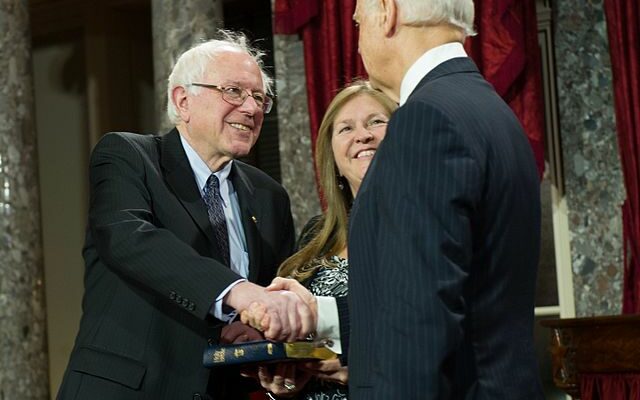 One of Joe Biden's major Democratic rivals is heading to New Hampshire, but aides are claiming it's not to lay the ground for a primary challenge to one of the most unpopular presidents in history. 
Bernie Sander, the socialist champion from neighboring Vermont, will be returned to New Hampshire, writes the Concord Monitor, on "a trip that's sure to generate plenty of political buzz ahead of next year's presidential primaries.
Sanders [delivered] a speech entitled "The Agenda America Needs" at Saint Anselm College's New Hampshire Institute of Politics that a release from the populist independent senator highlighted will "lay out a concrete agenda which speaks to the needs of a long-neglected working class."
"I have always believed that good public policy is good politics," the two-time runner-up for the Democratic presidential nomination said in a statement promoting the address. 'The American people are increasingly disgusted at the growing levels of income and wealth inequality in our country and the rampant corporate greed we are seeing.'"
Despite being from next door, New Hampshire has often been the bane of Bernie's presidential ambitions. In 2016, after stunning the political establishment by winning Iowa, the progressive senator narrowly lost New Hampshire to the eventual nominee, Hillary Clinton. In 2020, Bernie won the Granite State and Joe Biden, his campaign desperate, promised Jim Clyburn everything and anything to take the nomination away from him. 
This time, it could be different, though. The Democratic establishment in general, and Joe Biden in particular, has ticked off New Hampshire Democrats by ending their status as the first primary in the nation. 
Politico reports that Biden isn't campaigning in the early primary states yet and has little reason to because he doesn't face a serious Democratic challenger. However, incumbent presidents facing potentially tough general election fights tend to lay their campaign groundwork and even show up for events in New Hampshire ahead of the state's primary. Former President Barack Obama rallied in New Hampshire two months before the 2012 primary there and had seven campaign offices in the state by the time voters went to the polls in January.

But Biden has created a quandary for himself in the state. He pushed last year to strip New Hampshire of its prized first primary status and replace it at the front of the 2024 nominating calendar with South Carolina, a more diverse state that propelled him to the nomination in 2020. The Democratic National Committee approved the president's plan, which would see New Hampshire share the second primary date with Nevada.

Yet New Hampshire law requires the state to hold its presidential primary a week before any others, and Republicans in charge of the state legislature and the governor's office refuse to change it. And so national and state Democrats have been locked in a bitter stalemate that's increasingly likely to end with New Hampshire holding an unsanctioned primary — one without Biden being on the ballot.

The DNC has put off dealing with New Hampshire by giving state Democrats more time to comply with the national party's requirement that they hold their primary behind South Carolina's on Feb. 3 — or get kicked out of the official early state window for 2024.

The latest extension is due to expire Friday, ahead of the next DNC Rules and Bylaws Committee meeting Sept. 14 in Washington, D.C.
During his speech at Saint Anselm College's New Hampshire Institute of Politics Bernie said that both parties need to acknowledge the current struggles of working middle-class Americans and their families.
"In the wealthiest country in the history of the world, which is what we are now, tens of millions of people struggle to put food on the table, find affordable housing, affordable health care, affordable prescription drugs, affordable childcare and affordable educational opportunities," Sanders said.
Sanders also pushed Democrats to take reformative action toward addressing LGBTQ+ rights, health care concerns, and safe and equitable abortion access, according to WMUR.
'If we are going to defeat creeping authoritarianism and right-wing extremism, there has got to be an ideological change, of course,' Sanders said. 'But Democrats are serious about winning elections and addressing the major crises that we faced. They must go further.'"
Sanders appeared on CNN's State of the Union on Sunday to continue his push, noted The Washington Examiner, "during which he said that the 2024 presidential election depended on whether or not Democrats would show their support for the working class. Sanders doubled down in his appearance, praising Biden's record but stressing the need to do more.
'So the point is, in my view, the president should tout his very good record," Sanders said. "We have got to continue to defend women's right to control their own bodies. But we have to deal with the reality of life today; that's what Roosevelt did in 1936. And that is to understand that we have massive levels of corporate greed in every part of society."
'The very rich are getting richer, working people are struggling,' he continued. 'We have got to make it clear; we're going to stand with those workers and have a healthcare system that works for all, lower the cost of precipitation drugs, raise the minimum wage to a live wage. So I think that was the message of yesterday.'"
Many Democrats have said off the record that they wish they could run someone else in 2024, according to several reports.
Longshot candidate Robert F. Kennedy, Jr. has been consistently polling near 20 percent against the incumbent president, "annoying" the Biden camp to the point that they refuse to offer him Secret Service protection. 
California Governor Gavin Newsom has appeared to be running a shadow campaign in preparation for President Biden dropping out of the 2024 contest due to either health or scandal. 
[Read More: Powerful Dems Facing Big Corruption Charges]