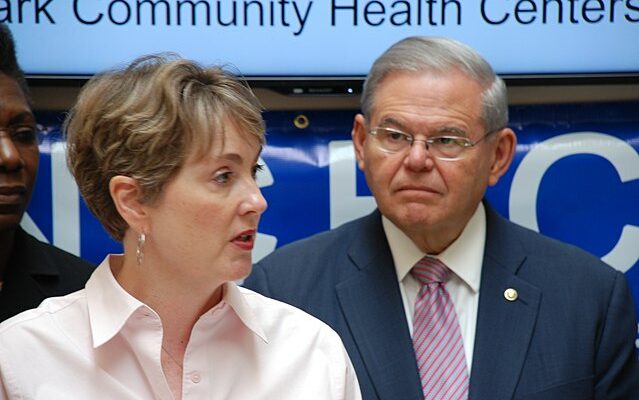 One of the more corrupt but very powerful Democratic senators is once again facing a federal investigation over the alleged selling of political favors to foreign nationals. New Jersey Senator Bob Menendez is facing potential charges from the Justice Department after a long public-corruption probe.
He must not of said that he was just talking about the weather. That's always a get-out-of-jail-free card with the Biden DOJ.
Prosecutors are expected to meet with his lawyers in the coming weeks ahead of a final decision, The Wall Street Journal reports.

New Jersey's senior U.S. senator, a Democrat who serves as chairman of the Senate Foreign Relations Committee, Menendez has been under scrutiny by the U.S. attorney's office for the Southern District of New York. The probe in part has examined whether he or his wife, Nadine Arslanian, received gifts in exchange for political favors, The Wall Street Journal has previously reported.

Prosecutors also have investigated the circumstances surrounding a lucrative contract that a New Jersey businessman secured with Egyptian officials for certifying halal meat exports, the Journal has reported. The businessman, whom Menendez hosted in his office along with Egyptian officials in 2018, became the sole certifier of halal meat exported from the U.S. to Egypt the following year.

Details about any potential criminal charges couldn't be learned. It also couldn't be determined whether other individuals under scrutiny, including Arslanian, are in jeopardy of being prosecuted.

Late-stage meetings with the Justice Department typically come after prosecutors believe they have developed the evidence they need to bring charges. The meetings give defense lawyers an opportunity to present reasons why the government shouldn't charge their client.
The DOJ's current investigation is distinct from a 2015 investigation "that resulted in bribery and corruption charges against the Garden State senator and ended in a mistrial two years later with the jury deadlocked.
In the 2015 case, prosecutors alleged that Menendez, who has served in the Senate since 2006, accepted nearly $1 million in private jet flights, vacations, and other gifts from Florida ophthalmologist Dr. Salomon Melgen in exchange for acquiring visas for the doctor's foreign girlfriends.
Investigators also alleged that Menendez received hefty political donations in exchange for helping Melgen secure lucrative government contracts, according to The New York Post.
Menendez beat those charges in 2017 after a lengthy trial, thanks to a hung jury in which 10 of 12 jurors wanted to find him not guilty on most charges.
Menendez has long been viewed as one of the most corrupt people in Washington. He was first elected to a full term in 2006, wrote Politico, "despite a federal probe by then-New Jersey U.S. Attorney Chris Christie into a nonprofit that rented space from him while he helped it secure grants. No charges were ever filed and Menendez, who denied any wrongdoing, received a letter from federal officials in 2011 saying the investigation had been closed.
The 69-year-old Menendez, the Garden State's senior senator and chair of the powerful Foreign Relations Committee, is considered one of most powerful politicians on the East Coast, "enough so that his son virtually walked into his old U.S. House seat in November — though Democrats in New Jersey were in the fall wary of news about a federal investigation of the senator," the political outlet said.
In May, the senator attacked Joe Biden for sending 1,500 troops to the southern border to back up overwhelmed agents there, saying, "The Biden Administration's militarization of the border is unacceptable. There is already a humanitarian crisis in the Western Hemisphere, and deploying military personnel only signals that migrants are a threat that require our nation's troops to contain. Nothing could be further from the truth.
"The Administration has had over two years to plan for the eventual end of this Trump-era policy in a way that does not compromise our values as a country. I have offered them a strategic and comprehensive plan, which they have largely ignored. Trying to score political points or intimidate migrants by sending the military to the border caters to the Republican Party's xenophobic attacks on our asylum system."
Prosecutors will meet with Menendez's lawyers in the coming weeks before they make a final decision, the Journal reported.
[Read More: An American Legend Has Died]