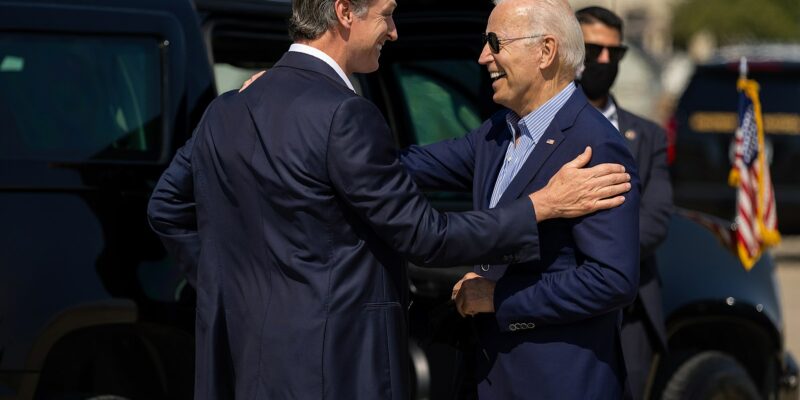 Gavin Newsom, the flashy California governor who often serves as the bizarro version of Ron DeSantis, insists that he is not running for president so long as Joe Biden seeks reelection. But the question on many people's minds is: What does Gavin Newsom know that we don't? Because he certainly seems like he's running for the White House. 
Last November, New Conservative Post wrote, Newsom started answering a question that no one was asking, telling anyone who would listen to let the Biden camp know he had no interest in challenging the sitting president. 
"I've told everyone in the White House, from the chief of staff to the first lady," he recounted to Politico. "His message to Ron Klain and Jill Biden over the summer — when he visited Washington amid growing speculation, and considerable West Wing irritation, that he was plotting a primary challenge — was to count him as a firm supporter of Biden's reelection: 'I'm all in, count me in,' he said he told them.
Newsom relayed the same to Biden himself on election night."
Eight months later, with polls showing that most Americans do not want Joe Biden to seek a second term and longshot candidate Robert Kennedy, Jr. doing surprisingly well in primary polling, Newsom is once again all over television sets, including a sitdown interview with Sean Hannity at Fox News. 
The Hill reports, "Newsom seized on a fight with Florida Gov. Ron DeSantis (R) over the decision to fly several dozen migrants to the Golden State, threatening possible charges against Florida officials and labeling DeSantis a "small, pathetic man." He also raised eyebrows earlier this week with a sit-down interview with Fox News' Sean Hannity.

His aggressive media play comes amid heightened anxiety within the Democratic Party over President Biden's age and low popularity, raising the question of what exactly Newsom is aiming to achieve.

"I buy that he supports the president, but I also think that he wants to be there in case, God forbid, there needs to be an alternative if something happens to the president or if somebody else mounts a challenge, I think he'll be right there," said Democratic strategist Steven Maviglio.

"I mean, [former Gov.] Jerry Brown gave him some advice in the news a few months ago, 'Hey, if you want to run, run,'" Maviglio said, adding, "He hasn't taken that advice and feels he can sort of run a shadow candidacy, while also being the carrier of the message that Democrats want to talk about … It doesn't hurt him at all politically."
Douglas Murray at The New York Post has called a spade a spade, saying, "Gavin Newsom's 2024 presidential run already began — he just hasn't announced." 
The political commentator stated, "This week Kamala Harris and Jill Biden stepped up as President Biden underwent root canal work. Though it's rumored that the Vice President was already due to give a speech and the President chose to have root canal work instead. As anyone would.
Still, as this was going on, the Governor of California did some work of his own. As well as making an announcement about a new gun law he was also this week interviewed by Sean Hannity on Fox. There is no reason why any Democrat governor would put himself up to that unless he had the top prize in his sights.
And so it turned out.
Newsom used the time he had — and splashed all over social media afterwards — his version of what a wonderful job he's done in California. He claimed that his state is number one for new business start ups, access to venture capital funding and tourism spending.
All of which was a round-about way to say 'screw you Florida and Texas.'"
Newsom has long been desperate to debate Ron DeSantis, who he must view as a more significant challenge to Democratic control over the White House than Donald Trump. 
Watch: Hannity to Newsom: "You would do a two-hour debate with Ron DeSantis?"

"Make it three," Newsom responds. "I would do it with one day's notice with no notes. I look forward to that." pic.twitter.com/I5Nz7euwEY

— TV News Now (@TVNewsNow) June 13, 2023
For his part, Ron DeSantis finally responded to Newsom's goading, "daring the West Coast Democrat to "stop pussyfooting around" and launch a primary challenge against President Joe Biden.
DeSantis, who announced his presidential campaign late last month, took on Newsom during a news conference in Florida in which he was asked about Newsom's recent comments to Fox News agreeing to a hypothetical debate with DeSantis hosted by Sean Hannity," wrote The Associated Press.
"'He's got huge problems in his state –- I mean, like, huge problems in his state," DeSantis said. "Yet with all those problems, he has a real serious fixation on the state of Florida. I think it's just bizarre.'
DeSantis then turned to the Democrats' 2024 primary election, in which Biden is facing only token opposition.
'You know what? Stop pussyfooting around," DeSantis said. 'Are you gonna throw your hat in the ring and challenge Joe? Are you going to get in and do it? Or are you just gonna sit on the sidelines and chirp?'" 
The DeSantis campaign is now selling shirts telling the California governor to stop chirping and take the leap. 
If you're chirping from the sidelines…. this one's for you.

Get yours before they're gone ⬇️🚨https://t.co/2onLqZ4R3P

— Team DeSantis (@TeamDeSantis) June 15, 2023
DeSantis isn't the only Republican encouraging Newsom to throw his hat in the ring. Asked if he thought his successor should challenge Biden and run for the White House, Arnold Schwarzenegger told The Hollywood Reporter, "I think it's a no-brainer."
[Read More: Polling Shows GOP In A Bind]