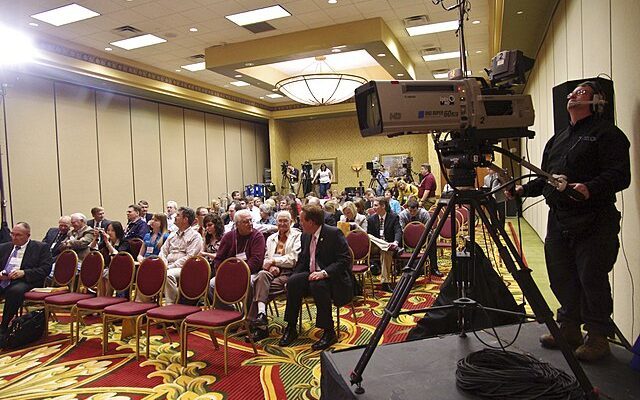 According to new public surveys of voters, former President Trump made a huge mistake by backing down from the debate. A recent poll has revealed that Republicans are softening on nominating former President Donald Trump for a third time after he chose not to debate his rivals and then surrendered to authorities in Atlanta a day later. 
While experts warn that this could be a temporary "blip," a recent poll shows that Florida Governor Ron DeSantis may have made a big gain as over 12 million viewers watched last week's debate and said, "this is kind of nice." 
While Trump remains the leader in the primaries by a wide margin, the Emerson College Poll shared with Secrets said that his support faded, likely taken by challengers former Vice President Mike Pence, Gov. Ron DeSantis (R-FL), and Nikki Haley, reports The Washington Examiner.

"There appears to be a softening of support for Trump since last week's survey, where 82% of Trump voters said they would definitely support him, compared to 71% after the debate," said Spencer Kimball, executive director of Emerson College Polling.

"The question from this poll is whether this is a blip for Trump or if the other Republican candidates will be able to rally enough support to be competitive for the caucus and primary season," he added.

There have been several surveys since the Fox GOP debate and Trump's counterprogramming on Tucker Carlson's X account. All have shown Trump still in the lead, and by a mile. But some have also shown a new voter interest in challengers, notably Vivek Ramaswamy and Haley.
"A vast majority (74 percent) of Republican primary voters did want the president to participate in the debate," Kimball added. "Following the debate where he did not participate, 20 percent of Republican primary voters say the debate skip made them less likely to support Trump, while 38 percent say it makes them more likely, and a plurality, 42 percent, say it had no impact on their vote."
Rather than crush his competition on the debate stage, as he claimed he would, Trump opted to record an interview with Tucker Carlson on Twitter, which was published on social media at the same time the debate began.
The Trump campaign is not only seeing trouble in the polls after their poor decision to skip the debates. The former president is also going to face scheduling issues as the campaign heats up. U.S. District Judge Tanya Chutkan's has set the trial trial over his role in the January 6, 2021 mobbing of the Capitol for the day before Super Tuesday, writes NBC News.
"During a hearing on Monday, Chutkan heard arguments from Trump's lawyers and federal prosecutors about when the case could be set for trial. Special counsel Jack Smith proposed that the trial start in January, with jury selection beginning in December of this year, while Trump's team said the trial should be pushed back until April 2026, after the presidential election.
'These proposals are obviously very far apart,' Chutkan said Monday. 'Neither of them is acceptable.'
Chutkan said that Trump will have to prioritize the trial and that she wouldn't change the trial schedule based upon another defendant's professional obligations, say, for a professional athlete.
The public has an interest in the fair and timely administration of justice, Chutkan said. Trump's lawyer said that going to trial next year would violate the former president's rights, noting the millions of pages of discovery that prosecutors have turned over."
Trump's popularity with the Republican base has put the party in a bind. Although a separate poll found that more "than three-quarters of respondents in a new US poll said Joe Biden would be too old to be effective if re-elected president next year.
But as many people in the survey said the 80-year-old Biden was 'old' and 'confused,' so a similar number saw his 77-year-old likely challenger, Donald Trump, as 'corrupt' and 'dishonest.'
The poll from the Associated Press and Norc Center for Public Affairs said 77% of Americans – 89% of Republicans and 69% of Democrats – thought age would be a problem if Biden won the White House again. Significantly fewer said Trump's age would be a problem: 51%, with only 29% of Republicans concerned," according to The Guardian.
The former president will have a busy spring. Currently, his trials are scheduled to begin March 4, March 24, and May 24.
[Read More: Biden Allies Hold Breath As Former Rival Goes To Primary State]