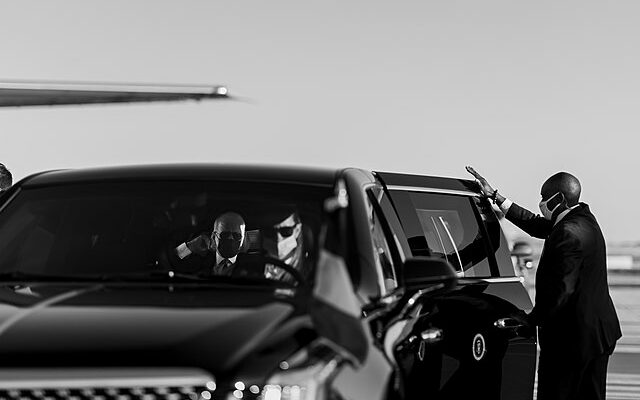 Often, when a candidate polling in double digits in the primary feels threatened and requests Secret Service protection, the sitting president will grant it to them. When the candidate's father and uncle were famously gunned down, you'd think the White House would oblige.
But then again, you don't operate the way a corrupt party boss does, which means you're not Joe Biden. 
Politico reports that Robert F. Kennedy, Jr. has asked the Biden administration for Secret Service protection, but his request has been denied. 
Since the assassination of my father in 1968, candidates for president are provided Secret Service protection.  But not me.
 
Typical turnaround time for pro forma protection requests from presidential candidates is 14-days.  After 88-days of no response and after several…

— Robert F. Kennedy Jr (@RobertKennedyJr) July 28, 2023
Robert F. Kennedy Jr.'s campaign slammed the Biden administration Friday alleging politics was behind the Democratic presidential candidate being denied Secret Service protection.

The Secret Service states on its website that "major presidential and vice presidential candidates and their spouses within 120 days of a general presidential election" are protected by the Secret Service.

After Democratic nominee Robert F. Kennedy was assassinated in 1968, Congress changed the law to authorize Secret Service protection for major candidates.

Major presidential and vice presidential candidates are determined by the Secretary of Homeland Security after consultation with an advisory committee.

"The American people, no matter their politics, will find this decision shocking and repugnant," Kennedy campaign manager Dennis Kucinich said in a statement. "This is obviously a political decision, not a legal one. As such, this is directly on President Biden. It is absolutely implausible that the President would try to claim that he was not consulted by his cabinet secretary on a matter as sensitive as this."
Kennedy's campaign has said they provided the White House with "unique and well-established security and safety risks aside from commonplace death threats."
Although the Secret Service states that it has authorization only to protect presidential candidates 120 days out, recent precedent proves that Kennedy has a point. 
In 2015, then DHS Secretary Jeh Johnson, under Barack Obama, approved requests from both Donald Trump and Ben Carson receiving federal protection a year out from the campaign. 
Despite his well-known dislike for Donald Trump, Barack Obama likely obliged his request because he received Secret Service protection earlier than anyone ever before, a whopping 551 days before the general election and during his heavily contested primary against Hillary Clinton. 
At the time, CNN wrote, "The government is not aware of any specific, credible threat against Obama, according to a law enforcement source familiar with the decision. But his office has received hate mail and calls and other "threatening materials" in the past and during his campaign, the source said.
Three Obama campaign officials who discussed the issue on condition of anonymity also said there was no specific threat against the candidate.
They said the request stemmed from what one called the 'cumulative effect' of a heavier campaign schedule, larger crowds and 'just the growing perception internally' it was time to take additional security precautions that are best suited for the Secret Service."
In 1979, RFK's uncle, Ted Kennedy, challenged sitting Democratic President Jimmy Carter, who, despite the challenge, graciously afforded Kennedy appropriate protection. 
In announcing Carter's directive, The Washington Post reported, White House press secretary Jody Powell said:
"The president, based on Secret Service reports and on conversations with the Treasury Department [of which the Secret Service is a part ] by members of Sen. Kennedy's staff, directed the secretary of treasury to contact Sen. Kennedy and to take whatever steps are necessary to provide for the senator's protection."
Over the years, the American people and Congress have determined that ensuring our presidential election process, and the safety of candidates, should be paramount, but that's not good enough for the Biden White House, which has previously said "democracy was on the ballot."  
When asked why Homeland Security Secretary Alejandro Mayorkas said he determined "that Secret Service protection for Robert F Kennedy Jr is not warranted at this time." 
Joe Biden has had difficulty making Robert F. Kennedy, Jr. go away. The Democratic scion routinely polls in double digits against the incumbent president. New Conservative Post noted last month that RFK Jr. has become an "annoyance" to the president because he serves as a routine reminder of Biden's vulnerabilities among his base and helps highlight the fact that Joe Biden is one of the most disliked presidents of all time.
[Read More: DOJ Wants Biden 'Nightmare Witness' In Jail]