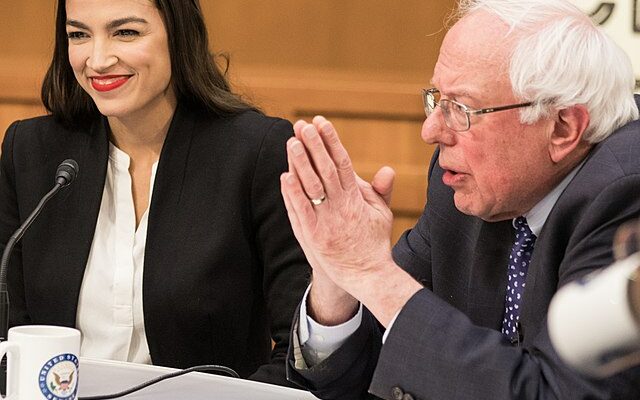 The far-left Democratic Socialists of America has reached a crossroads, pitting those who think Israeli babies shouldn't be murdered versus those who think that's the price for "liberation."
The vehicle that launched the leftwing "Squad" in Congress, along with other radical staffers advising some Democrats, has caused Democrats to reconsider their alliances.
The Daily Caller writes that Democratic Socialists and Democrats around the country condemned NYC DSA's rally following a mass terrorist attack in Israel that killed over 1,000 people, and Democratic Socialists also condemned statements made by the national chapter and local chapters regarding the conflict. Democratic New York Rep. Alexandria Ocasio-Cortez condemned the pro-Palestine NYC DSA rally, and Democratic Michigan Rep. Shri Thanedar renounced his membership in a statement Wednesday, saying he "can no longer associate with an organization unwilling to call out terrorism."

"The core membership of the DSA has not shown any sympathy at all for innocent victims of Hamas' barbaric terrorism, where the adults in the room have realized that that's not a viable path forward for any political party in the United States," David Greenfield of the Met Council, a Jewish nonprofit, told Politico.

The NYC DSA's rally not only drew criticism from DSA members, but also drew criticism from state and federal New York Democratic officials such as Gov. Kathy Hochul, Rep. Hakeem Jeffries and New York City Mayor Eric Adams. Following criticism, the NYC DSA backtracked on its rally in a statement.

"We understand why many, including our allies, were shocked by the timing and the tone of this message in a moment of profound fear and grief. We are sorry for the confusion our post caused and for not making our values explicit. We are also concerned that some have chosen to focus on a rally while ignoring the root causes of violence in the region, the far-right Netanyahu government's escalating human rights violations," the NYC DSA wrote.

Multiple state and local level officials have come out against statements made by local chapters of the DSA as well.
Although the rally AOC did condemn the rally in Times Square once pro-Palestinian attendees busted out the Nazi flag as part of the celebration of the attack in Israel, which left over 1000 civilians dead, including children and dozens of Americans, the New York Congresswoman has appeared to be one of the most prominent mouthpieces for Palestine and Hamas.
For example, after Senator Lindsey Graham discussed how Israel should defend itself from the terrorist attacks, Ocasio-Cortez responded by claiming that Graham's remarks are "textbook rhetoric of ethnic cleansing." She referred to the wanton slaughter of Jews as an "horrific trauma" and said it would be an "affront to humanity" to "weaponize" it.
This is textbook rhetoric of ethnic cleansing that cannot be accepted in any civil society, let alone the United States.

It is an affront to humanity to weaponize this horrific trauma to justify the ethnic cleansing of Palestinians.

It is dangerous and must stop. https://t.co/Ln4DuGsSA8

— Alexandria Ocasio-Cortez (@AOC) October 12, 2023
She was of course joined by Ilhan Omar in making up the idea that Israel was the one pushing "ethnic cleansing."
Declaring a holy war on national tv and calling to "level" a civilian population is over 2 million is dangerous and insane. Someone please ask Republicans if they will condemn these repugnant remarks. https://t.co/AHqyjHlwhE

— Ilhan Omar (@IlhanMN) October 11, 2023
As Mediate pointed out, however, "the actual ethnic cleansing called for by leaders of Hamas and Iran did not come up in either of those tweets, nor did the two Democrats mention that the organization has declared a day of global mobilization against Israel on Friday, or that former Hamas leader Khaled Meshaal issued a call for the entire " the Arab and Islamic world" to launch more attacks on Israel.
"The borders are close to you, you all know your responsibility," Meshaal said in a recorded call to arms.
Contrary to Omar's suggestion that the South Carolina Republican invented the religious aspect of wars in the Middle East, in the full clip of Graham's comments to Hannity he specifically referenced the often and explicitly stated aim of Hamas leaders and Iran's Ayatollah to wipe Israel from the map."
Other social media users have joined in on pointing out that AOC sounds like a propaganda machine: 
"Ethnic cleansing of Palestinians"

They're the best mouth pieces for Hamas and excusing the beheadings of Jewish babies https://t.co/wSqJtbVBYX

— Ahmed Al Asliken 🕋☪️✈️ (@assliken) October 12, 2023
AOC and Omar are part of a bigger group of leftwingers across the West who have allowed themselves to become so coopted by identity politics that they are standing on the side of reinvigorating what one commentator has called "the world's oldest hatred." 
Writer Frank Furedi has explained how the Western left's response to Hamas's recent atrocities has exposed a contagious new form of antisemitism.
He writes in spiked, "Since the turn of the 21st century, devotees of identity politics have portrayed Jews as powerful, privileged aggressors – and, above all, as the oppressors of the Palestinians. Thanks to the efforts of these identitarians, Jewish identity has become what sociologist Erving Goffman characterised as a 'spoiled identity' – an identity, that is, that lacks any redeeming moral qualities. It is an identity that invites stigma and scorn. Hence, the recent campaigns against the Jewish practice of male circumcision and the attempts to ban kosher meat in parts of Europe. Through such campaigns, the age-old practices of Jewish people are gradually being made to appear inhumane.
Sadly, it appears to have worked. Identity politics has effectively energised and sanitised anti-Semitism. The moral status of Jews has been thoroughly devalued. Back in March 2021, the BBC's flagship politics programme, Politics Live, featured a bizarre debate on the topic of whether or not Jews are an ethnic minority. Apparently, this was open to question because some Jews have reached positions of power and influence. They have joined the ranks of the oppressors, in other words. From this perspective, 'Jewish privilege' is but an extreme version of white privilege.
Lurking behind the campaign to devalue the moral status of Jewish people is the pathologisation of Israel. So, just as Jews have been cast as hyper-white symbols of white supremacy, Israel has emerged as the exemplar of Western oppression and imperialism. In this way, Jews have re-emerged as the all-purpose 21st-century scapegoat.
Today we see the convergence of three different strands of anti-Jewish sentiment – Islamist, traditional European and identitarian – which has revitalised anti-Semitism. This is why the loss of Jewish life can be met with such indifference, even by a supposedly fervent advocate of human rights like Maggie Chapman.
So thoroughly dehumanised is the Jew among sections of the Western left today that they are willing to excuse a pogrom. Those who collaborated with the Nazis would often claim that they didn't know that the Nazis were planning to exterminate Jewish people. Today's left-wing collaborators have no such excuses. The atrocities perpetrated by Hamas are there for all to see."
That's something to remember next time AOC and the rest of "The Squad" wrap the justification of terrorism in the veil of supporting a "Free Palestine." 
[Read More: Biden Abandons Americans Abroad]