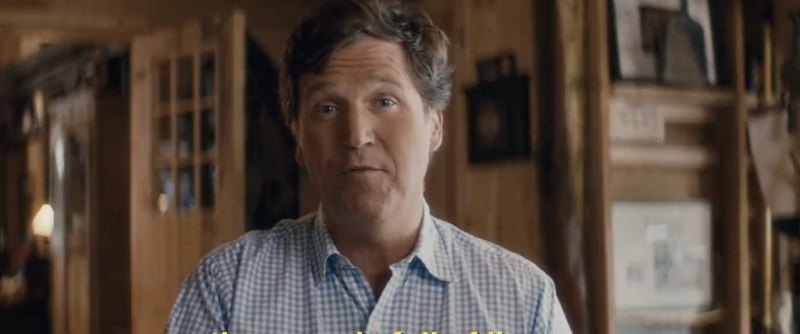 Tucker Carlson released the first episode of his new show on Twitter last night, causing the usual suspects to criticize and sparking new threats against him from Fox News Channel. The first showing garnered a whopping over 100 million views on the social media platform. The leading conservative television host had averaged around 3 million viewers during his cable news tenure. 
Ep. 1 pic.twitter.com/O7CdPjF830

— Tucker Carlson (@TuckerCarlson) June 6, 2023
The Daily Caller wrote that Carlson shared a 10-minute-long monologue on Twitter Tuesday night where he focused on the media's Ukraine coverage and refusal to question narratives. His monologue immediately made him a trending topic on the platform and quickly surpassed Fox News' ratings at the same time slot.

"Nobody knows what's happening. A small group of people control accesses to all relevant information. And the rest of us don't know. We're allowed to yap all we want about racism, but go ahead and talk about something that really matters and see what happens. If you keep it up, they'll make you be quiet. Trust us. That's how they maintain control," Carlson told viewers.

He teased more Twitter broadcasts to come if the platform maintains its commitment to free speech under owner Elon Musk and new CEO Linda Yaccarino.

"That's how most of us now live here in the United States — manipulated by lies, silenced by taboos. It is unhealthy and dehumanizing, and we're tired of it. As of today, we've come to Twitter, which we hope will be the shortwave radio under the blankets. We're told there are no gatekeepers here. If that turns out to be false, we'll leave. But in the meantime, we are grateful to be here. We'll be back with much more very soon, Carlson concluded."
The success of the show came with the ire of Fox News's lawyers, who, according to reports, "notified Tucker Carlson's lawyers that the former prime-time anchor violated his contract with the network when he launched his own Twitter show on Tuesday, according to a copy of a letter obtained by Axios.
A breach of contract claim sets Fox News up to explore potential legal action against Carlson, a move that would intensify the already thorny public battle between the two parties.
Carlson's lawyers told Axios that any legal action by Fox would violate his First Amendment rights.
'Fox defends its very existence on freedom of speech grounds. Now they want to take Tucker Carlson's right to speak freely away from him because he took to social media to share his thoughts on current events,' said Carlson's lawyer, Bryan Freedman, in a statement to Axios.'"
Much of the media, of course, criticized the monologue. The New York Times called it half "Fox News" and half "Fox Mulder," a reference to the main character in the 1990s show X-Files. 
The Washington Post labeled it "bare-bones," and concluded its report this way: "In his monologue, Carlson praised Twitter as a contemporary version of shortwave radio sets that Soviet dissidents used to learn about the West, but he suggested that he would leave if he clashed with Musk about the site's moderation policies.
"We're told there are no gatekeepers here," Carlson said. "If that turns out to be false, we'll leave. But in the meantime, we are grateful to be here."
Carlson picked up some of his usual conspiracy-theory-tinged topics and sympathies to the Russian government in the video, calling Ukrainian President Volodymyr Zelensky "sweaty and ratlike" and suggesting without evidence that Ukraine was responsible for the destruction of a major dam on its territory. He also accused mainstream media outlets of suppressing a claim from a former military officer that the U.S. government has secret knowledge of alien spacecraft.
Carlson's firing came shortly after the network settled a massive defamation case brought by Dominion Voting Systems for nearly $800 million. Still, it's unclear why Fox fired Carlson, the host of its most popular prime-time show. In the aftermath of Carlson's firing, several competing explanations for his firing have emerged, including reports about misogynistic or racist messages from Carlson that were uncovered during the Dominion litigation."
The responses to Carlson's video from the entrenched political media does beg the question: What do you think the horse-and-buggy types said about automobiles?
[Read More: Biden Finds This Democrat Annoying]