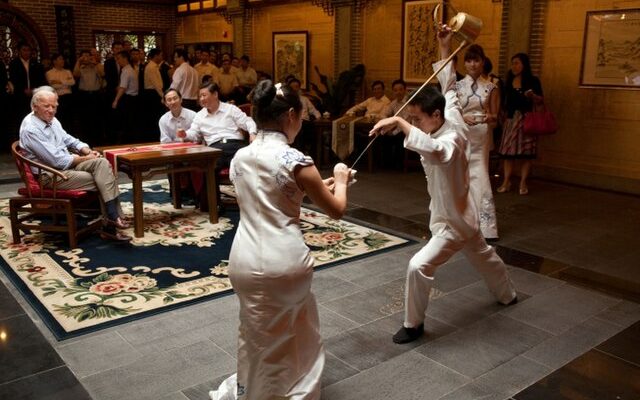 As American media focuses on the latest indictment of Trump and the White House bumbles around charges that the president took a bribe from Ukrainians, China continues to make moves that undermine American national security. 
In the 1960s, the communists from the Soviet Union placed nuclear warheads on Cuba to threaten the United States. In 2023, the communists from China have begun building a facility on the island that shows the capability of intercepting communications and monitoring American military and commercial capacities. 
The New York Times reports, "Beijing has built listening outposts elsewhere and has a military presence in Cuba, but an eavesdropping station could give China a foothold about 100 miles from the Florida coastline, from which it could potentially conduct surveillance operations against the United States.

The proximity of the planned facility to the United States is particularly concerning, officials said, because it could amplify Beijing's technological capacity to monitor sensitive operations across the Southeastern states, including several military bases.

'We are deeply disturbed by reports that Havana and Beijing are working together to target the United States and our people,' Senators Mark Warner, Democrat of Virginia, and Marco Rubio, Republican of Florida, who lead the Senate's Intelligence Committee, said in a joint statement on Thursday. 'The United States must respond to China's ongoing and brazen attacks on our nation's security.'

That Beijing appears to be pursuing a closer arrangement with Cuba is not itself surprising, analysts say. The two countries have forged increasingly close ties since the end of the Cold War. China is Cuba's largest trading partner, and plays a role in the island's agricultural, pharmaceutical, telecommunications and infrastructural industries. Beijing also owns a significant measure of Havana's foreign debt.
The White House, not one to admit its continuous blunders in foreign policy, pushed back against the notion that China was building a listening post in Cuba. 
"This report is not accurate," National Security Council spokesman John Kirby said in a statement on Thursday afternoon. "We have had real concerns about China's relationship with Cuba, and we have been concerned since day one of the Administration about China's activities in our hemisphere and around the world. We are closely monitoring it and taking steps to counter it. We remain confident that we are able to meet all our security commitments at home and in the region."
Kirby initially told the Journal on Thursday morning that he "cannot speak to this specific report," but that US officials are "well aware of—and have spoken many times to—the People's Republic of China's efforts to invest in infrastructure around the world that may have military purposes, including in this hemisphere."
CNN noted that this isn't the first time recently that China has openly spied on the United States without much ramifications from the president. "It would not be the first time China has attempted to spy on the US' electronic communications, known as signals intelligence. A suspected Chinese spy balloon that transited the US in February was capable of gathering signals intelligence and is believed to have transmitted back to Beijing in near-real time. 
China's Ministry of Foreign Affairs on Friday avoided directly answering a question about reports on alleged plans to open a spy base in Cuba, saying it was 'not aware;' of the situation, while accusing the US of spying itself and of 'spreading rumors.'
'The United States should reflect on itself and stop interfering in Cuba's internal affairs under the banner of freedom, democracy and human rights,' spokesperson Wang Wenbin said at a regular briefing."
Matt Margolis at PJ Media asks some pertinent questions: Does anyone expect the Biden Administration to take any meaningful 'steps to counter' this move by China? This is the same administration, after all, that was far more concerned about not offending China than our national security during the spy balloon scandal in February. Three unidentified Biden administration officials revealed that the Chinese spy balloon was allowed to fly over the United States for an entire week and was able to acquire and send secret intelligence to Beijing regarding a number of military bases in 'real time.'
Joe Biden's close ties with China have been a matter of concern for years. Despite the passage of three years since the onset of the COVID-19 pandemic, China has yet to face any substantial accountability for its role in the crisis. Nor has it faced any accountability for the spy balloon incident, and that lack of consequence may have emboldened it to take this egregious step toward establishing a surveillance facility just a short distance from the U.S. mainland. The Biden administration is far more concerned about improving relations with China, even at the expense of U.S. national security."
China has built deep ties with the Biden family over the last decade or so. Bank records have proven that Haile Biden, the president's daughter-in-law who works as a school counselor, along with the president's brother James received a huge sum of money from a Chinese energy company.
 Other investigations and witnesses have alleged that Hunter Biden used a "mole" inside the FBI "to score a huge payday from China, which allowed the communist nation to promote their Belt and Road Initiative across the globe."
Last January the White House was criticized for awarding a grant from the Department of Energy to an electric battery company that is controlled by the CCP.
Director of National Intelligence Avril Haines deemed the Chinese Communist Party the "most consequential threat to U.S. national security" during her opening statement before the Senate Intelligence Committee earlier in the week as she unveiled the intelligence community's annual threat assessment. 
[Read More: Fox Threatens Tucker After He Gets HUGE Numbers]