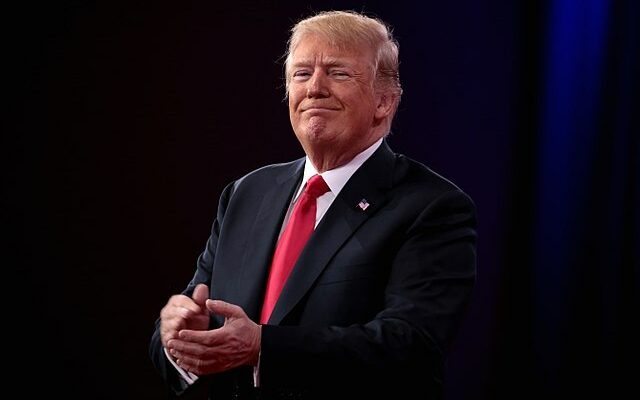 Donald Trump's lawyers have failed to prevent a federal indictment of the former president during a discussion with prosecutors at the Department of Justice earlier in the week. 
The New York Times reports, "The Justice Department took the legally and politically momentous step of lodging federal criminal charges against former President Donald J. Trump, multiple people familiar with the matter said on Thursday, following a lengthy investigation of his handling of classified documents that he took with him upon leaving office and then obstructing the government's efforts to reclaim them.
The indictment, filed in Federal District Court in Miami, is the first time in American history a former president has faced federal charges. It puts the nation in an extraordinary position, given Mr. Trump's status not only as a onetime chief executive but also as the front-runner for the 2024 Republican presidential nomination to face President Biden, whose administration will now be seeking to convict his potential rival.
It was not immediately known what specific charges Mr. Trump is facing. One person briefed on the matter said there were seven counts.
Mr. Trump is expected to surrender himself to authorities in Miami on Tuesday, according to a person close to him and his own post on Truth Social."
Earlier in the Day ABC News stated that "former President Donald Trump received a letter from special counsel Jack Smith's office in recent weeks informing him that he is the target of an ongoing investigation related to his handling of classified information while out of office, sources familiar with the matter confirmed to ABC News.
The point of a target letter is to put the subject on notice that they are facing the prospect of indictment.
Department of Justice guidelines state that 'the prosecutor, in appropriate cases, is encouraged to notify such person a reasonable time before seeking an indictment in order to afford him or her an opportunity to testify before the grand jury.'
Trump has repeatedly denied wrongdoing and argues he is being singled out by enemies. 'I've done NOTHING wrong, but I have assumed for years that I am a Target of the WEAPONIZED DOJ & FBI,' he wrote on social media this week."
Reports from last weekend said that a recording has surfaced of the former president bragging about taking classified documents. Further eyebrows were raised when it was revealed that a suspicious flood happened at Trump's estate at Mar-a-Lago in "a room where computer servers containing surveillance video logs were kept" filled with water after a pool was drained. 
Earlier in the year, Donald Trump was also indicted on "flimsy" charges by liberal Manhattan DA Alvin Bragg on charges related to paying hush money to former porn star Stormy Daniels. 
In typical form, Donald Trump is going to take the fight to his enemies. The New York Daily News writes, "As possible indictments loom in the Mar-a-Lago documents scandal, a pro-Trump super PAC put Smith squarely in the political crosshairs for supposedly ginning up an unfounded legal witch hunt against the former president.
The ad shows Smith in a montage of Trump bogeymen, including Manhattan District Attorney Alvin Bragg and even former presidential rival Hillary Clinton.
'Like a pack of rabid wolves, they attack,' a narrator says ominously. 'But here's the thing: (Trump) will never blink.'"
The former president is not the only Biden rival whom Democratic officials have targeted for potential prosecution. 
Similar to the charges launched by Alvin Bragg against the former president, Sheriff Javier Salazar from Bexar County, Texas, announced that he is looking to charge Florida Governor Ron DeSantis, or his staff, for some unspecified crime related to sending illegal immigrants to the self-declared "sanctuary" state of California. 
DeSantis defended his move yesterday. "These sanctuary jurisdictions are part of the reason we have this problem — because they have endorsed and agitated for these types of open border policies. They attack the previous administration's efforts to try to have border security," he said. "And then what? When they have to deal with some of the fruits of that, they all of a sudden become very, very upset about that. Well, I don't have sympathy for them." 
Republicans don't intend to take these prosecutions sitting down. Roll Call noted, "In letters, statements and media comments over the past days and weeks, Republicans in both chambers previewed their criticism of a possible indictment that some legal experts say could come as soon as this week from grand jury probes supervised by Special Counsel John L. "Jack" Smith.
Congressional Republicans have cast Attorney General Merrick B. Garland as biased, threatened to strip funding from the FBI, questioned the role of the FBI in that special counsel probe and moved to impeach FBI Director Christopher Wray.
Last week, Jordan sent a letter to Garland that questioned the involvement of the FBI in the probe, and he pointed to Special Counsel John Durham's criticisms of the FBI probe into Russian interference in the 2016 election."
Separate from Jordan's investigation, FBI Director Christopher Wray is also facing a contempt of Congress charge from House Oversight Chairman James Comer into why he is protecting President Biden by not releasing an FBI document that allegedly shows the current president took bribes while he served as vice president. The document allegedly serves as a smoking gun, according to one congresswoman, that Biden took $5 million in bribes from a foreign national.  
The Department of Justice has not given an update on the Hunter Biden investigation since leaders there removed the entire team looking into financial and tax crimes allegedly perpetrated by the president's son. The move allegedly followed an attempt to identify a whistleblower who was speaking to Congress about corruption at the agency.
[Read More: Congresswoman Reveals What FBI Was Hiding, And It's Bad For Biden]