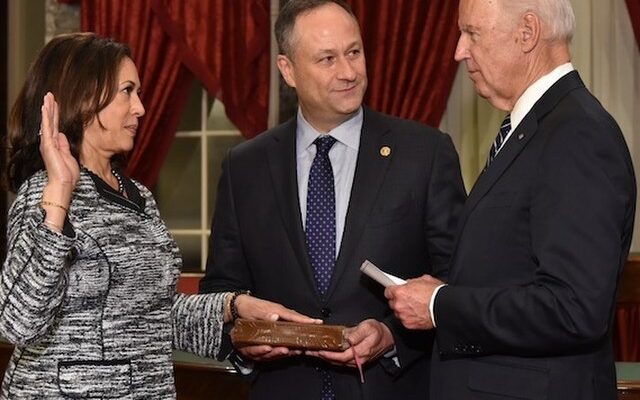 A whistleblower at the FBI has gone to the House Oversight Committee with an allegation that the current president took a bribe from a foreign national while serving as vice president. 
"House Oversight Committee chairman James Comer issued a subpoena on Wednesday requiring the FBI to turn over an unclassified record that reportedly details allegations of a criminal scheme involving then-Vice President Joe Biden and a foreign national.
The subpoena comes after Republican Senator Chuck Grassley's office was made aware of the FBI-generated whistleblower form. The FD-1023 form allegedly outlines a scheme involving the exchange of money for policy decisions," according to The National Review. 
BREAKING: James Comer and Chuck Grassley allege that the FBI is in possession of a documents showing that Joe Biden as VP committed bribery with a foreign national in exchange for policy decisions. pic.twitter.com/LsxovvPkk0

— Greg Price (@greg_price11) May 3, 2023
The Daily Caller has more details about the alleged evidence., writing that the document in question is an FBI-generated FD-1023 form that allegedly shows an arrangement exchanging money for policy decisions. Comer issued a subpoena Wednesday after "legally protected disclosures" to Grassley's office.

"We believe the FBI possesses an unclassified internal document that includes very serious and detailed allegations implicating the current President of the United States. What we don't know is what, if anything, the FBI has done to verify these claims or investigate further. The FBI's recent history of botching politically charged investigations demands close congressional oversight," Grassley said in a statement.

In his own statement, Comer said that the "information provided by a whistleblower raises concerns that then-Vice President Biden allegedly engaged in a bribery scheme with a foreign national."

"The American people need to know if President Biden sold out the United States of America to make money for himself. Senator Grassley and I will seek the truth to ensure accountability for the American people," Comer continued.
The whistleblower's tip might be the smoking gun that the House Oversight Committee has believed existed. It may very well "expose Joe Biden's role in his family's influence-peddling ventures in countries such as China, Mexico, Russia and Ukraine," The New York Post noted.
"Republicans say the file directly pertains to potential wrongdoing by Joe Biden — rather than possible criminal activity by first son Hunter Biden or another relative that indirectly implicates the president.
The alleged corruption involves a country other than China, The Post understands, and one source says the whistleblower is not the same person as the IRS agent who anonymously came forward last month to allege a coverup in the criminal investigation of the first son.
The document subpoenaed by the Oversight Committee was 'created or modified in June 2020,' and must be provided to the panel at a meeting at noon on May 10, the subpoena says."
Last month several members of the family were indicated by the Comer's Committee as having received hundreds of thousands of dollars from foreign influencers. Last March, the chairman found evidence that the president's daughter-in-law received a payout from China despite her job as a school counselor having nothing to do with international business. 
The Kentucky Congressman has also revealed concerns that Hunter Biden shared classified documents related to Ukraine with business partners in the war-torn country. 
New Conservative Post reported he "has concerns about the Biden Family's 'influence peddling.' The Oversight Chairman believes the classified documents and the payments might be connected. 
'We don't the know the true extent of what he [Joe Biden] has done,' Comer said. 'All we know is he had classified documents scattered all over the place dating back to the time as U.S. senator.'
"There is one document in particular that I can tell you from my investigation of Biden family influence peddling that we are very concerned about with respect to the document that Hunter Biden sent to officials at Burisma in Ukraine,'" Comer continued.
The White House has consistently asserted that the president never discussed Hunter's business affairs with him, and has repeatedly denied any involvement by Joe in the matters. 
This has been demonstrated to be false.
Furthermore, a former Obama staffer said that he personally saw Joe act on behalf of his son's interests in Ukraine. 
Ian Sams, a White House spokesperson for oversight and investigations, told Fox News Digital that for "going on five years now, Republicans in Congress have been lobbing unfounded, unproven, politically-motivated attacks against the President and his family without offering evidence for their claims or evidence of decisions influenced by anything other than U.S. interests."
"That's because they prefer floating anonymous innuendo, amplified by the megaphone of their allies in rightwing media, to get attention and try to distract and deflect from their own unpopular ideas and lack of solutions to the issues the American people actually care about," Sams said. "When it comes to President Biden's personal finances, anybody can take a look: he has offered an unprecedented level of transparency, releasing a total of 25 years of tax returns to the American public."
It may be a long week from now until May 10 for President Biden and his supporters at the FBI. Any proof that the president took bribes would likely lead to his immediate impeachment and removal from office. 
[Read More: Investors Tell Wokesters Enough is Enough]