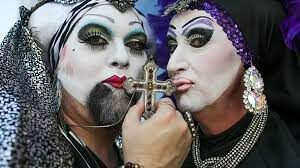 Baseball teams have long been known for themed fan nights. Sometimes they'll offer a bobblehead to celebrate an old-timer coming back to the stadium for the first time. Sometimes they'll give everyone in the crowd a mini bat or a foam finger. But rarely will a team announce that they are celebrating the mockery of Christianity. 
But that's exactly what the Los Angeles Dodgers have decided to do. Earlier in the week, the team faced backlash from Christians of all stripes and disinvited an anti-Catholic transgender group, the Sisters of Perpetual Indulgence, from their annual "Pride Night" at the ballpark. 
Apparently, however, after learning more about the "Sisters" and the way the mock Christians, such as turning the Stations of the Cross into a pub crawl, hosting "hunky Jesus" contests, replacing the Eucharist with condoms, and even inverting Christ's command by supporting the motto "go and sin some more," the Dodgers changed their mind. They apologized to the "Sisters" and told Christian fans to take a hike. 
"The Los Angeles Dodgers on Monday decided to invite the Sisters of Indulgence back to their Pride Night event next month after initially removing the left wing group of so-called "trans nuns" from their honoree list.
'After much thoughtful feedback from our diverse communities, honest conversations within the Los Angeles Dodgers organization and generous discussions with the Sisters of Perpetual Indulgence, the Los Angeles Dodgers would like to offer our sincerest apologies to the Sisters of Perpetual Indulgence, members of the LGBTQ+ community and their friends and families,' the organization said.
'We have asked the Sisters of Perpetual Indulgence to take their place on the field at our 10th annual LGBTQ+ Pride Night on June 16th. We are pleased to share that they have agreed to receive the gratitude of our collective communities for the lifesaving work that they have done tirelessly for decades.
In the weeks ahead, we will continue to work with our LGBTQ+ partners to better educate ourselves, find ways to strengthen the ties that bind and use our platform to support all of our fans who make up the diversity of the Dodgers family,' writes The New York Post.
For many Catholics, inviting a group that attacks nuns is the last straw and reveals that decency and tolerance over genuine moral disagreements is the norm.  
So now the @Dodgers and @MLB can't say they were unaware of this group's hostility toward Catholics and Christians. They just chose to side with them. Good to know. https://t.co/sGuaRsATbq

— Ed Morrissey (@EdMorrissey) May 23, 2023
Tim Carney at The Washington Examiner responded, "Why would religious conservatives object to wearing the flag, or say that public school teachers flying the flag in the classroom is inappropriate?

Well, the symbols of the 21st-century gay and transgender movement aren't simply used to say, 'We should love and tolerate everyone.' Some of the folks deploying these symbols are basically a competing religion that is dedicated to destroying the religions held by billions of other people.

This is a group that proudly flies the pride flag on its homepage, along with a hundred images and declarations that, along with their name, are a blatant mockery of Catholicism and women — particularly nuns and other religious sisters. This is a group of men who pretend to be women and dress up in vulgar, garish caricatures of religious sisters.

Why do I mention this depraved group of men whose organizing principle is to mock a major religion in a sexualized and misogynistic way, and to proudly bear the pride flag while they do it? I do not think that all or even most groups marching under the pride flag bear such hatred toward my religion. No, but this anti-Catholic group is very notable because when the Los Angeles Dodgers have 'Pride Night' next month, they are honoring the "drag nuns" of Los Angeles.

As Dodgers' VP Erik Braverman explains, showcasing anti-Catholic bigotry is an effort 'to knock down barriers and foster an atmosphere of acceptance for all.'

Now you see why the anodyne statements of "acceptance" and "tolerance" strike so many of us as deceptive cover stories. When the Los Angeles Dodgers talk about "acceptance" and fly the pride flag, they are not being pluralistic but are flying their own religious symbol. The LA drag "nuns" see themselves as crusaders in a religious war, and the Los Angeles Dodgers have taken the side of this rainbow religion against the Christian religion."
The "Sisters" have long been a line that supporters of LGBTQ rights would not cross out of respect for other religious groups. In 1999, the group was invited to be grand marshals at Reno's first Pride Parade, but Nevada's Republican Governor Kenny Guinn, who had signed a bill earlier that year outlawing discrimination against gays and lesbians in the Silver State, refused to sign a proclamation in support of the parade. She held concerns that the group "tends to cross the line of decency and appropriateness and would conduct themselves in a manner that would offend people of different religious groups."
This would be a great time for the many Catholic players on the @Dodgers and across the @MLB to make their voices heard about your public embrace of anti-Catholic bigotry.

— Stephen Miller (@StephenM) May 23, 2023
It's no surprise that the Dodgers are attacking Catholicism now. For decades, the anti-religious woke employees with the club likely saw their anti-Catholic stances stifled by Vin Scully, the legendary voice of the Dodgers for decades, and Tommy Lasorda, the club's legendary manager, both devout Catholics. Both have died during the past few years.
In January, citing his faith, NHL Ivan Provorov decided that he did not want to participate in wearing a "LGBTQ+ Pride Night" warmup jersey during his team's pregame skate. 
#Flyers Ivan Provorov on his Pride Night pregame boycott :
"My choice is to stay true to myself and my religion." pic.twitter.com/YSFKvkyEJC

— Dan Gelston (@APgelston) January 18, 2023
Many MLB players across the league, and on the Dodgers specifically, hail from predominantly Catholic countries in Latin America, and there are millions of Christian baseball fans worldwide. The Dodgers have a message for anyone on their team who might want to follow Provorov's example: too bad.
The only question that's left is, will they? 
[Read More: Americans Don't Think Biden Will Make It]